Introduction: Yahoo Calendar Keeps Things Simple
Yahoo has been left behind in recent years. After losing to Google in the battle for Internet searches it's struggled to find a new role. Microsoft has always had Windows and Office, and Facebook now dominates social media, but Yahoo hasn't managed to produce a killer app to replace its 1990s directory.
But it hasn't disappeared. Its home page still functions as an effective portal for browsing the Web, with news content drawn from a range of different sources. According to one study, more than a quarter of US-based email users still have a Yahoo Mail account, though it's unclear how often they use it. (Google Calendar, by contrast, delivers messages to 44 percent of American email users.) For people aged between 45 and 54—mid-career types who would have started using the Internet in the days of Lycos and AltaVista—usage of Gmail and Yahoo Mail is a remarkable 36 percent and 32 percent respectively.
While young people starting their careers may regard Yahoo as an echo of a previous age, those in the middle of the company—the people who both make decisions and get things done—are still heading over to Yahoo to check their messages.
That makes the calendar that Yahoo provides particularly important. It might not be baked into a cellphone like Apple's Calendar app or like the calendar on Android devices but it has users, and it also has a ton of features that are both surprising and under-used.
We'll start with the most basic features on Yahoo Calendar, then we'll go all the way through the calendar's advanced settings, and explain how to integrate the calendar into mobile devices despite the absence of native apps in 2020.
1. Getting Started
Anyone with a Google account—and there are around 1.2 billion of them—will already have access to a Google Calendar. Anyone with an iPhone will have an Apple account… and access to the iCloud Calendar.
But you'll only have access to Yahoo's calendar if you already have a Yahoo account. If you do, you'll be able to access the calendar at yahoo.calendar.com. But if you don't, you'll first have to register.
It's pretty straightforward. Yahoo doesn't ask you for any difficult information. The only tough choice you'll have to make is whether you want to register with your new Yahoo email address or with a different address. If you're never going to use your Yahoo email address, just click the link that says "I'd rather use my own email address."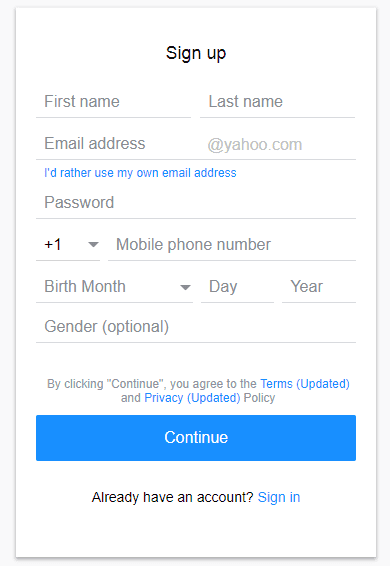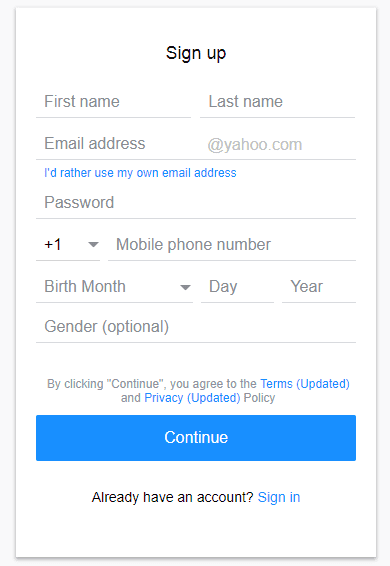 Do take a minute to look at the Privacy Policy before you register though. Yahoo has had some serious security problems in the past and in June 2017 the company was bought by Verizon and merged with AOL to become part of a new subsidiary called Oath. Any data that you generate using Yahoo is now shared with Verizon. If sending your data to the telecommunication company sounds creepier than sharing your data with Google or Facebook then you'll have to skip using Yahoo's calendar. On the other hand, if you're only using the calendar, then Verizon won't learn much—and if you're a customer of Verizon, they'll already know everything!
As we mentioned, there's no app so there's nothing to install on a mobile device. That doesn't mean you can't access your calendar on your phone; you can. We'll explain how later in this guide. But there's no point looking for a Yahoo calendar app to install on your cellphone or tablet.
Once you're done, surf to calendar.yahoo.com, and your calendar will be ready for use.
Importing Your Calendar
Before you can begin using your Yahoo calendar you'll need to import the events from any other calendar you might be using. Yahoo doesn't make that simple. The calendar shows three gear icons: an icon marked "Actions" at the top of the screen; a second icon marked "To Do's"; and a third icon at the top right of the screen that gives access to the calendar's settings, as well as account settings.
None of them contain an import function.
On the left of the screen, under the list of months, you'll find a list marked My Calendars. For now, there will only by one calendar listed there: it will have the name you used to register. Place the curser over the name and an arrow will appear, with a floating notification that says "More options for this calendar".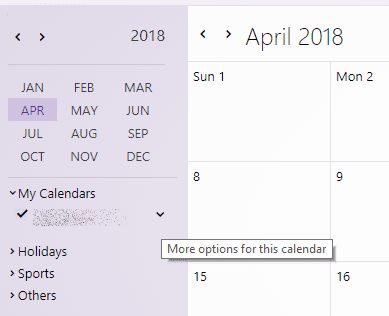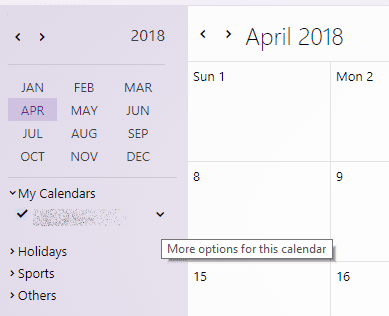 Click that arrow and you'll be offered another menu. We'll come back to editing and sharing your calendar in future sections of this guide but the third item on the menu is "Import." That's what you're going to use to bring across your events from another calendar.
You'll first need export your calendar in that format. How you do that will depend on which calendar you're currently using.
From Google Calendar, you'll need to select the gear icon at the top of the screen, choose "Settings," then "Import & export." At the bottom of the page is an Export box that lists the calendars you've created. Click the box and Google will start creating a zipped file of your calendars in iCal format.
Save the file on your computer then turn back to Yahoo. Press that Import link and you'll receive pop-up box inviting you to choose an ICS file to import.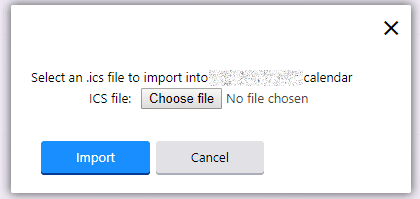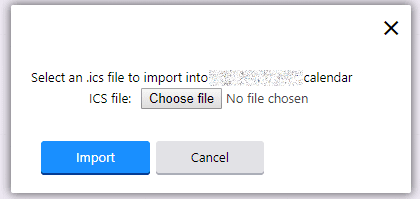 ICS files and iCal files are the same. Choose the file you've just exported from Google Calendar and press Import. You should find that the events in your Google Calendar are now also in your new Yahoo Calendar.
If you're using iCloud Calendar—the calendar used on an iPhone—the process is less obvious and a little more complicated.
Open the iCloud Calendar on your computer, and select the broadcast icon on the right of the calendar names. You'll have a choice between inviting an iCloud member to view or edit a Private Calendar; or allowing anyone to subscribe to a read-only version of a Public Calendar. Beneath that second option will be a long URL that starts with webcal://.
Select "Copy Link" and return to Yahoo Calendar. Click the Actions gear at the top of the page and choose "Follow Other Calendars".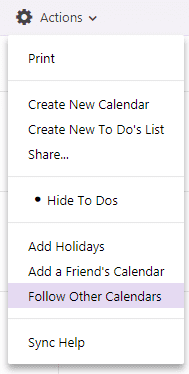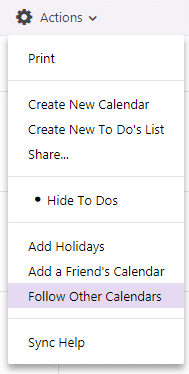 You'll be able to choose a name for that calendar; select a color for the events from that calendar when they appear on Yahoo Calendar; choose between refreshing manually or automatically; and set the conditions for event reminders. You can set the time for the reminders and choose to receive them by email, on Yahoo Messenger, and/or on mobile or desktop.
In the field marked "iCal Address", paste the webcal URL that you've just copied from iCloud Calendar.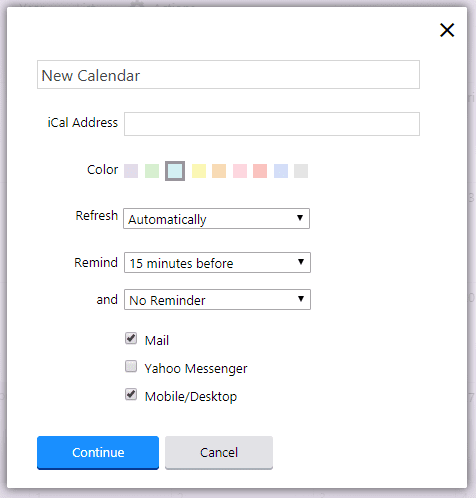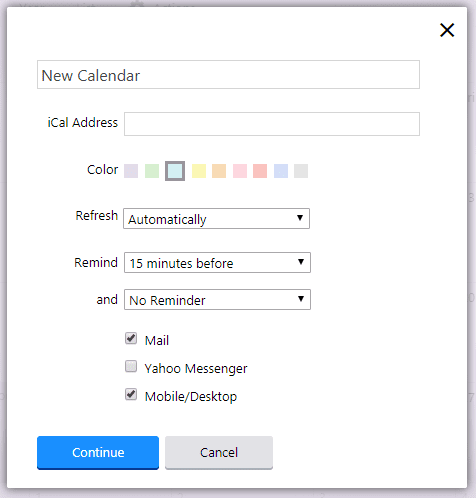 That process will bring the dates on your iCloud Calendar to your Yahoo Calendar but you won't be able to edit those events. As you add new events on your phone they will appear on Yahoo but you won't be able to change them.
Importing your calendar entries to Yahoo Calendar will the first thing you do before you start using the tool. The next task will be more fun. You can start to personalize your calendar.
Personalizing Your Calendar
The organization of Yahoo Calendar's settings doesn't improve when you want to personalize your schedule. Once again, you'll find yourself clicking gear icons and searching fruitlessly down menus to find the right settings. They're actually in the same place as the import option.
You'll need to place the cursor over the name of the calendar on the left, then click the arrow button to find the "Edit Calendar" link.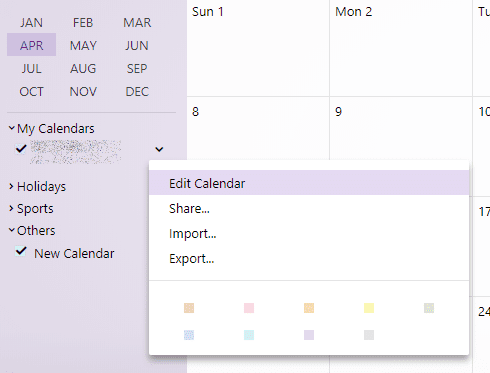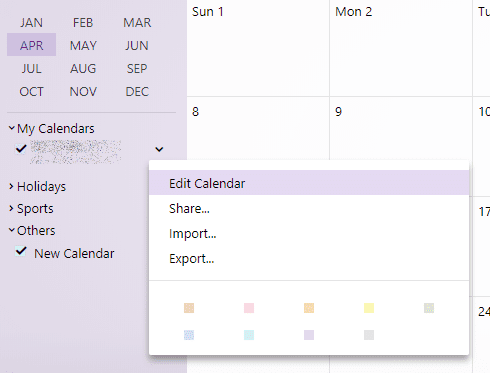 That may well make more sense than it sounds. The settings might not be very visible but they do allow you to adjust them easily for each of the calendars you're using. That lets you see at a glance to which of your calendars an event belongs.
You don't even have to click the "Edit Calendar" link to change your calendar colors. At the bottom of the menu is a choice of nine different colors that you can implement right away. As soon as you make your choice, the checkbox next to the name of the calendar changes its color.
That choice isn't particularly large. You can't mix your own colors, and the selection doesn't apply to the background. While Yahoo Mail lets users select a color and even place an image in the background of their email client, in Yahoo Calendar, you get what you're given. You can only change the background color of the event.
Click the "Edit Calendar" link and you'll be offered a few more options.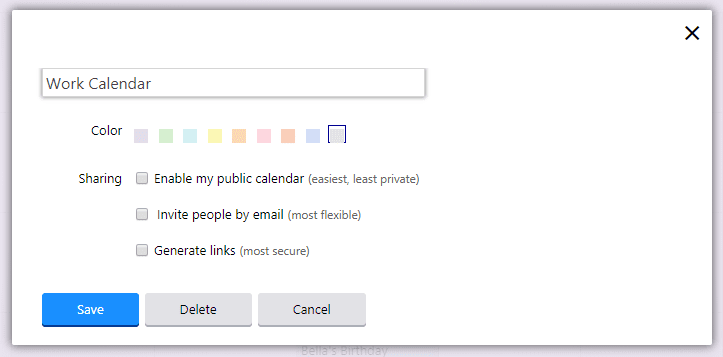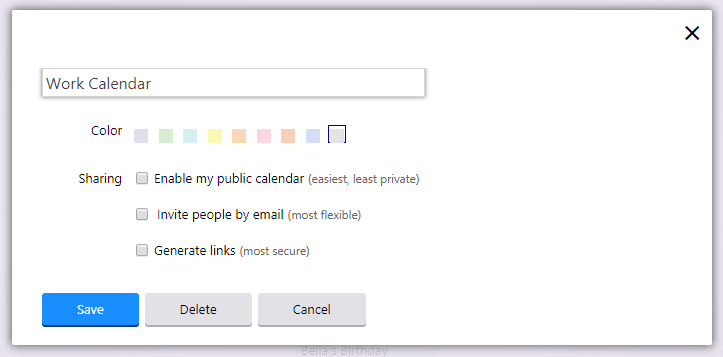 Those additional options consist of just three features.
You can change the name of your calendar.
You can change the background color of the events… again.
And you can adjust the sharing settings of your calendar.
Setting The Calendar Sharing Settings
The sharing options in the Edit Calendar settings take three forms.
Making Your Calendar Completely Public
The first option enables your public calendar. It lets anyone see your schedule. If they know your Yahoo username—the words before @yahoo.com in your Yahoo email address—they can add that username to the end of "https://calendar.yahoo.com/" and see your calendar.


That's pretty public but Yahoo does let you adjust the amount of information you show. Choose "View events" and anyone with your email address will be able to see your entire schedule. Choose "View titles and locations only" and anyone with your email address will be able to see what you're doing, when and where you're doing it. Then, choose "View free/busy times only" and anyone with your email address will only be able to see when you're available.
In general, unless you're going to be sharing your calendar with more people than you can comfortably email, you should probably skip this section entirely. Publicly showing events is useful for telling everyone about the events in which a brand is participating. An author might want to list their book signings, for example; a store might want to use a public calendar to show where and when it's holding demonstrations.
In general though, only letting people see when you'll be available is going to be a better option for a calendar with a level of privacy this low. It's a useful option for someone in the sharing economy, for example. Name the calendar "Apartment rental" and anyone would be able to see the dates on which they can rent it but they won't be able to see who's renting it.
But for the most part, you'll probably prefer to restrict access to your calendar only to those people you know.
Inviting People To View Your Calendar
A better option is to only check the box marked "Invite people by email".
Yahoo marks this option as the "most flexible" but that's not entirely accurate. It is, however, the most straightforward.


Enter the email address of the person you want to share your calendar with and press "Save", and they'll receive a message with a link to your calendar. (You don't receive any confirmation or on-screen notification. You just have to trust that Yahoo has passed on the message.)
What the recipient can do when they click that link will depend on the setting you've chosen. Like a public calendar, you can allow people to view your entire events; view only the titles and locations of your events; or only view when you'll be available. But you can also allow people who have received your email to change the events you've entered.
That gives them a much greater degree of control over your calendar. It's useful if an assistant is helping to manage your schedule or if you're sharing a calendar with a partner who will be joining you at events. It's certainly not an option that you want to give to everyone.
You can add multiple recipients but you can't add them in bulk. Because each email address has to be added manually, you won't be able to share your calendar comfortably with large numbers of people. This isn't a good option for sharing a calendar with a group.
Generating Unique Links
Finally, the most secure way to share a calendar (other than not sharing it at all) is to generate a unique link. Click that checkbox, and you'll be given two secure and hashed URLs. The first can be sent to someone to view your calendar in a browser. The second can be sent to someone who wants to import your schedule into their own digital calendar.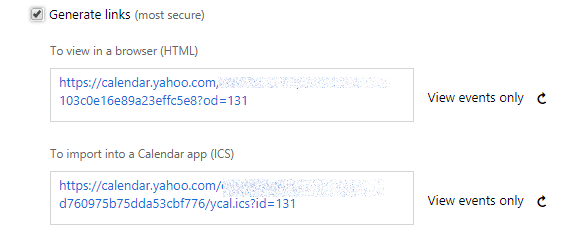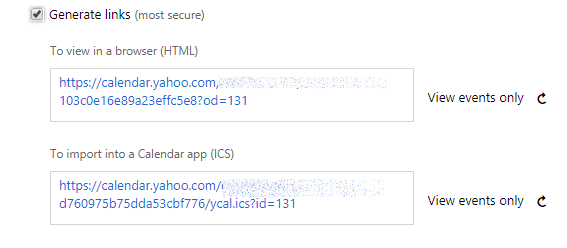 Both those addresses only allow the recipient to view events and only for that calendar. They can't change any of the events or edit the calendar in any way.
An curved arrow at the end of the line allows you reset the URL for the shared calendar. You'll be asked whether you're sure that you want to reset. Click "Yes, Reset" and the previous link will no longer function.
How To Stop Sharing Your Calendar
Resetting a unique link is one way to stop sharing a calendar. If you've made your calendar completely public, then just unchecking that box will make it private again.
If you've emailed an invitation to share your calendar—the second option in the list—then you'll have to work a little harder.
Re-open the "Edit Calendar" menu. You'll find the "Invite people by email" link already checked, and beneath it a list of people who can share your calendar. On the right of each email is a "-" minus sign. Click that sign and press "Save", and that recipient will no longer be able to view your calendar.
Bear in mind that they will receive an email notification informing them that they've lost permission. If you'd rather they didn't know you've cut them off, you'll need to stop using that calendar and create a new one.
The Share Link In The Calendar Settings Menu
Do you remember when you clicked the arrow next to the name of the calendar and received a list of four options: Edit Calendar; Share; Import; and Export? If you were wondering what the difference is between pressing "Share" in that menu and using the Share functions available under "Edit Calendar", the answer is… none.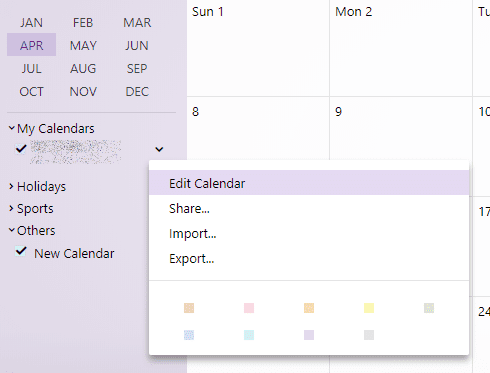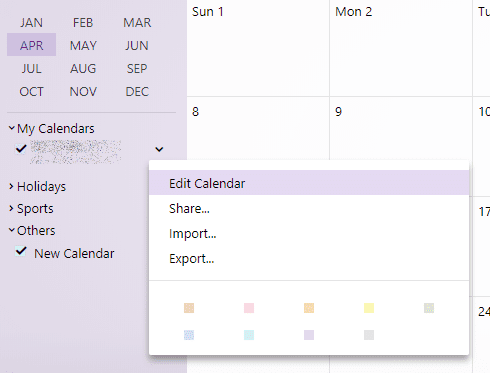 Press "Share" in the menu and you'll be taken to the list of options, complete with colors and the possibility to change calendar's name.
Adjusting The Calendar View
So you can't change the background color of your Yahoo Calendar, and the Edit Calendar menu includes more functions concerning sharing, importing and exporting than functions that concern the appearance of the calendar. But there are a couple more things that you can do to adjust the way the calendar looks on the screen.
The simplest is to change the number of days you can see at one time.
At the top of the page is a list of views:


The default setting is "Month" which shows the calendar for that month, but you can skip through a view of the hours for that Day, for that Week, or lay out all the days of the year. Clicking "List" drops all the days and just presents a list of the events that have been added to the calendar. You can use the arrows next to the name of the day or the month to skip through the year. Pressing the first option, "Today", will bring you back to the current day.
Changing Your Week
Changing how your calendar looks on the screen is simple enough, so you'd think that other changes you can make to the way the day is laid out in the schedule would be straightforward too.
Not so much.
There's another set of changes that you can make to the appearance of your calendar but you won't find it in that navigation bar above the calendar. And you won't find it by clicking the arrow next to the name of the calendar in the left sidebar.
Instead, you have to place the cursor over the gear icon in the top right corner, and choose the first title: "Calendar Options".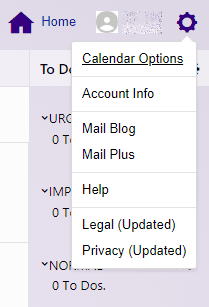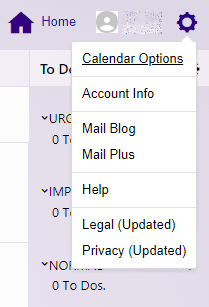 In a section marked "General", you'll be able to set the day with which your calendar starts the week; the hour at which you start and end the day; your time zone; and whether to add incoming invitations to your calendar automatically.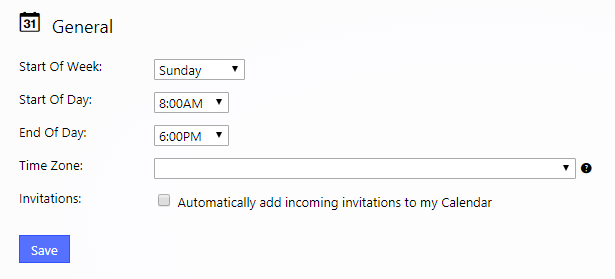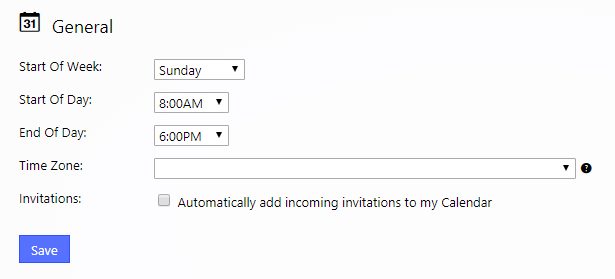 Start of Week
Yahoo goes a little wild with its start of the week options. While other calendars tend to offer only the options of Saturday, Sunday and Monday, Yahoo goes the whole hog and lets you choose to place any day at the start of the week.
It's a simple option. Choose the day, press "Save" and click the "Back to Calendar" link at the top left of the screen. You'll find that that day is now in the first column of the monthly view of the calendar.
Switch to the Week view and that screen too will start with the day of your choice.
Starting And Ending The Day
The next two options set the start and end times of the day in Day view. You won't notice the difference when you're looking at a month-view of the calendar but if you click on a date or on the Day link above the calendar, you'll find that the hours between the start and end-times are clearer than the hours outside that zone.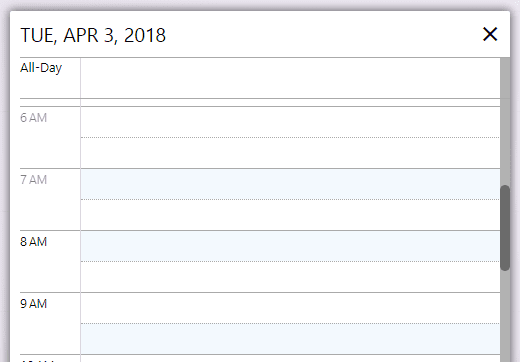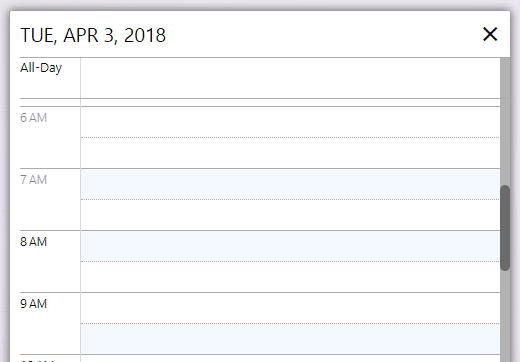 Setting The Time Zone
The next option is both more important and surprisingly complex. Your calendar should ultimately take the time zone from your DNS server. It will be able to see where you are and adjust the time zone automatically.
That might not happen automatically though. You might have been using a VPN or you could be on the road and the time zone hasn't updated. It is worth checking then that your calendar is set to the right time zone. Fail to do that and not only will your events be listed at the wrong time but your notifications will also appear at the wrong time. There's a good chance that you'll miss them.
If you're traveling, take a minute on arrival to hit the gear icon, select the first item in the menu and make sure that your time zone is up to date.
Automating Your Invitations
Finally, you can choose to automatically add incoming invitations to your calendar.
You want to be careful about doing this. On the one hand, the benefits are clear. When someone sends you an invitation to an event, you don't have to enter the details manually. Yahoo will handle those entries for you. When you look at your calendar, you'll find that it's always up to date.
But Yahoo will assume that you want to attend every event to which you're invited, and that's quite an assumption. If you're more likely to be turning down invitations than accepting them, a better option is to leave this box unchecked and add your events yourself.
Dump The To-Do List
There is one more change that you can make to the appearance of the calendar. It's small but it has a big effect.
You'll have to go back to the main calendar view. Above the calendar is the gear icon marked "Actions". Select that icon and you'll open another dropdown menu. About halfway down that menu is a link marked "Hide To Dos":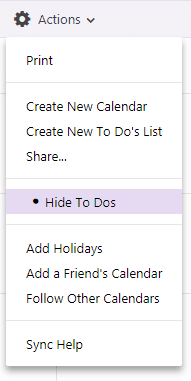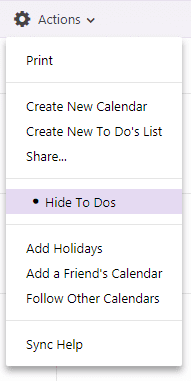 Choose that option and the task list on the right of the page disappears, making the space available for events in the calendar larger.
As we'll see, that To Do list is a pretty useful extension for Yahoo Calendar but if you're not using it, then hiding the To Dos will remove a column, and make the calendar appear easier to use. To return the column, you just need to click the icon again and choose "Show To Dos".
So Yahoo Calendar provides a range of different options for changing the layout of your Calendar. As one option, you can change the background color of your event entries—but only the entries.
You can change the view by day, week, month or events.
Lastly, you can choose whether or not to see the To Do list.
And you have to do all of these basic presentation functions from three different menus in three different places. That doesn't make for the best usability but once you know what you're doing and where you need to look for which function, you shouldn't find managing the appearance of your calendar to be too much of a challenge.
2. Creating Multiple Calendars
We've already seen that it's possible to import a calendar from a different platform. But continuing to use an old calendar on Yahoo isn't the only reason that you might want more than one calendar on the platform.
We all live according to different schedules. Work requires one schedule. We have meetings and deadlines and appointments that can fill the day—usually from around nine to around five from Monday to Friday.
But we also might have school schedules, either our own or our children's. We have social schedules in which we list anniversary dinners and drinks with friends. And we might also live our lives around the schedules of our favorite sports teams, religious or national holidays, or even the television schedules.
Digital calendars let you layer each of those schedules onto the same calendar. Confusingly, it also calls those schedules "calendars." So you end up with multiple calendars stuffed into your calendar. It's not very satisfactory but it's how all digital calendars, from Apple to Google, describe their calendars.
Adding those layers isn't too much of a challenge.
You're going to be adding two kinds of calendars: your own; and the calendars already created by others.
Creating Your Own Additional Calendars
To create a new calendar of your own, click the "Actions" gear above the calendar to open the dropdown menu. The first item after "Print" is "Create New Calendar".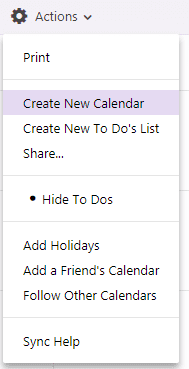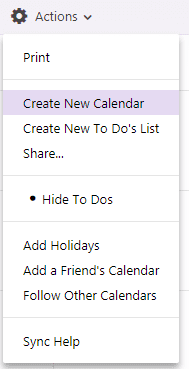 Choose that menu item, and you'll be offered a small version of the calendar edit settings that you can find when you press the arrow icon next to the name of each calendar on the left. (Another way to bring up this box is to place the cursor over "My Calendars" on the left and click the "+" icon.)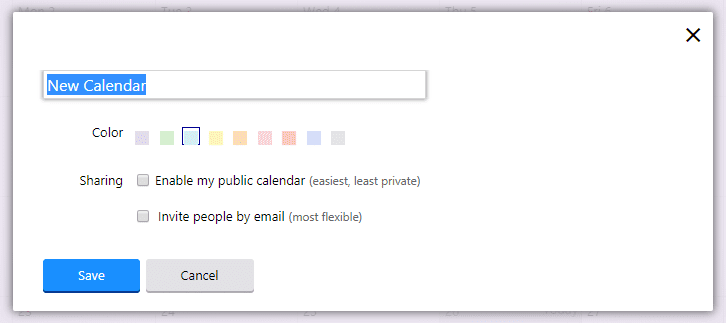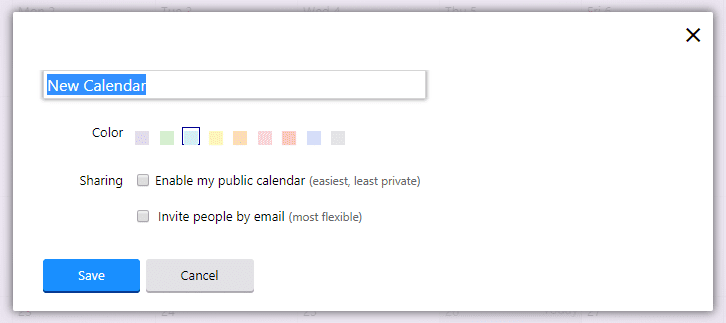 You'll be able to enter a name for your calendar.
You'll be able to choose a background color for events added to that calendar.
And you'll be able to choose from two of the sharing settings seen earlier. You can make the calendar entirely public; or you can invite people by email to come and view the events.
If you want a third option—the chance to create a unique URL to share with others—first, create the calendar. Once it's created, you'll see it listed in the calendar list on the left. Press the arrow icon next to it and choose either "Edit Calendar" or "Share".
That's all it takes to create your own additional calendars. To add calendars prepared by others is a little more complex.
Adding Prepared Calendars
The left of the calendar screen always has a list of calendars. One of those calendars will be the default that you receive when you create a Yahoo account. It might also include any other calendars you've created or imported from other platforms. (Imported calendars appear at the bottom of the list under "Others". Until you rename them, they'll be listed as "New Calendar".)
But between that "New Calendar" and your own calendars, you'll have a couple of other headings: holidays; and sports.
Initially, they're empty. Click those titles and you'll just see a message telling you that you don't have any of those calendars yet.
Adding A Holiday Calendar
Placing the cursor over the "Holidays" title brings up a "+" icon. Click that icon and you'll be offered a pop-up box which contains just three options.
You'll be able to name the calendar.
You'll be able to choose one of Yahoo's nine colors to use as the background for entries into the calendar.
And in between them, you'll be able to choose a prepared calendar to include.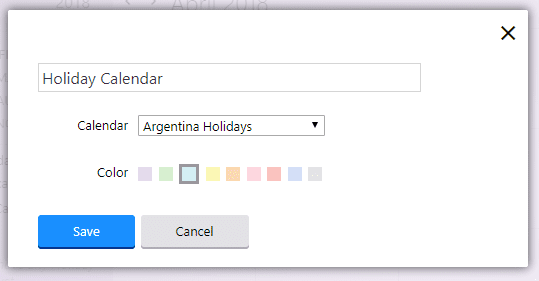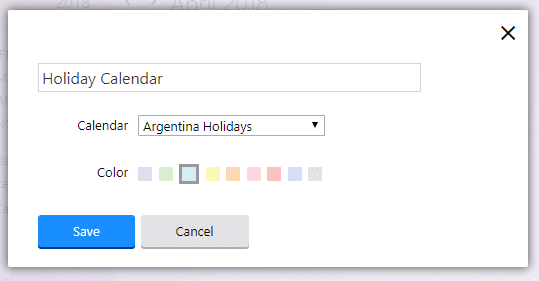 Those calendars start with Argentina and run through a long list of national and religious holidays, including events in Chinese, Russian and other languages. Make your selection and press "Save".
Bear in mind that choosing a calendar from the list doesn't place it on your screen with the name of that calendar. Unless you remember to rename it, it will appear in the list as "New Calendar" which isn't very helpful. If you forget, you'll have to place your cursor over the title of the calendar, press the arrow icon, and choose "Edit Calendar". Change the name and press "Save".
There is a second way to do all of this. Instead of pressing the "+" icon, click the Actions gear icon at the top of the page, and choose "Add Holidays". It doesn't give you the ability to add individual holidays; it takes you to the pop-up and the list of national holidays.
Adding A Sports Calendar
You'd think that the process of adding a sports calendar would be the same as adding a holiday calendar. But it isn't.
Instead of a "+" icon, you'll get a gear icon. Press that and you'll be offered a pop-up box that's much more complex than the simple options of the Holiday Calendars.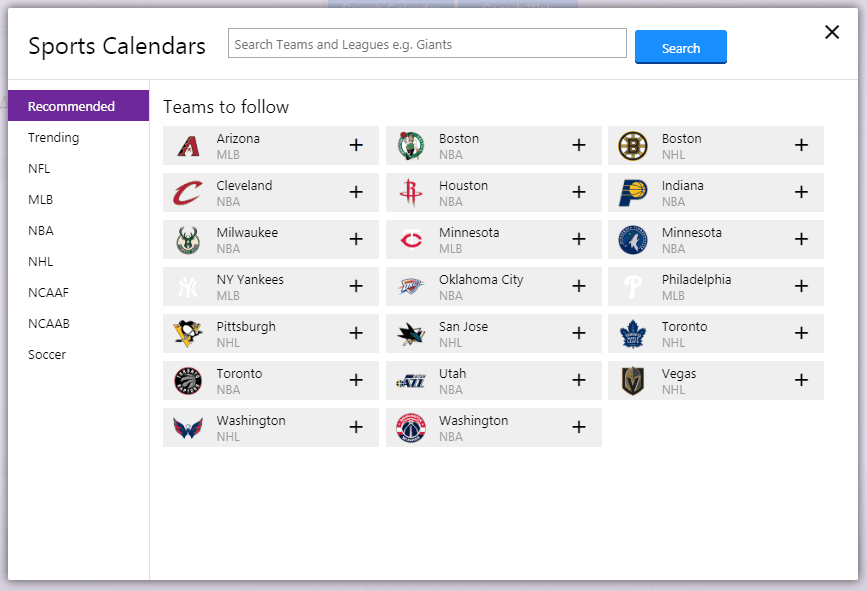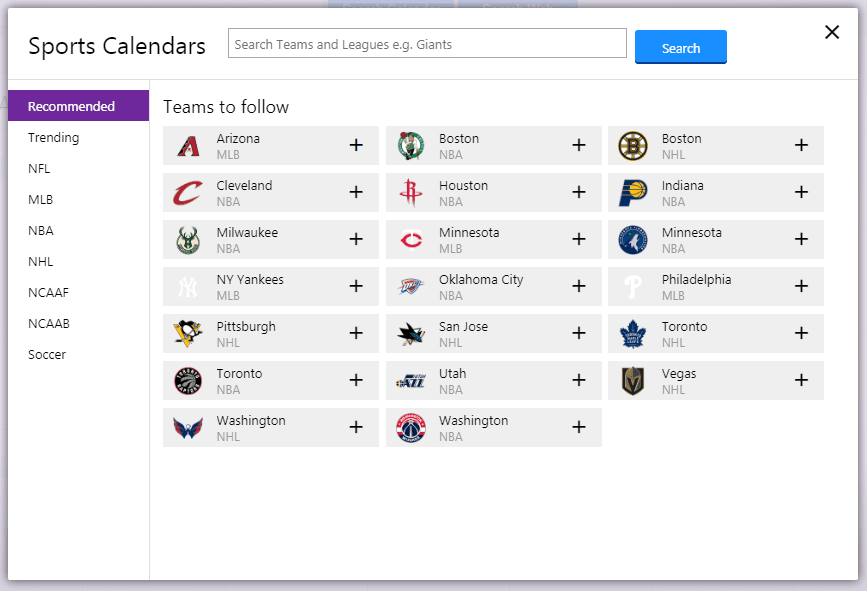 Yahoo begins by recommending a set of teams to follow from a selection of different sports, and offers a link to see more. How they choose those teams is a bit of a mystery. Unlike Google's recommendations, these don't appear to be based on a user's behavior.
You can search for a team using a search bar or you can browse by league. A "Trending" section even lets you add upcoming games that people are discussing (although it also lets you add games that have already taken place, which is a lot less useful.)
Doing no more than clicking one of the options in the box is enough to add that calendar to yours. Make a mistake and you'll need to bring up the icon next to it and choose "Unfollow" to unclog your calendar.
Yahoo is remarkably good at offering its users the opportunity to add sports schedules to their calendars. But it's still unlikely to be used. Try to add a soccer team's schedule to your calendar and you run into trouble. The top of the screen, before the list of teams, is missing all its images. Attempts to add individual teams turn up a message that no games are scheduled, even when games are scheduled. And while adding an entire league's fixtures is an option, it makes your Saturday afternoons look unusable.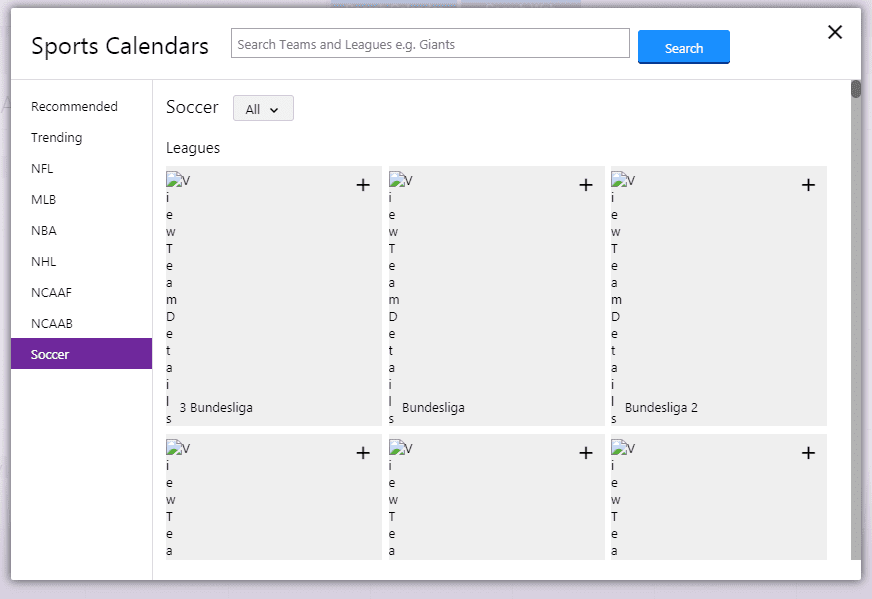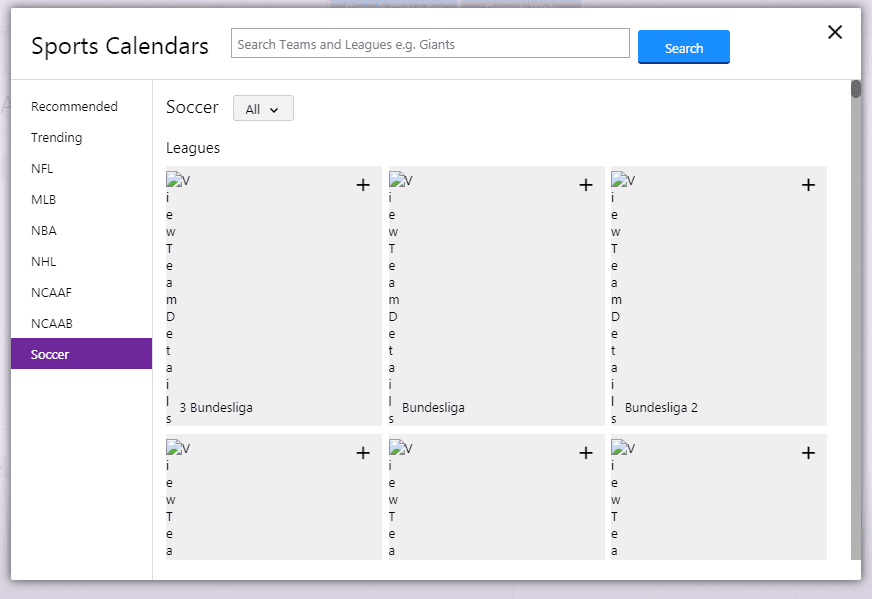 That suggests that for all the investment that Yahoo has put into pushing sports schedules to its users few people are actually making use of it—or at least not the soccer schedules.
If you want to add your favorite team to your calendar, Yahoo makes it easy. But it's not likely to be the most used feature of Yahoo Calendar.
Adding A Friend's Calendar
One of the more useful features of a digital calendar is the ability to see the schedule of other people. For administrative assistants who need to set up appointments, access to a client's calendar is essential. For teams trying to find times to meet or chat, the ability to at least see when people are available is hugely valuable.
The process here is the same as the steps for importing a calendar.
There are two ways in. Place the cursor over the list of calendars on the left marked "Others" and press the gear icon. You'll have the option to "Add a Friend's Calendar"; or "Follow Other Calendars".

You can reach the same option by pressing the Action gear icon at the top of the screen.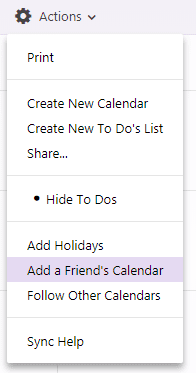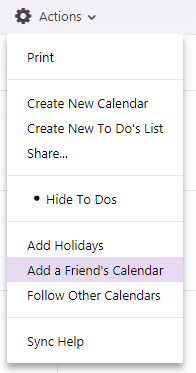 But what follows from both of those links isn't what you might expect—or likely to be what you need. Press that link and you won't be offered a place to enter the iCal address of a friend's calendar or any other method of importing a calendar.
Instead, you'll be asked to enter a friend's Yahoo email address.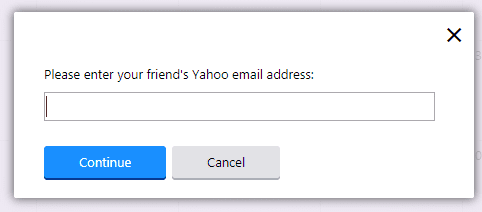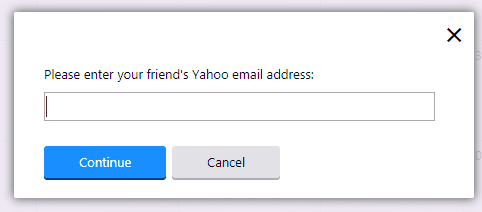 That's great… if everyone whose calendar you need to add uses Yahoo. It's more likely though that you'll need to find another way to add your friends' calendars.
Forget about the link to "Add a Friend's Calendar". Choose "Follow Other Calendars" which in both menus appears immediately below the "Add a Friend's Calendar" link.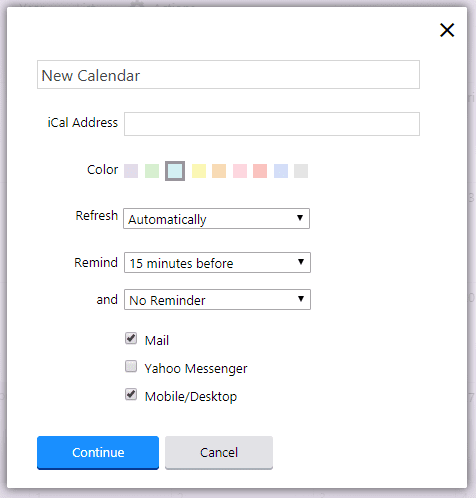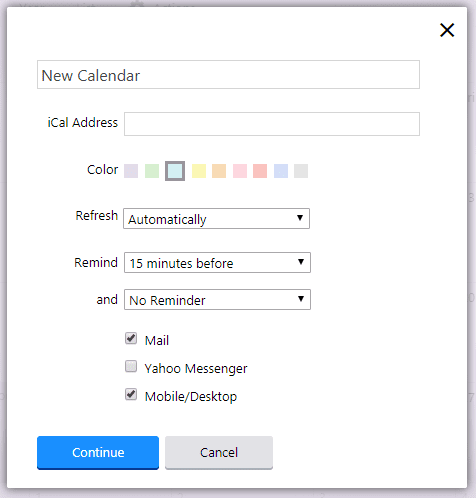 You'll need the iCal address of your friend's calendar but as long you have that information, you'll be able to paste it into the field and bring over your friend's events. It's a bit clumsy and the menu titles are little deceptive but it's the only way to be able to track a friend or colleague's schedule.
Adding Even More Calendars
The ability to add national holidays to your calendar is almost essential. It will show when you're going to be out of the office and when you'll struggle to find anyone in theirs. If you're a sports fan, then being able to add your team's schedule will be useful too. And being able to keep track of a friend or colleague's availability is essential if you need to make appointments with a teammate—even if Yahoo doesn't make that easy.
But those aren't the only kinds of schedules you might want to add to your calendar. You also might want to add astronomy calendars, school schedules or anything else that determines the pace of your life.
The calendars need to be in iCal format but plenty of them are available online. iCalShare has thousands of free calendars covering topics that range from the kind of religious holidays that Yahoo makes easy to add, to NASA launch schedules that they don't. CalendarLabs is another good choice. Both sites—and there are plenty of others—will enable you to pack your calendar with as many schedules as you want.
But be careful doing this. The more schedules you pack into your calendar, the harder you'll find it to see the events in your calendar that matter the most. And as you're limited to just nine colors, you'll also struggle to tell your schedules apart.
Removing Schedules From Your Calendar
If all of those schedules in your calendar becomes overwhelming, you have two options.
The first is to simply uncheck the colored box next to the name of the calendar on the left. Those boxes aren't just there to remind you of the colors of each calendar. The check marks let you add and remove a schedule from your calendar at will. You'll still be following those calendars if you uncheck a box but you won't be able to see them.
Alternatively, if you click the down arrow next to the name of the calendar, one of the options that follows is "unfollow". Clicking that link permanently removes the schedule from your calendar.
Adding additional schedules to your calendar is one of the most important features in a digital calendar. Yahoo doesn't make it easy. The process is great… if you want to add national holidays or sports schedules but for everyone else, it requires a little searching through menus and knowledge of an iCal address that you want to add.
3. Editing Your Calendar
Setting up your calendar on Yahoo shouldn't take you too long. You might have to play around with the menus a little and bring in other calendars you might want to use, but it shouldn't be too hard—especially if you want to add a sports schedule to your calendar.
The next step is to starting using that calendar. You'll want to add events, set reminders… and do a few other things that are a little more surprising.
How To Add An Event To Yahoo Calendar
Adding events to a calendar is probably the most important action that you can take on the platform. So you'd think that "Add event" would be right at the top of the list beneath the Actions gear icon.
Not only is it not at the top of that list, it's not in the list at all. You'll have to look elsewhere to find the button that lets you place new events into your calendar. There are a couple of them.
The first is the "New Event" button. It's right out of the way in the top left corner of the calendar, beneath the Yahoo! Mail icon. It's easy to miss.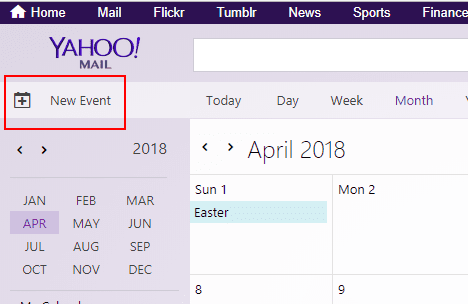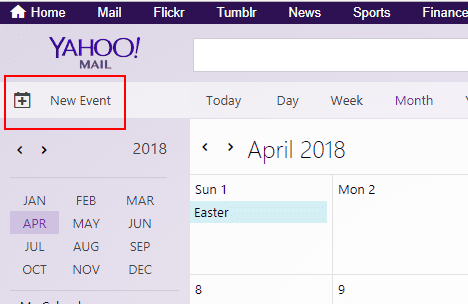 Click that icon and you'll generate a pop-up. It's a big pop-up. In fact there are more fields than can fit into the pop-up, which means that you'll have to remember to scroll down to complete all the information you need. And as we'll see, there are some valuable options at the bottom of the page.
There's nothing simple or quick about this method. This isn't the best way to quickly shoot in a quick note of a dinner appointment the following week. But it does let you add all the details of an event you have coming up.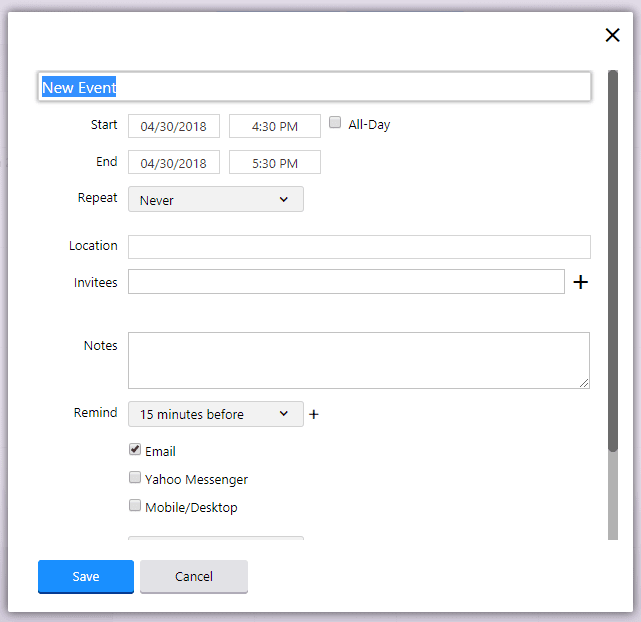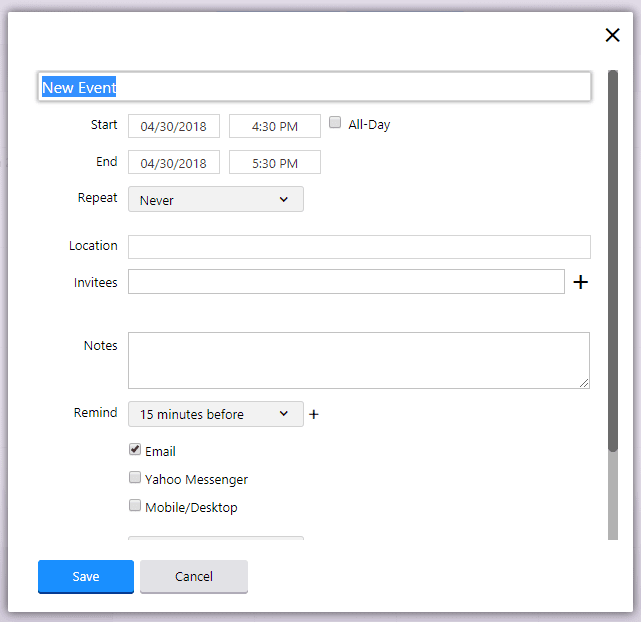 The first step is to name the new event. That sounds straightforward but it actually requires a little thought.
If you're sharing your calendar with other people, the name of the event might be all that someone else will see. So while it's tempting to just throw in a quick word that's good enough to remind you of what's coming up, it is important to remember that other people might be seeing it and choose a phrase that will be clear… and which you won't find embarrassing.
You'll then need to enter a start and end date.
The default is that both dates are the days on which you create the event, and the event will last an hour. Click the dates, and each will bring up a month that you can scroll through. Click the hour, and you'll have a drop-down menu that lets you pick the time. Next to all of those options is a checkbox that lets you mark the event as lasting all day.
The next option is a little more surprising. The ability to mark an event as a repeat is clearly very useful. But Yahoo offers some strange options. The default is that the event never repeats. Other options include daily, weekly, monthly and yearly—all of which are fine.
But you can also choose to repeat an event every day from Monday to Friday; on Saturdays and Sundays; on Mondays, Wednesdays and Fridays; and on Tuesdays and Thursdays. If your Pilates class is every Monday and Thursday, you're out of luck. (Actually, you'd just have to enter two events: one on Monday and one on Thursday, and repeat them both weekly.) Why Yahoo chose those particular sets of days isn't entirely clear.
You can then enter a location— but it won't do more than include what you type. While other digital calendars can take the address that you put with your event and pull up a map, Yahoo doesn't have that facility. It tries. When you click on the event in your calendar, the location will be a link. But when you click that link, you'll find it's broken. Either not enough people use it to bother reporting the problem or Yahoo is too busy to fix it.
But once again, you'll need to bear in mind that at least some of the people who share your calendar will be able to see the location you've included in your event. So do be careful about adding any details you don't want to share.
Adding invitees to an event is both a touch confusing and more helpful than it sounds. A single line lets you type in email addresses, one after the other. If an address is already in your Yahoo contact list, the calendar will offer an autocomplete.
And this is where things get interesting. Once you've chosen your invitees, you'll be offered a button marked "Check Availability." Press that button, and you'll be able to see a small horizontal schedule.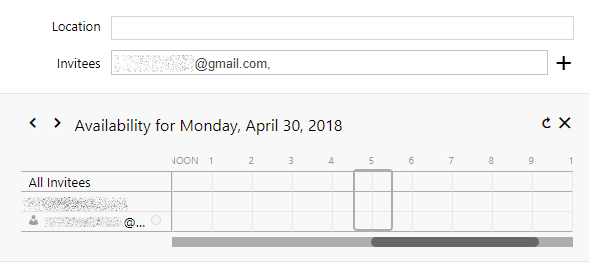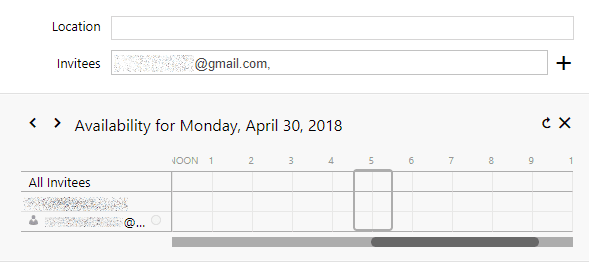 Under the title "All Invitees" will be a list of the people attending the event. Your own name will be first, followed by the people you've invited. A tiny little icon next to the name lets you toggle whether that attendee's attendance is required or optional.
If the people on your list are sharing their calendar with you, you'll be able to see which hours are taken and which are still available. Slide a box over the hours on the scale and you'll be able to set a time that suits everyone. Uses the arrows in the top left and you can scroll through the days until you find one that fits.
In theory, it's a neat tool, and one that makes organizing a suitable time much easier than it might otherwise be. In practice however, it's not particularly helpful. To be effective, everyone you're inviting has to use Yahoo Calendar and to be sharing their calendar with you. The more people you invite, the less likely that will be and the harder it will be to find a time that suits everyone. Other platforms also do the work for you. Instead of requiring you to scroll day by day and look for hours, they can suggest times that work. That's a lot easier.
Another odd feature in the "Invitees" field is the "+" symbol at the end of the line. You'd think that's what you'd need to press in order to invite more people. It's actually what you press to bring up your contact list so that you can scroll through it for more attendees. It's not a huge issue but it is a little confusing.
The next field is for notes. It's a big field, much larger than the fields for the name of the event or the location. It's also much bigger than the space you'll have in the calendar itself.
So despite the room that Yahoo gives you, be cautious about making the most of that opportunity. Try to keep your event notes to a minimum so that you can see them clearly on your schedule.
The Reminder also has one of those neat (and confusing) "+" icons. The default setting is "No Reminder," but click that option and you'll be offered a long list of alternatives, starting with five, fifteen and thirty minutes before the event, continuing through five different hour choices and a selection of days up to two weeks ahead of the event.
Click the icon at the end of the line and you get to add another reminder. You'll have the same set of selections but it means that you could arrange to receive a reminder a day before the event and fifteen minutes before it begins.
It's a useful feature but it would be even more useful if you could also choose different delivery formats for each of the reminders. You can't. Beneath the reminders are three options for reminder delivery: Email; Yahoo Messenger; and Mobile/Desktop.
The inclusion of Yahoo Messenger in that list feels more like a triumph of hope over reality. The app is twenty years old and has been downloaded about 50 million times. Despite upgrades, it's fairly unlikely that you're one of those 50 million-odd people who uses Yahoo Messenger instead of WhatsApp, for example, which has 1.5 billion users.
But choose the email option, and that reminder will be delivered to your Yahoo email address. If you don't check that address very often, you won't see it there either.
The solution is to set up automatic forwarding. Whenever a reminder comes into your Yahoo email account, it will automatically be sent to an address that you actually monitor. It's also a little complex. Yahoo Mail's new format doesn't allow for automatic forwarding so after clicking the Settings gear in the top right corner of Yahoo Mail, you'll need to select "Switch back to classic Mail." Yahoo won't let you change the view of its mail platform until you've told it why you want to make that change but type anything in the field and you'll be able to "Switch back to classic Mail."
You'll then be able to place your cursor over the Settings icon in the top right corner and choose "Settings." Select your Yahoo email address and scroll down to the bottom of the page. Check the box under "Access your Yahoo Mail elsewhere" and enter the email address to which you want to receive your Yahoo Mail.
It's clumsy, and it will also forward all of your Yahoo emails and not just your calendar reminders. While being able to send only your reminders to another email address would be useful, filters only allow you to sort them into a particular folder. That's not going to help.
In the end, the best option might well be to check the email notification box, but also to check Mobile/Desktop to ensure that you don't miss anything.
The last three options in the New Event pop-up can only be seen when you scroll down the page.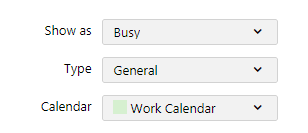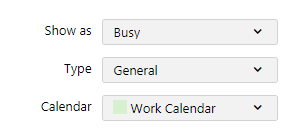 The first is how the time in your calendar will appear to anyone who can see your calendar but not see all the details. The choice is between "Free," "Busy" and "Tentative."
The next option refers to the Type of event you're creating. The default selection is "General" but click the arrow and you'll be offered a long list of little icons that you can include alongside the event in your calendar. Those little icons will make it easy to see at a glance what kind of event is listed in your schedule. The choice is fairly long and runs through invitations and work events to vacations, medical appointments and even dates (which get a little heart.)
Finally, you can choose the calendar in which to place the event. That choice has two effects. One is to set the color of the event's background, again making it easier to identify on the calendar. The other is to determine who can see the event. If you're sharing your work calendar with your colleagues, then you might not want them to know about your date with your partner. The calendar selection might be the very last thing on the pop-up and hidden by the scroll, but it's also hugely important.
The Shortcut To Event Creation
Pressing the "New Event" button on the top left will bring up a big form to complete. You'll have to work through the fields and pick a day and a time. There is a quicker way to enter an event though. Click any day on the calendar and you'll receive a smaller pop-up.
The pop-up you receive will depend on the calendar view you're using. If you're looking at the monthly view, the first pop-up you'll receive will be the daily view.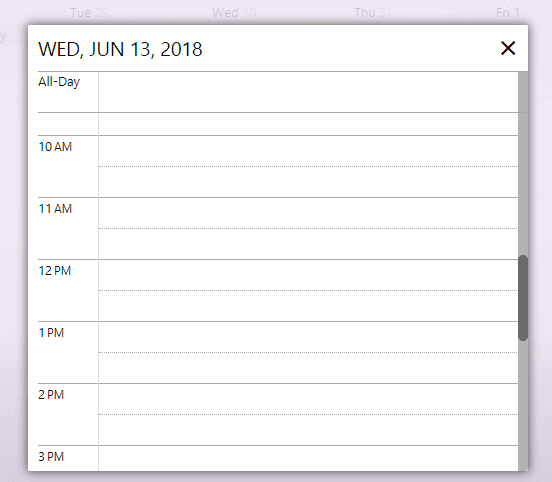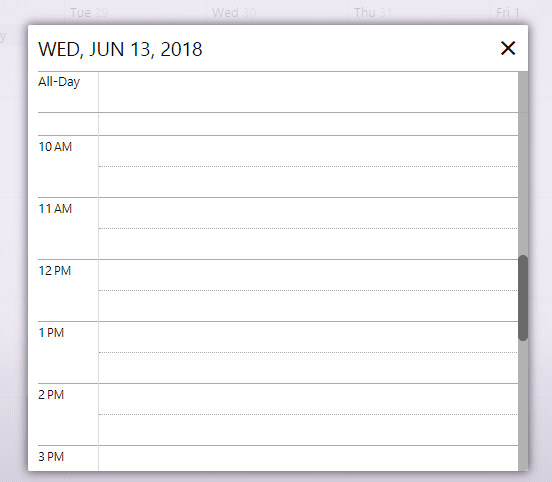 Choose an hour and you'll be offered a shortened version of the New Event form.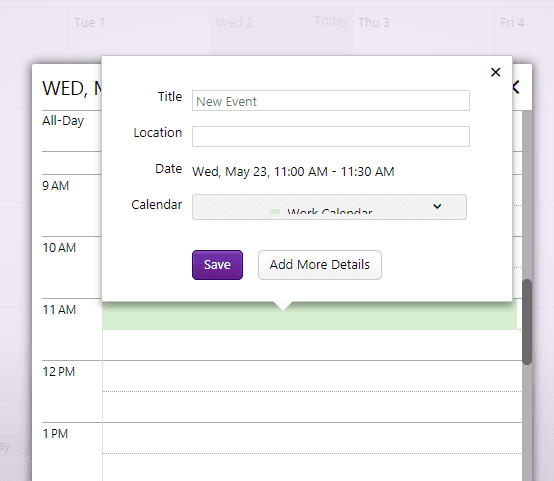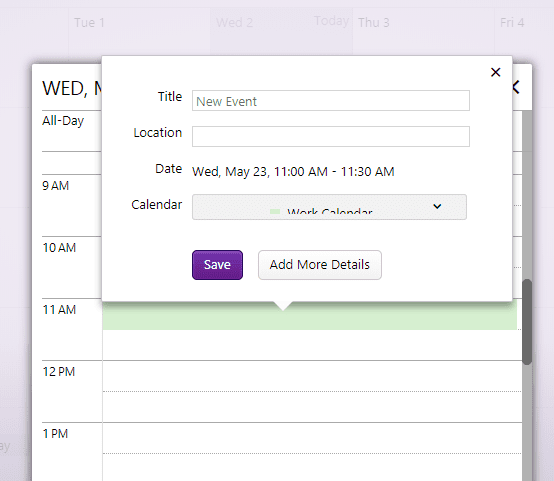 If your calendar view is daily or weekly, then wherever you click on your calendar will be an hour, and you'll be entering the event into that time. While that makes the process faster, it does mean that you should be careful where you click.
This shortened form contains just four elements. You'll be able to enter a Title and a Location. The Date will already be set so if you want to change the time, you'll need to click elsewhere on the underlying day schedule. Finally, you'll need to set the Calendar that you're using.
That's it.
If you want to add all the extras that we've already seen in the "New Events" button—invitees, notes and reminders—you can click "Add More Details" to bring up the complete form.
There is a third quick way to add an event to a calendar. If you're looking at the monthly view, you can right-click on a space on the calendar. You'll be given just two options: "New Event" and "Open Detailed View."
Click the "New Event" link, and you'll get the full New Event pop-up. Choose "Open Detailed View" and you'll get the day view so that you can pick an hour and click again.
Changing And Removing Events In Your Calendar
Once an event has been added to your calendar, editing and deleting it is relatively straightforward. Right-click on the event and you'll be given a list of options.
The first option is to "Edit Event." Choose that option and once again, you'll bring up the full New Event form.
The second option is to "Delete Event." Choose that option and you'll have to confirm your decision.
The final option is to "Print Event." Yahoo does tend to offer plenty of opportunities to print the calendar and events on the calendar; it's not too clear why anyone would want to. They might want to spend more time building a native Yahoo Calendar app.
The bottom half of the menu focuses on how the event appears to others who share that calendar. You can choose between "Free," "Busy" and "Tentative."
A third way to reach the edit options is just to click on the event. The real benefit of doing that is that you can see the full details about the event. But beneath those details are options to edit, print and delete.
Placing events on your schedule should be straightforward. It may well be the most important action you take with your calendar. Yahoo doesn't make it simple by moving the New Event button out of the Actions list and placing it in the corner of the page. The most common method you'll use is to click on a date then choose an hour. Watch the visibility of your event and make sure that you place it in the right calendar.
4. Creating A To Do List
One of the big advantages that digital calendars have brought is an ability to extend functionality beyond the placement of events. We've already seen that those events can come with reminders (though the options for receiving them from Yahoo aren't very wide.) You can also invite others to participate in the events you're listing.
But a digital calendar can often do much more than that—and on Yahoo Calendar that means creating To Do lists.
Like creating a new event, the process isn't entirely obvious. Clicking a date or a time in the calendar doesn't give you the option to add a task to that day, and there's no dedicated button that you can press to bring up the To Do list options. Even some of the options related to the To Do List are scattered across multiple menus.
Create A New List
On the right of the screen is a list of To Do's. (If you can't see it, click that Actions icon and click "Show To Dos.") The list comes with its own gear icon that appears below the profile gear icon. Click that icon and you'll bring up a menu of functions.
The contents of the menu depend on the view. Yahoo offers four ways to see your list of tasks. The default is Priority View, which lists your tasks according to the importance you've assigned to them; you can also see them in List View, which arranges your tasks according to the subject categories in which you've placed them; Due Date View shows them in deadline order; and Done View shows the tasks you've already completed.
Click the gear icon in Priority View and the menu will offer two kinds of function: you can create a New To Do; and you can change the view.
Don't choose a New To Do yet. First, select "List View" then click the gear icon again. Now you'll find that the menu items have changed. At the bottom of the list is an option to "Share" your tasks with others. Above it is a link to "Create List".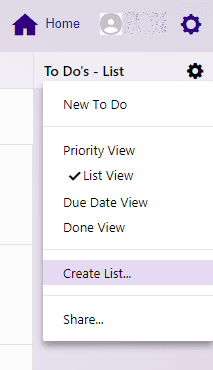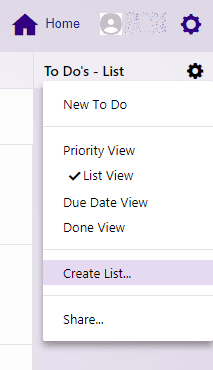 This function won't actually create a task that you can slot into a date on your calendar. It creates a heading under which you can categorize the tasks you're about to create. It's the best place to start.
Click on "Create List." You'll be offered a pop-up that allows you to do two things. You can name your list. And you choose people to share that list with. Check the checkbox next to "Sharing" and the pop-up will extend to provide space to invite people by email. For each person you invite, you can determine whether they can only view your tasks or also view and edit them.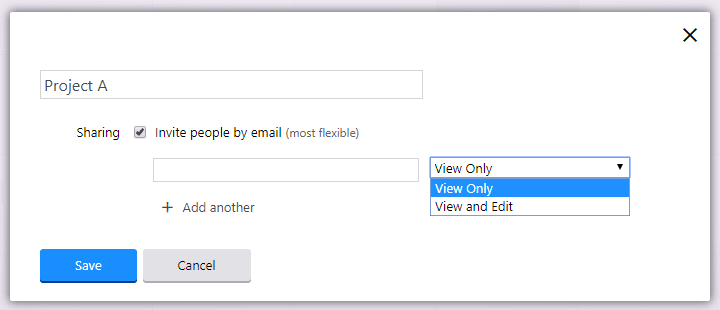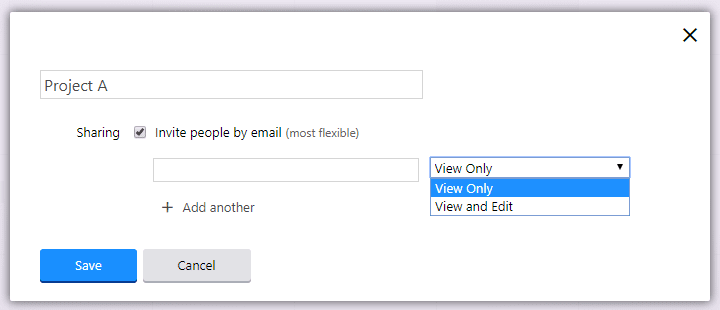 Give your list a name press "Save", and that list will be visible when you look at your To Dos in List View.
Creating To Dos
Creating a list gives you a way to categorize your tasks. But you have two other ways. You can also categorize them by the date they're due; and you can categorize them by their importance.
And you have multiple ways to create that task.
The easiest method is to press the To Do gear icon, and choose "New To Do". Yahoo will offer a form in a pop-up that contains five fields.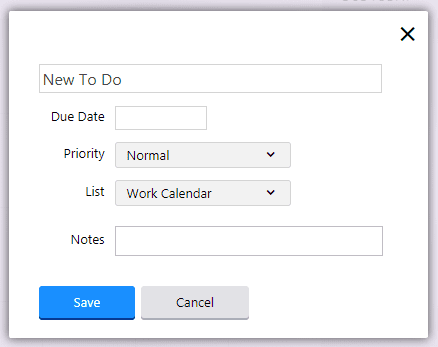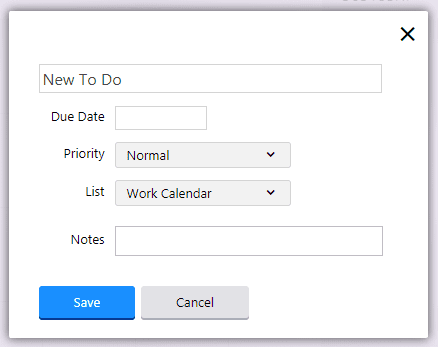 The first field lets you give your task a name.
You can then set a Due date, and you can assign a priority.
Priorities take three forms. The default is "Normal". Mark a task as "Important" and it will be given a single exclamation mark. Mark it as "Urgent" and the task will receive two exclamation marks.
The next field asks which list the task should be assigned to. The default will be a calendar that you've created. But if you've created a list, such as the name of a project, you'll be able to place the task in that list and keep your work better organized.
Finally, you can add notes to your task.
A Quick Way To Create Tasks
That's a lot of fields to complete when all you want to do is remember to pick up the dry cleaning when you're in town. There are quicker ways to do it. When you're looking at your To Dos in Priority, List or Due Date views, you'll find an arrow on the left and a "+" icon on the right.
Clicking the "+" icon will deliver the pop-up field in the same way as clicking the New To Do item in the menu under the gear icon.
Click the arrow though, and you'll open a list of the tasks you've created and assigned to that category. So you'll see all the tasks you've marked as urgent or important under those categories in Priority View; you'll be able to see which of your tasks need to be completed today in the Due Date view; and you'll be able to see which of your tasks are assigned to which projects or calendars in List View.
If you place your cursor over the end of any of those categories, a field will magically appear, inviting you to "Add To Do".
There's no pop-up here and no multiple fields. If you're adding a task to the Urgent category, it will appear under that category. It will also be visible in List View under your current calendar. But if you look in the Due Date View, it won't be listed because you haven't set a due date for that task.
Editing Your Tasks
Click on the task you've created though, and you'll receive a small pop-up that shows the details of that task, and provides an option to Edit or Delete.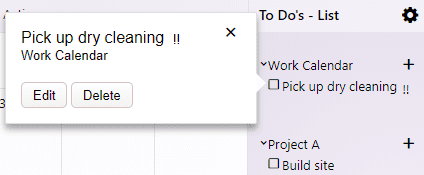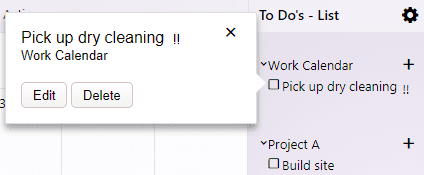 Choose "Edit", and you'll bring up the Create To Do pop-up fields, allowing you to change the categories and title, and add notes.
There is an easier way to edit your tasks. You can click the task and drag it from one category in a view to another. This method doesn't allow you to do more than change a category within a view—you can't edit the title or add a note without clicking the Edit button—but you can move a task from Important to Urgent, for example, or from one project list to another.
Sharing Your Tasks
Yahoo Calendar's To Do functions are pretty rudimentary. This isn't Slack. You're not going to be able to assign tasks to individuals, upload the files they need to complete them and chat with them as they work on them.
In fact, you can't even share tasks themselves. Nowhere among the fields in the pop-up that allows you create the task is there an option to share it with someone else. It's a surprising omission.
The only way to share the tasks you create in Yahoo Calendar is to open the tasks in List View and click "Share".


But even here you can't share tasks. You can only share lists and let people view or edit the tasks in them. If you're working on tasks with other people, it's vital that you assign the right tasks to the right lists otherwise you'll struggle to share them and you may find that you're showing your private chores to people you might prefer didn't see them.
5. Yahoo Calendar On Mobile Devices
One of the reasons that Yahoo has struggled in recent years (and is now owned by Verizon) is that it was left behind by the rise of mobile computing. Few things make that clearer than Yahoo Calendar.
We've already seen that Yahoo Calendar has no native mobile app. While both Apple and Google have the means to embed their calendars into mobile devices straight from the factory, Yahoo has no equivalent device. There is no Yahoo phone. The company hasn't produced an operating system to rival Android.
It hasn't even created an app that its calendar users can download for easy usage.
It's an odd omission… and it gets worse. Not only is there no app for Yahoo Calendar (though there is one for Yahoo Mail), there's also no responsive page for Yahoo Calendar. Open calendar.yahoo.com on your mobile phone and you won't automatically be redirected to m.calendar.yahoo.com. You'll get the page as it appears on your desktop. It will probably be in the wrong orientation, and the text will be too small to read comfortably.
The absence of easy mobile options for Yahoo Calendar is a huge limitation. It makes using Yahoo Calendar outside the office much harder than it should be.
But there is a way around it. The only option is to sync your Yahoo Calendar with the calendars that come with your mobile devices—Google Calendar and Apple Calendar.
Neither of those options is straightforward but they're similar to the process we've already described to import your iCloud or Google Calendar to Yahoo Calendar.
Putting Your Yahoo Calendar On Your iPhone
If you're using an iPhone, you'll need to open "Settings", then select "Contacts". The first menu item at the top of page will be "Accounts". Choose that option, then select "Add Account".
The iPhone will then offer a list of different kinds of accounts that you could add, including iCloud, Exchange, Google, Yahoo, and Outlook. Ignore all of them and choose "Other".
The next screen is going to look a little complex. Choose "Add CalDAV account".
You'll be asked for four pieces of information. Under "Server", enter "calendar.yahoo.com" and in the "User Name" and "Password" fields, enter your Yahoo username and password.
The last field asks for a description. Type "Yahoo Calendar" or any other description that will help you to identify your Yahoo events.
When you're done, press "Next", confirm your username and password, then choose "Save".
You should find now that when you open your iCloud calendar, you can see the events that you have added to your Yahoo Calendar.
Putting Your Yahoo Calendar On Your Android Phone
Adding your Yahoo Calendar to your Android phone is a touch more complicated. In fact, you can't do it on your Android phone at all. You'll need to use your computer.
First, you'll need to open your Yahoo Calendar and copy your iCal Address.
Press the Actions gear at the top of your Yahoo Calendar, and choose "Share…" Choose the calendar you wish to share and press "Continue". (If you want to bring more than one of your schedules to your Android device, you'll need to repeat this process.)
Select "Generate links" and copy the second of the two hashed addresses in the pop-up.
Next, open calendar.google.com, select the gear icon at the top right and choose "Settings". From the menu on the left, press "Add Calendar" then "From URL". Paste in the address that you copied from Yahoo Calendar.
You should now find that your Yahoo events are visible on your Google calendar, which means that they should also be visible on the calendar on your Android device.
Conclusion
Yahoo was one of the first services to hit the Internet. Its directory provided a useful way to navigate the Web in the days before Google worked out how to search and social media provided ways for friends to make recommendations.
Those days ended a long time ago. In 2020, Yahoo feels like a leftover from a bygone age, an old racehorse now put out to pasture alongside AOL in the Verizon stable.
But while no one now uses Yahoo as their starting point for searching the Web, millions of people do still use their Yahoo email addresses and they've become accustomed to organizing their time and their schedules with Yahoo Calendar too.
That calendar isn't the best in the market. Despite a recent facelift and upgrade, it still lacks many of the features boasted by its larger rivals—and those that remain are fiddlier to use than you might prefer.
But it works. Once you've found the shortcuts and understood what it can—and can't—do, you should find that Yahoo Calendar is effective and quick. In this guide, we brought you up to speed with the personalization options and explained how to bring in any other calendars you might be using on other platforms.
We then walked you through creating multiple calendars on the Yahoo platform. It's likely that you will need more than one calendar on Yahoo. You might need schedules for work, for family, and for your social activities. There's a good chance too that you'll want to add calendars created by other people so that you can synchronize your activities. Yahoo does have some surprisingly detailed tools that make finding available times across calendars if not easy, at least fun. It also believes that being able to add sports and television schedules is very important.
The most important aspect of your calendar though is how to use it. We explained how to add events to your calendar and how to add tasks. Sharing those tasks, and assigning them to others, isn't straightforward but it is possible as long as you're careful about how you categorize those tasks.
Finally, Yahoo isn't entirely up to date with the world of mobile devices. The lack of a dedicated Yahoo Calendar app is a major disadvantage but it is possible to bring your Yahoo-based events to the native calendars on iPhones and Android devices. We talked you through the process.
Yahoo might not be dominating the Internet in 2020 but its purchase by a leading telecommunications company might well portend a new role for the venerable Web company. If you're already using it, you should know how to make the most of it.
Updated February 3, 2023