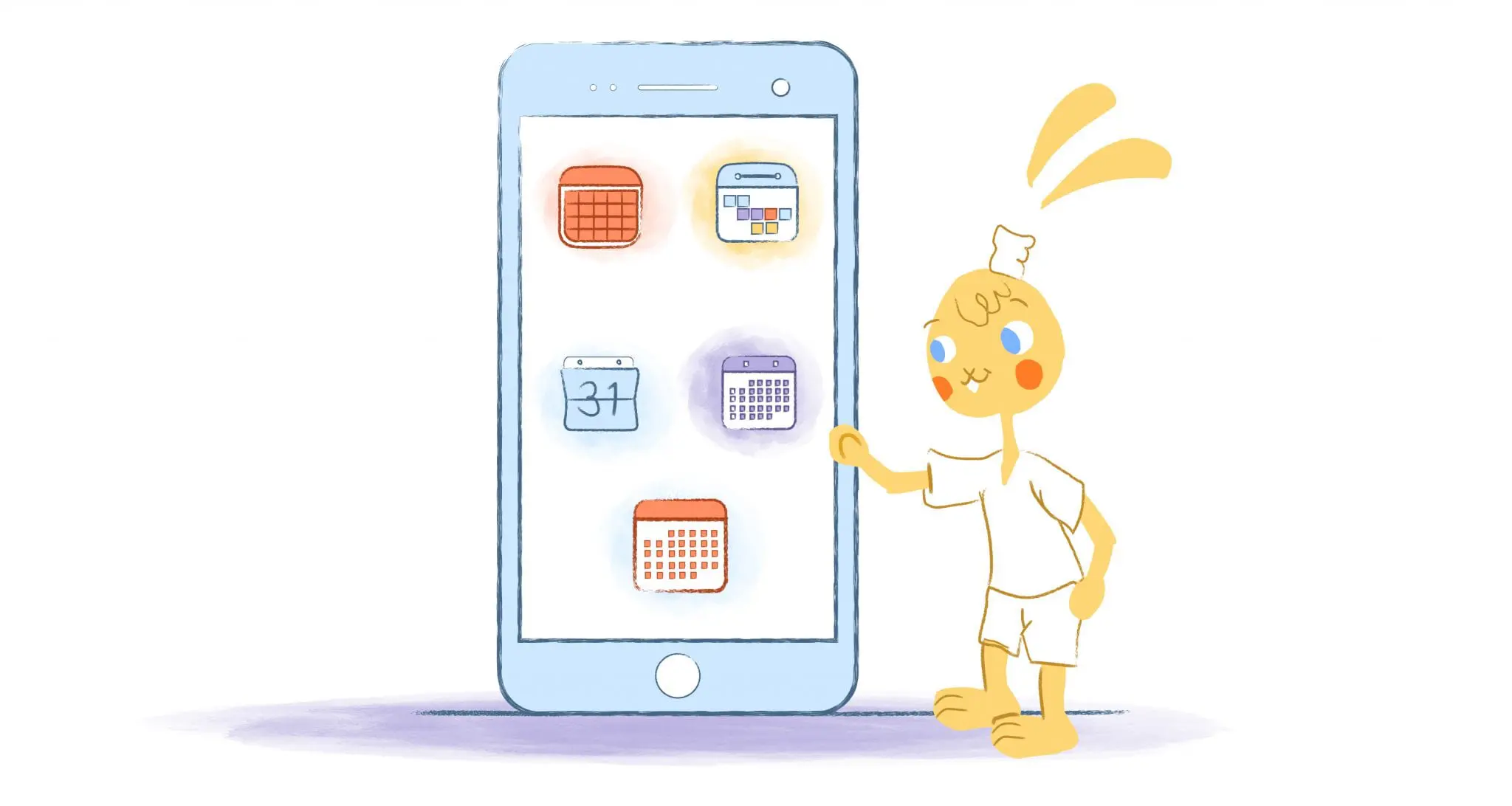 If there are two tools I can't live without it's my smartphone full of apps and my calendar. After all, without either my life would be chaotic since I would completely disorganized. Even an old-school paper calendar can keep me in check since it helps me remember important dates. But, thanks to built-in calendars that come with smartphones, I've become even more organized and productive. That's because I can set recurring events and share my calendar with others through one or more of the many calendar apps.
At the same time, not all of these built-in calendars have been created equal. Some are a simplistic and straightforward calendar, while others are multipurpose apps. There's nothing wrong with either. It just depends on your specific needs.
So, if your current calendar isn't working for you, then are the 15 best calendar apps for iOS and Android that you should tryout.
One of the newer calendar apps available, Calendar is a dynamic and smart tool that aims to improve time management and productivity for individuals to businesses of all-sizes.
Share your availability.
Just share your availability via a smart scheduling link with others. The other party then picks the best date and time that works for them. That's it. No more back and forth emails.
You can also add events through natural language and quickly view your schedule using the app's innovative map view. By using past history, Calendar can tap into the power of machine learning. This means that the app can make smart suggestions on the best time and locations for meetings.
Calendar is available for free for desktop, iOS, and Android devices. It was also recently recognized as one of the best calendar apps out there.
If you're looking for an online calendar — whether for personal or business use — the obvious choice is Google Calendar. It's the O.G. when it comes to a cross-platform calendar. In other words, it can be synced between all mobile and desktop devices. And, as long as you have a Google account it's free.
Google Calendar also comes packed with features like being to create seperate, color-coded calendars. So, you could have a personal calendar, another for meetings, and yet another for your todos. You can then share these calendars with your family, co-founder, or virtual assistant.
When you use your Gmail address to book events, they'll automatically be added to your calendar — and you'll also receive reminders and notifications.
If you're just in need of a simple and straightforward calendar app, then you can't go wrong with Tiny Calendar. It's a free app available for Android and iOS devices that covers the basics; multiple calendar views, real-time synchronization, and the ability to create reminders and recurring events. It also works offline and syncs with local calendars or Google Calendar.
One unique feature is being able to use your device's GPS to add specific locations to events.
While there is a free version, Tiny Calendar Pro comes with advanced features like being able to accept invites and export events through email.
If you're not using Google's suite of tools, then hopefully you're using Microsoft Outlook. Like the Big G's online calendar, Outlook's calendar integrates with your email app and you have the option to create a variety of calendars. It can also integrate with Skype and can provide date and time pickers.
The main difference is that Outlook was built with team's in-mind. As such, you can share and view everyone's schedules and upcoming events so that you're on the same-page.
Also, there's a pricing difference. While Google Calendar is free, Outlook is included with a Microsoft Office subscription — which comes out to $6.99/month/user.
The Outlook Calendar app is available on iOS and Android.
Here's another handy app that's available for both Android and iOS devices. However, Jorte is more than a calendar app. It's also an organizing app that helps you manage tasks, take notes, and syncs with most other online calendars. In fact, Jorte plays nice with Evernote, Google Calendar, and Microsoft Office.
If there's one feature that Jorte highlights, it's personalization. That's because you can select your own colors, fonts, and background images for your calendar.
Jorte also comes with a number of powerful features. This includes; recurring events, a countdown for specific events, and monthly, weekly, and daily views. Jorte will also automatically add events that you're interested in, like when your favorite baseball team plays.
Membership plans start at just $1.99/month.
TimeTree was specifically designed to keep families and groups organized. How? By offering a free shared calendar — even if not everyone has downloaded the app. While it may lack the extensive features that most calender apps offer, it allows you to view everyone's schedule in one convenient app.
You can also create multiple calendars (like one for work and one for your family), post comments and pictures on every schedule, and save memos. TimeTree has support for Google Calendar, Apple Calendar, and Outlook Calendar.
TimeTree can be downloaded on the Play Store and Google Play. There's also desktop version if you prefer.
This revolutionary app is also extremely simple. Just download the free app, for either Android or iOS, tap calendar sharing, and then pick the calendar that you want to share. After you've selected the calendar, you then chose the person you want to share the calendar with. They'll receive an email and that's it.
You can also embed your calendar onto your website so that if someone wants to book a meeting or appointment they can simply do so there. It also syncs automatically and seamlessly across the app and website when there are updates.
With UpTo you can also follow calendars that you care about it — like when your favorite TV comes on or when your favorite band is coming to town. UpTo also syncs with your existing calendars, such as Google Calendar, iCloud, Outlook, and Facebook Events.
Informant 5 from Fanatic Software is a combination calendar, tasks, and notes management app. You can add new events easily with Natural Language processing, while viewing as much or as little information on your screen as you like.
The app also supports geofences so that you can receive alerts for arriving or leaving a specific location. You can also create tasks with subtasks or as checklists. However, the TravelAssist feature helps you handle the whole time zone mess.
Informant 5 works on Android and iOS device and syncs with Google Calendar, Tasks, Toodledo, Evernote, and Informant Sync. The app is free to download.
Wave is a free calendar app for Android and iOS. As far as features go, Wave delivers the basics. This includes seeing your events in a day, week, week-agenda, month, mega-month and list view, color-coding events, and syncing with with your Google, Exchange, Outlook, and Facebook calendars.
There's also some unique features, such as creating events with tags and adding attachments to appointments.
Wave works on iOS and Android phones and is also compatible with Apple Watch and Android so that you can easily access your calendar from your wrist.
CalenGoo claims that it's a "flexible and powerful calendar app with lots of features for syncing with Google Calendar." You can also sync with Exchange Calendar, and iCloud Calendar.
The app comes with multiple calendar views (Day, Week, Month, Taks, or Agenda), Natural Language input, and the ability to create recurring events. You can also attach files, share your calendars with others, link contacts to events, and receive reminders via email, pop-up, and SMS.
While CalenGoo may not have the extensive list of features that other apps do, it's definitely more than most other calendar apps offer.
There is a free trial for iOS and Android users, then a pro version that goes for $5.99.
Any.do is more than just a calendar. It's also a todo list and task manager that's available for iPhone, iPad, Android phones and tablets, as well as Web, Chrome and Mac. It even integrates with Slack and Alexa and supports Google, Outlook, and iCloud calendars.
With Any.do you can review your agenda and plan either your day, week, or month. Furthermore, you can coordinate meetings with just a few taps, set recurring events, share items, receive location-based reminders, capture tasks by voice, and have the Any.do Assistant take care of certain tasks for you.
There is a free version, but to access all of these features, you'll need to upgrade to a premium version which starts at $2.09/month.
aCalendar, from Tapir Apps, is an iconic calendar app. In fact, it's been around since 2002. But, it comes with the features that you expect from a solid calendar app, such as various date views, reminders, and notifications.
However, aCalendar also comes with a number of features that can be customized. For example, tapping your screen three consecutive times can trigger the actions of your choosing. The app also supports Google Calendar, allows you to create recurring events, set tasks, and even share events with QR codes or NFC barcodes..
If you're still on the fence, then you should know that Tapir Apps donates 10 percent of all app revenue to rainforest conservation.
If you don't want to spend the $5 for this Android app, there is also a free version that doesn't come with all the additional features.
DigiCal Calendar is a reliable and versatile calendar app for Android users. That's because DigiCal comes with a number of view modes and widgets. For example, you can view your calendar at-a-glance or a more detailed breakdown of your daily schedule.
There's also a ton of add-ons. These include sports calendars, TV schedules, holidays, and more than 500,000 other events. Other features include multiple themes, integrated weather forecast, timezone detection, built-in location search, and support for Google Calendar, Exchange Calendar, and Outlook Calendar.
While the free version offers most of these features, the pro version for $5 gives you access to everything.
For iOS, Fantastical 2 from Flexbits is arguably one of the best calendar apps to download. It works with the iPhone, iPad, and even the Apple Watch. It also comes equipped with features like 3D Touch and Force Touch. This means events and reminders will be pushed directly to your wrist.
Unlike most other calendar apps it supports multiple languages like English, Spanish, French, Italian, German, and Japanese. There's also standard features, like daily, weekly, and monthly calendar views, reminders for upcoming events, and creating events, todos, or reminders just by saying "reminder," "to do," or "task." You can even set geofence alerts, like receiving shopping list items when at the store.
Overall, Fantastical 2 is an intuitive, fast, convenient, and feature-rich calendar app that's bound to make your life a whole lot easier to schedule.
You can purchase Fantastical 2 for $4.99 at the App Store.
In case you're curious, Calendars 5 was named this because it's the fifth version of Readdle's Calendars app. Why's this important? It means that the developer has spent a lot of time in enhancing the app's features.
The current version of Calendars 5 works with both the iPhone and iPad which means it's easy to keep track of your events across all of your Apple devices. The app can also add new events, schedules, and alerts intuitively. For example, just say "Meet Ted at Beans on Tuesday at noon." The app will then automatically create that event.
Calendars 5 also provides multiple views from monthly to daily to dragging one event from one day to another. Edits can be made offline and your can import your Google Calendar. Additional features include being able to set recurring events, custom alerts, and inviting others to view your events and tasks.
You can purchase the Calendars 5 app for $6.99.