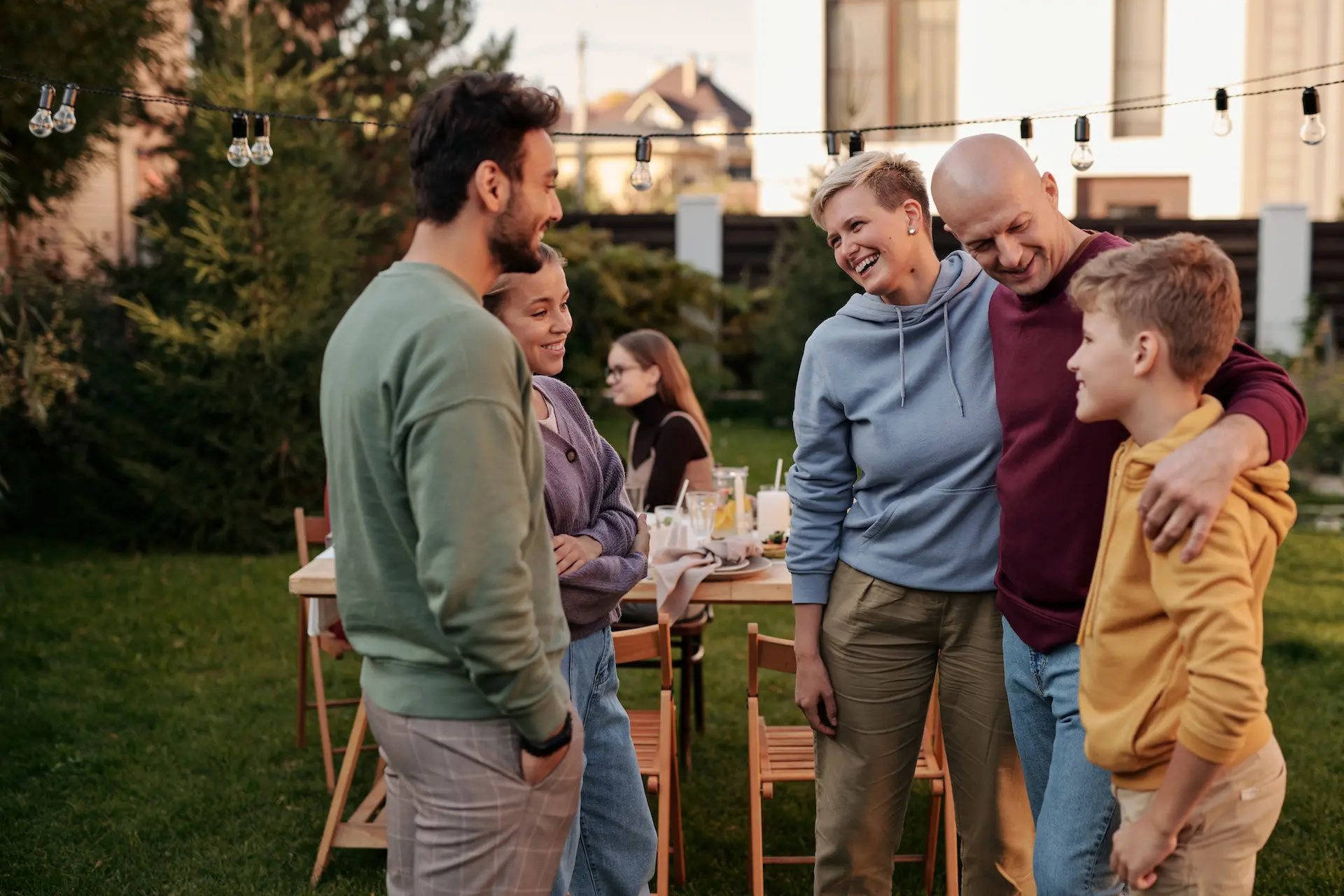 There's just something about having hobbies and enjoying your backyard. Different seasons bring varied activities you might look forward to. You must also stick to some chores in your schedule, like lawn and landscaping care. However, finding time to do all the fun things you would like to do can be a challenge.
As winter turns to spring and spring to summer, the itch to be outside and enjoy your outdoor space grows. There are lots of activities you might want to squeeze into your schedule. As it gets warmer, remember which activities make the most sense at certain times of the day. Not everything is enjoyable or safe when the sun is at its peak! Don't fret — you can do it all, but you might have to get a little creative.
Morning
The morning brings cooler temperatures and the full day before you. The dew is on the grass, and the sun is low. Take advantage of the light and do things that are harder to do when the afternoon sun is beating down.
1. Running and Hiking
If you're a jogger, the morning can be a great time to get in your run. There are a few reasons for this. First, you get in the workout before the day gets crazy. It allows you to prioritize your health and not be tempted to skip when you "run out of time." Second, it's cooler in the morning, and you're less likely to overheat or burn than a noon run.
Of course, sometimes you have to run on your noon hour. But, help your coworkers by taking a quick shower before hitting the computer again. I have a coworker that runs his bike, hard during his lunch hour, and in the afternoon, we all suffer greatly because of the smell.
The same holds true for hiking. The added bonus of kicking off a hike in the morning is that you have more hours of daylight. You can get in more miles if it's a long hike than if you start in the late afternoon. It also gives you time to rest and have lunch and continue on if you're really putting in the miles.
2. Bird-Watching and Fishing
If you're an avid bird-watcher or fisherperson, the morning is your golden time as well. How many times have you been tweeted awake on a spring morning? The birds are up and ready to go. Get out early and set up in your favorite spot when they wake up. Bonus points if being an early bird allows you to watch the bird catching the worm.
Fish tend to operate in the times of day when the sun is less intense. Morning and evening are better than the hottest times of the day. This also helps out the fisherperson because high noon is a great time to get a bad sunburn. Let the sun begin to warm the shallows and cast out your line.
Very few can fish during the workweek, but remember to build your fishing skills on your weekend.
3. Gardening and Landscaping
Working in the garden in the morning keeps you cool. It also tends to find fewer bugs crawling on you. If you have a lot of weeding or planting, shoot for a morning time slot. Pay attention to your various plants and their needs as well. You can plant some vegetables, like cabbage, in the spring while frost is still occurring. Other plants, like tomatoes, should wait until the frost is through.
Projects like caring for your shrubbery, lawn, and trees are great for the morning. You beat the heat and have time for the project. Knock out trimming your bushes and putting down mulch in the morning, and enjoy the rest of your day at work, knowing that the chore is done. Mow, weed, eat, shower, and head to work or a family function.
Afternoon
The heat beats down in the afternoon. After a full morning, slowing down and stepping into the shade is okay. If that's not your cup of tea, try some water sports in the afternoon and evening after work.
1. Swings and Slides
If you find yourself patting your brow after all that yard work or after your hike, or bike run — take a break. Enjoy some shade and a cool breeze. A hammock is a great addition to your relaxing backyard space. Put on a wide-brim hat and kick back with a good book in your swing. Make this your regular Saturday. You've worked hard all week — take a great break on Saturday and Sunday.
If you're a kid at heart or have kids of your own, taking a ride on your swings can be nice. The motion of swinging creates a breeze. The best place to set up a swing set is so that it's shaded during the afternoon heat. This also allows your slides to be cool, and you avoid burning little legs. If you have a swing coming off your big shade tree, well then, you're always set. Or you can head to the park directly after work (if you leave on time) and have your little ones join you.
2. Pools and Water Balloons
A hot day at peak sunlight is perfect for playing in the water. Water balloon fights and sprinklers are a backyard delight! Bonus, it's fun and waters your lawn at the same time. Don't forget to have the participants pick up and throw away the broken balloons. Water tables and water activity toys can be fun for little ones too.
Kiddie pools, backyard pools, and neighborhood pools are also a great treat this time of day. Fill up your kiddie pool the night before so it has time to heat up. As you know, you'll want to add chemicals the night before to keep your water safe in bigger pools. This lets you jump in and have fun the next day. For all these activities, remember to apply sunscreen.
3. Lemonade and Sun Tea
There's just something about a big glass of iced tea or lemonade on a hot day. You can let the sun brew your tea for you. Set out your big glass pitcher with water and tea bags and let the sun do its job. Each glass will bring with it refreshment and nostalgia. Sit on your sun porch with your tea just like grandma used to do.
If your kids have an entrepreneurial spirit, this is a perfect time of day to set up a lemonade stand. People are hot and a quenching lemonade is refreshing. Help them set up their stand in the shade or under an umbrella to keep them cool. Don't forget a big cooler of ice.
Evening
Oh, the sweet, sweet joys of a spring or summer evening. The heat has begun to break, and the grass begins to cool. If it's a weekday, you're finally off work and can enjoy your backyard. There's something magical and almost like you have stolen hours this time of year. The light holds on a little longer each day until summer's peak — but you can enjoy your backyard, balcony, deck — or local park for a few minutes to unwind.
1. Grilling and Outdoor Dining
There's no need to heat up the house by running the stove on these beautiful nights. Light up the grill and toss on some burgers, hotdogs, and kabobs. Enjoy watching the kids and pets play in the yard while visiting with a refreshing drink. Once your food is ready, eat outside and take in the cooling air.
Setting up a patio table or picnic table in your backyard can create an outdoor dining space. Coolers or garage refrigerators keep drinks cold and at the ready as well. Add in some landscaping with concrete, rock, or brickwork. That keeps the bugs and chiggers off your feet while eating because you're off the grass.
Eating outside all summer after work breaks up the year and helps you feel like you've had a little change. Each little change you make in your schedule will give you a break-of-sorts and help you be more refreshed in your work.
2. Firepits and Patio Lights
If your dusk brings with it a crispness to the air — it may just be a call for a fire. Sitting around a firepit with your friends and family into the night is such a relaxing pastime. It's calming and keeps you warm as the temperature drops. Throw in some marshmallows, and the party will always be at your house.
If your family takes delight in time together outdoors in the dark, create a space that reflects that. Patio lights and fire accents set the atmosphere. Tiki torches or candles can keep the bugs away as well. Solar lights around walkways illuminate the path between spaces and stairs.
3. Building and Creating
The evening can be a great time to work on creating your outdoor space. Pick the evening if you're working on creating an outdoor play space for your kids. It's cooler; the kids might even be in bed, and you can work in your garage or outdoors. If you have a progression of building or painting, it also gives you time when no one is playing.
This is also a great time to work on outdoor space for your pets. Whether installing fencing, a lead, or a doggie door, you can create safe, relaxing, and entertaining areas for your furry family members. A dedicated area will allow you to get the most out of your yard.
From yard maintenance to fun to exercise, there are lots to do on warm days in your yard. Don't let this time of year stress you out trying to do it all. You can build your schedule around the sun and enjoy your space with a little creativity. By keeping the activity and time of day in mind, you can also keep yourself safe from the sun. Get outside and start living this summer!
Featured Image Credit: Photo by Askar Abayev; Pexels; Thank you!