A few months ago, I started to really pay attention to how inefficient my calendar had become. I was wasting time on pointless meetings, showing up late for everything and it started to show in my daily work. I even managed to show up a few minutes late to one of the biggest interviews of my life. This was unacceptable to me. I had to find a solution or solutions that would work for me and my busy life, especially now that 2023 brings a faster pace to business.
I tested and tested and tested until I found a solution for me. Most traditional online calendar apps don't always align with what you do as a business owner. There might not be the features and functionality that you really need to make it worthwhile.
Calendar for smart scheduling, meeting transcriptions, and analytics  – Best overall calendar app for business owners
Todoist for its ability to automatically add tasks and reminders to your calendar – Popular calendar app for organized people who want to put tasks on their calendar.
Calendly for its embed and integration capability, including working with payment tools  – Best calendar app for scheduling meetings
Woven for its visual representation of events with a map that also includes travel time  – Intelligent calendar for busy professionals
Timepage for its simple timeline view to focus on one day at a time as well as a month "heat map" perspective  – Best calendar app for timeline views
ScheduleOnce for an integrated scheduling platform for online scheduling and integrations with numerous calendar apps  – Best scheduling app with most integrations
Teamup for its capability to offer a shareable group calendar app  – Highest rated shared online calendar for groups
DigiCal for its seven viewing modes, customizable widgets, and customization options  – Popular calendar app for making organizing easier
Zoho Calendar for its shareability and wide range of tools and solutions for tasks  – Best business calendar to go with your email client
Doodle for its ability to handle meeting scheduling and your calendar across all types of devices  – Highest rated calendar app for scheduling lunches with tons of people
SaiSuke for its timeline view and Google Maps integration  – Best schedule management software for the iPhone and iPod Touch
Meetingbird for its simple interface, numerous integrations, and custom branding options
  – Top scheduling app for freelancers 
Vantage for its stylish look and comprehensive features, including a scrolling timeline feature  – Best way to managing your schedule
Accompany for its intelligent scheduling, time and contact management, and vast calendar features  – Best calendar and contact management solution
Calendars 5

 for its ability to work as a 

powerful personal assistant and its multiple calendar, event, and task views  – Popular calendar app for planning your day, week and month
CloudCal

 for its special feature known as 

Magic Circles that creates a picture of how your day looks  – Top Android Calendar app
Butleroy

 for its 

artificial intelligence that recommends the best time for group meetings or events  – Best artificial intelligence app
Whenever

 for its

 journal format, powerful functionality, and intuitive features  – Most Popular calendar app for journaling
Newton Calendar for its integration with Newton Mail as well as Google, Google Apps, and Exchange (EWS) Calendars  – Best calendar app for working with other Newton products
We've identified five main ingredients that combine to make a highly rated calendar app that drives greater productivity and improves your time management skill to help you move with the speed of business in 2023 and beyond.
Ease of use
A calendar app shouldn't take hours to figure out how to download and start using. Instead, it should offer the fewest clicks and scrolls possible as well as simple navigation and clean interface.
Goal achievement
A best calendar app should do what it says: help you manage your time, remember critical events and projects, and prioritize what's important in an enjoyable way.
Customizable features
All the features in the world aren't going to make a difference if you can't customize them to suit your preferences, learning style, and work and life environment. An incredible calendar app offers customized formats, colors, task management tools, and more.
Shareability
Since so much of work and life involve other people, you want to use a calendar app that allows you to share your calendars as well as easily designate who sees what and when on those schedules.
Device and Sync Capability
No one uses just one device. That's why you want to make sure you can see your calendar app on your smartphone, tablet, and your laptop. Plus, you want to make sure that what you do on one device syncs across all devices so your popular calendar app is continually updated.
The Best 20 Calendar apps reviewed for 2023
Now that you understand the criteria and have seen the list, here are a list of detailed reasons why you will — or won't — love these calendar apps.
Best overall calendar app for business owners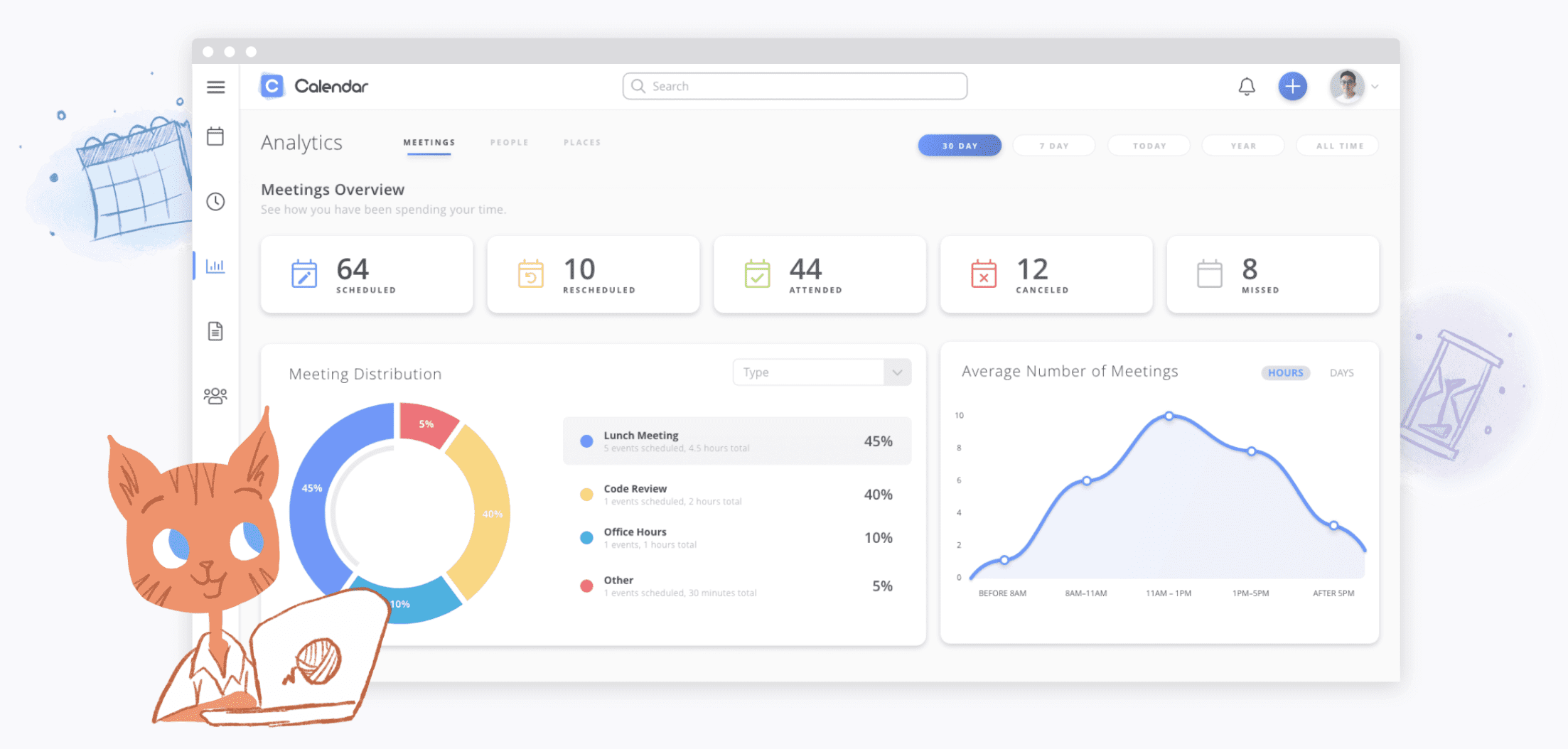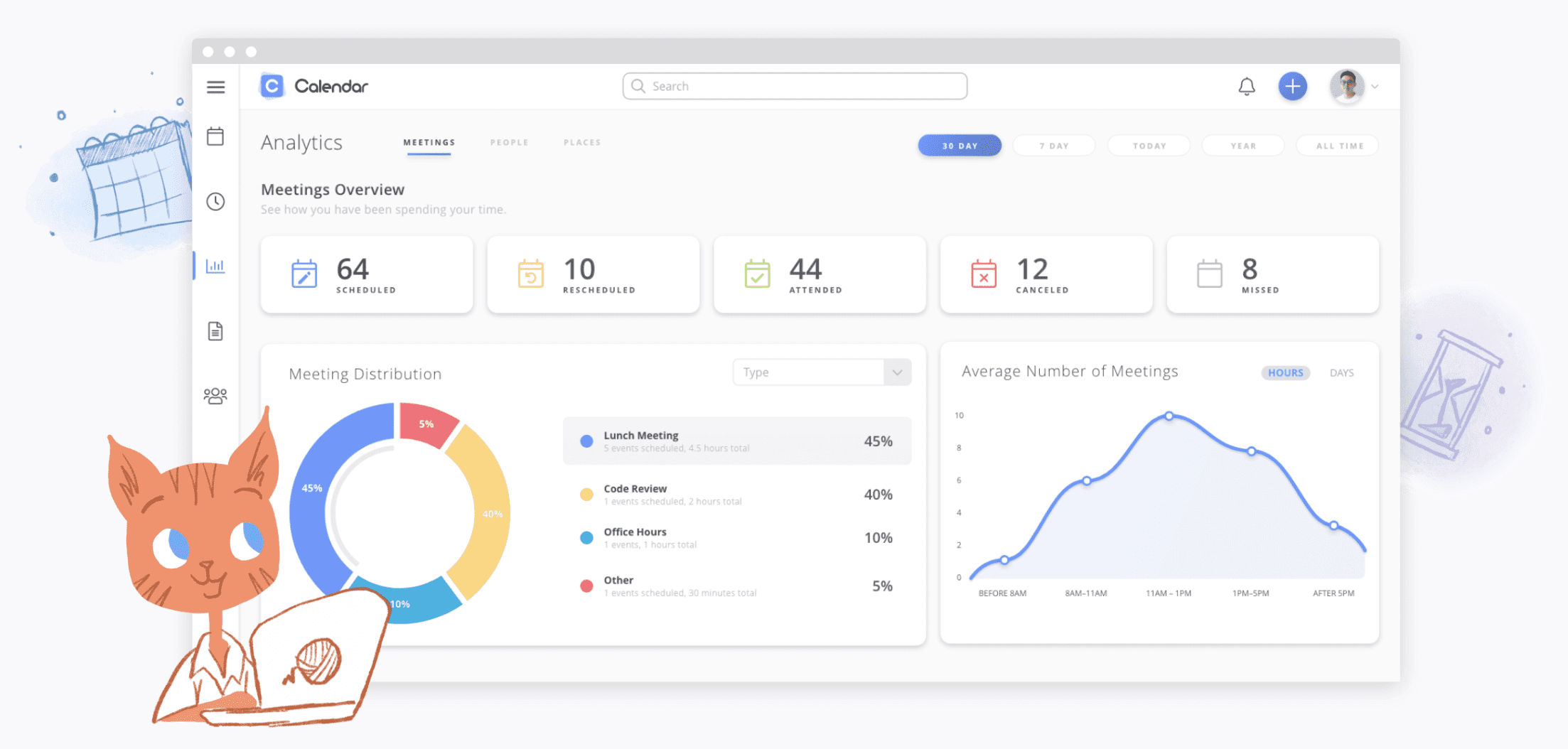 Calendar is a relatively new calendar app that works as a web application as well as for iOS and Android devices. This calendar app uses machine learning to do much of the work for you. It learns your contacts, schedule, analytics and tasks. Then, it takes over those things you would have normally had to do when arranging meetings.
It knows where you are and when you will be in a meeting or available. No more 3 a.m. meetings because you didn't factor in that you were traveling. Trying to book a meeting with multiple people is no problem. You can easily tag all the people you want to invite and it will only show you the times that work for everyone.
Additionally, Calendar lets you integrate any other calendars you are using, such as Apple Calendar, Calendar 365, and Google Calendar. What you have on those calendars can now be visible in your Calendar app so you have a real-time view of everything in your business and personal lives. Plus, you can choose to share this information, or part of it, with others.
Calendar Pricing: Free; $10/user per month for Calendar Pro, unlimited calendar time slots, and advanced calendar analytics. $8-$16/user per month for Calendar for team accounts, billing and advanced team calendar analytics. Depends on how many team calendar accounts you have.
Pros of Calendar
According to TechRadar, Calendar is a 4.5 stars out of 5 because of the easy to use interface and offers various features aimed at users with various needs. Calendar offers multiplatform support as well, and you can pick different pricing tiers
Cons
Some users think that integrations with other services could be improved
Popular calendar app for organized people who want to put tasks on their calendar.
Also, there are numerous integrations for this scheduling platform that make it an ideal choice for business owners. Integrations include PayPal, Stripe, GoToMeeting, Salesforce, Zapier, and more.
Calendly Pricing: Basic version is free; the Essentials package is $8 per user per month for annual billing or $10 per user per month for monthly billing; and Pro is $12 per user per month for annual billing or $15 per user per month. they also have Professional plans for $12/seat per month and Teams plans for $16/seat per month. When you have 30+ team members you contact them for better pricing.
Pros of Calendly
Customers love the easy integration Calendly has with Google Calendar, and how it can book multiple types of meetings. It's very intuitive and user-friendly, making it easy to use.
Cons of Calendly
Some customers mention that Calendly does not have great tech support, and the multi-user scheduling is not too intuitive. Additionally, syncing multiple Calendly accounts seems to be difficult, and customers mention that they have to sign in manually every time they want to use it.
Here are a few Calendly alternatives if you like them but looking for more.
Intelligent calendar for busy professionals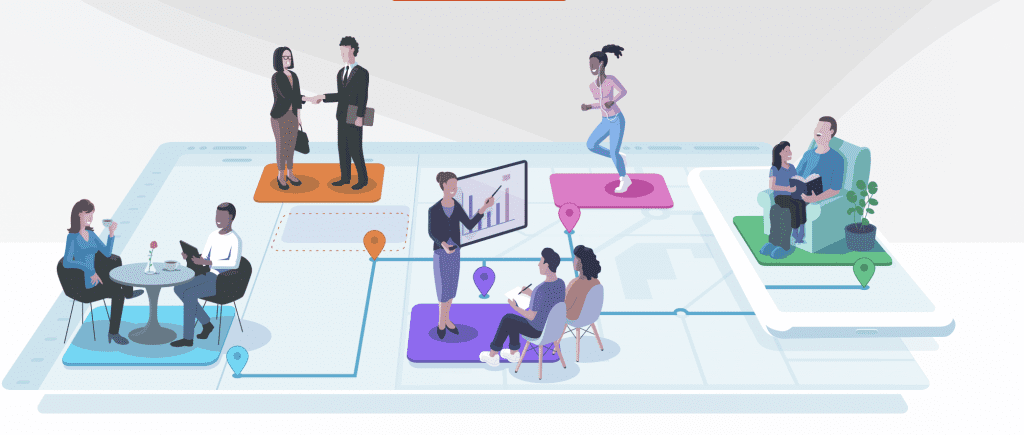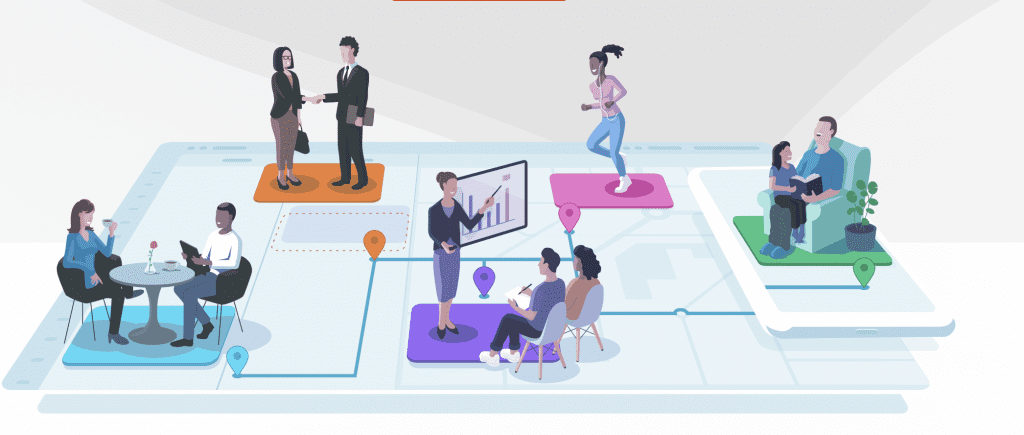 Slack is a new calendar app that uses a different approach to planning, scheduling, and time management. First, it uses a more visual representation of events with a map that also includes travel time to help better understand how to use time and effectively plan a day.
Second, the calendar platform offers shared scheduling through e-mail, text, Slack, or any other messaging platforms.  This level of collaboration reduces the time spent on scheduling these events. Next, Woven uses a virtual assistant that will take over scheduling for you and searches for things on your calendar so you don't have to take the time. 
It's available for web and mobile use and is compatible with G Suite. The company is currently working on integration capability with Office 365.
Slack Pricing: $7.25 per user per month if paid annually, and $8.75 per month when billed monthly for the pro version. The Business+ version is priced at $12.50 per user per month when billed yearly, and $15 per user per month when billed monthly. For an enterprise plan, Slack recommends that potential buyers contact their sales team for a price estimate.
Pros of Slack
Customers seem to really like slack, as they can organize their messaging and hold audio calls easily. There is easy integration with third parties, and even makes remote work feeel less lonely
Cons of Slack
Some customers mention that the Slack integrations are a bit complicated. The web app of slack also can cause some problems, and some ISPs block Slack for some reason.

Timepage (iOS)
This powerful scheduling software can be configured to fit your business and scheduling needs. There are options for all types of appointments and events, including automatic booking, round-robin assignments, group sessions, and more. Numerous features are designed to create exceptional customer experiences for customers and prospects while keeping you organized on the back-end to sustain that experience beyond the booking and through the appointment.
The scheduling app for business offers integrations with numerous calendar apps (Office 365, Google Calendar, Outlook Calendar, and iCalendar) as well as other platforms, such as Salesforce, PayPal, Zapier, and Zoom. Additionally, OnceHub can integrate with your brand and operations. This integration includes web forms, campaigns, and emails.
OnceHub Pricing: 
Oncehub has a generous free starter plan, that is free for up to three users; $10 per user per month for 4-100 users; and contact for pricing if you have 101 more employees.
Pros of OnceHub
Oncehub integrates well with other platforms, such as Zapier. It has smart flexible forms, and can organize client data well.
Cons of OnceHub
Some customers mention that it doesn't integrate into their CRM very easily, and that the set up can be complex.
Top scheduling app for freelancers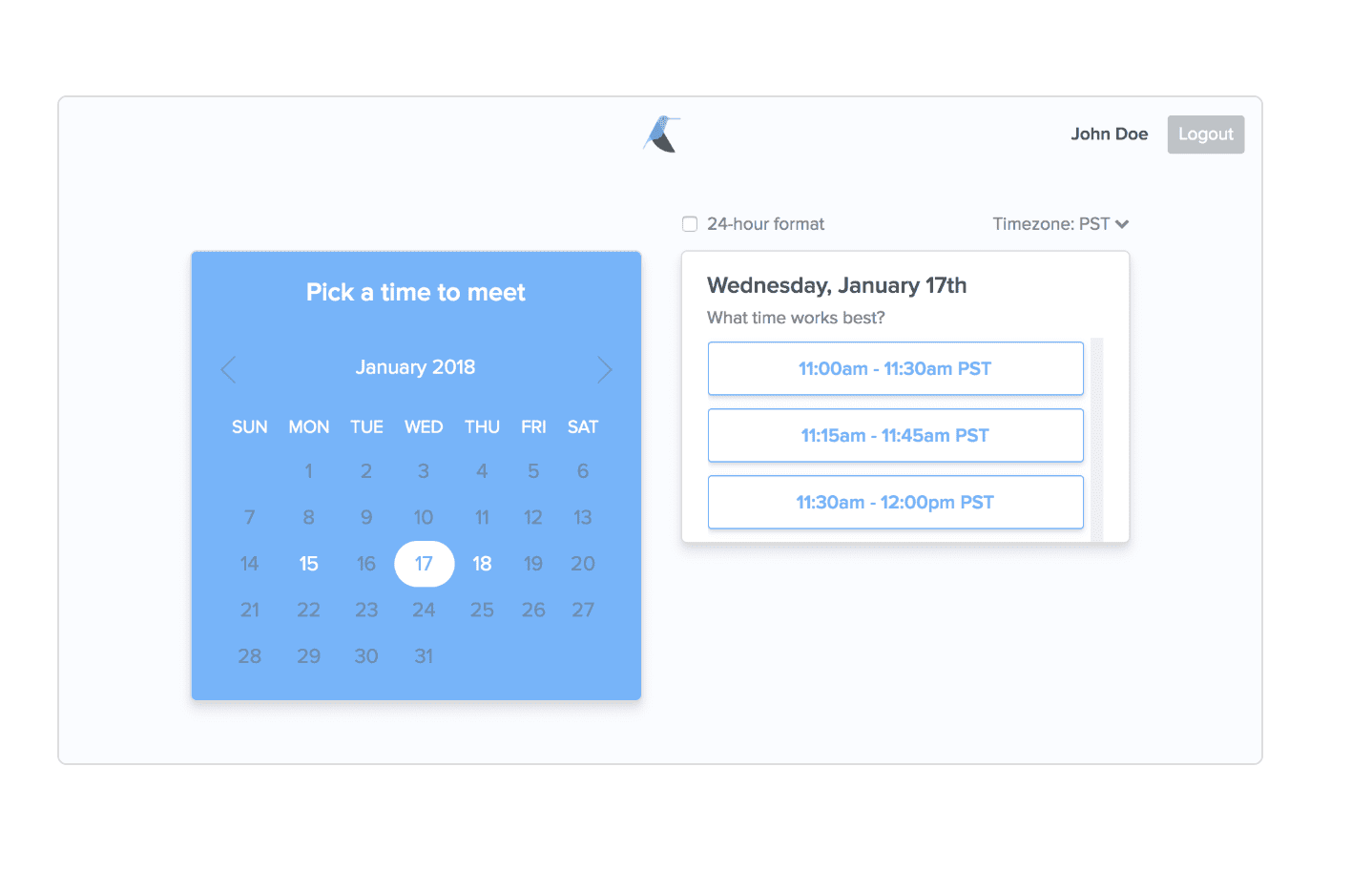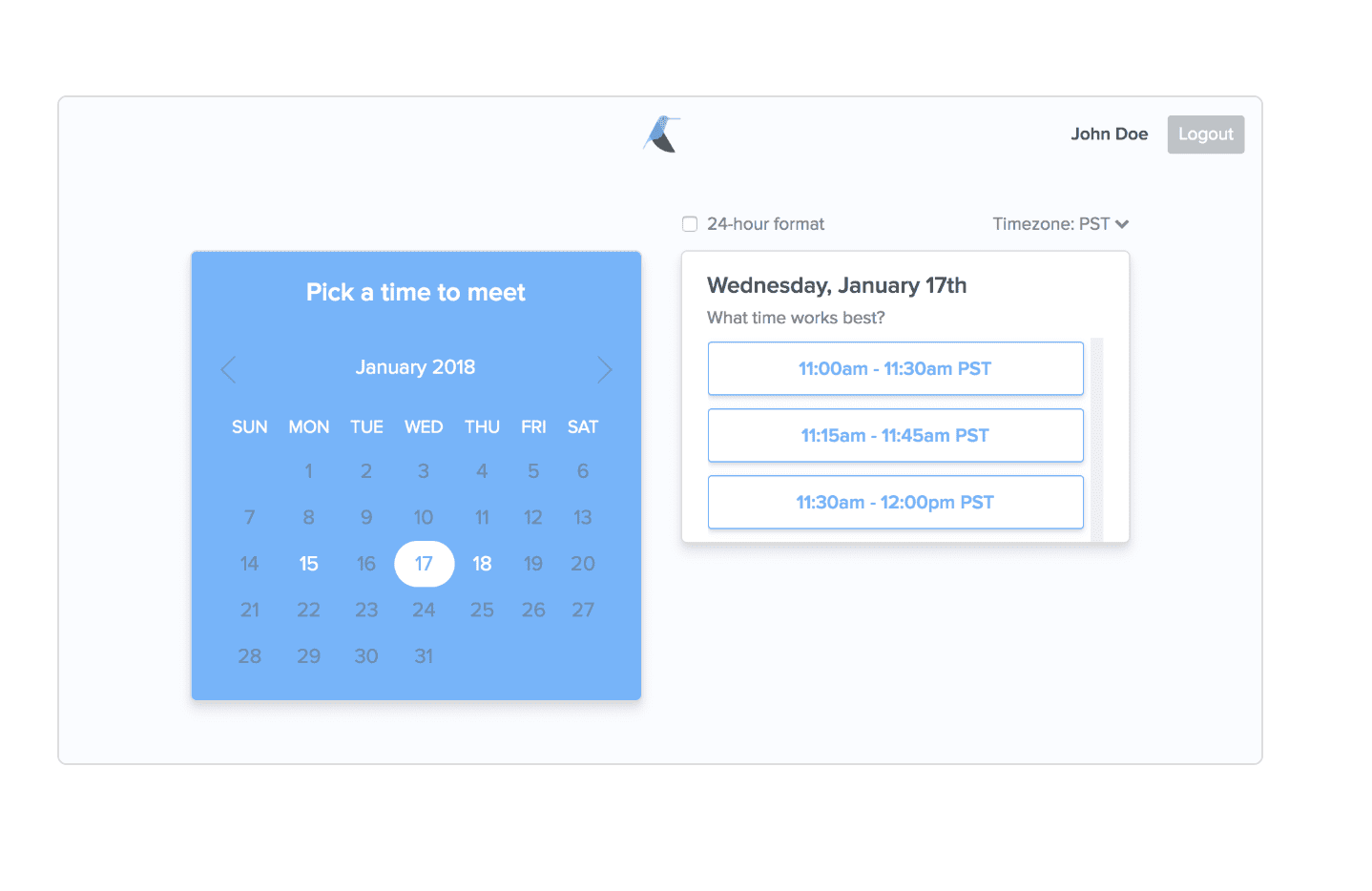 Front Scheduling focuses on a simple interface, combined with numerous integrations, to deliver a fast and comprehensive way to schedule meetings, events, and appointments. You can customize aspects of the scheduling process, such as meeting times, locations, time zones, and more. Other standout features are custom branding options, reminder and confirmation emails, and unlimited meeting types. 
There is Front Scheduling for Gmail, and Front Scheduling Pro, all of which give you a specific way to use this scheduling app. For example, if you use the Gmail version, you can opt to schedule directly from Gmail rather than opening the app. Other integrations include Zoom and Zapier.
Front Scheduling Pricing: Starter plan is $19 per person per month if billed annually. Growth Plan at $49 per person per month if billed annually. Scale plan at $99 per person per month if billed annually. The Premier Plan is $229 per person per month when billed annually.
Best way to managing your schedule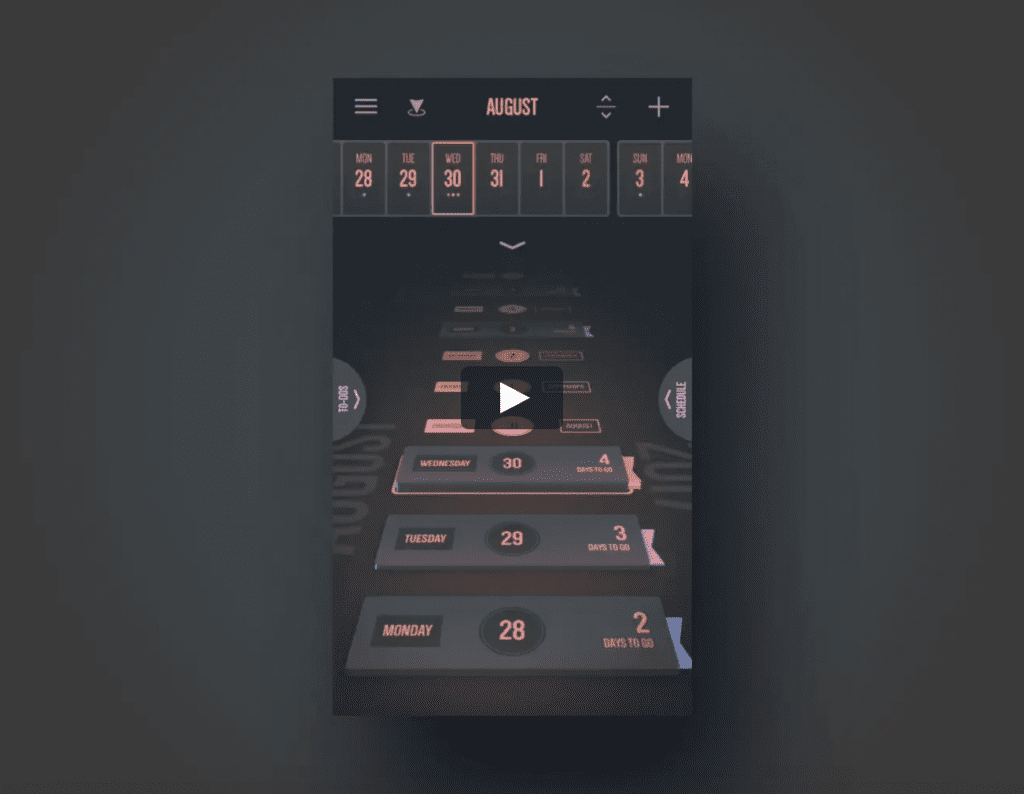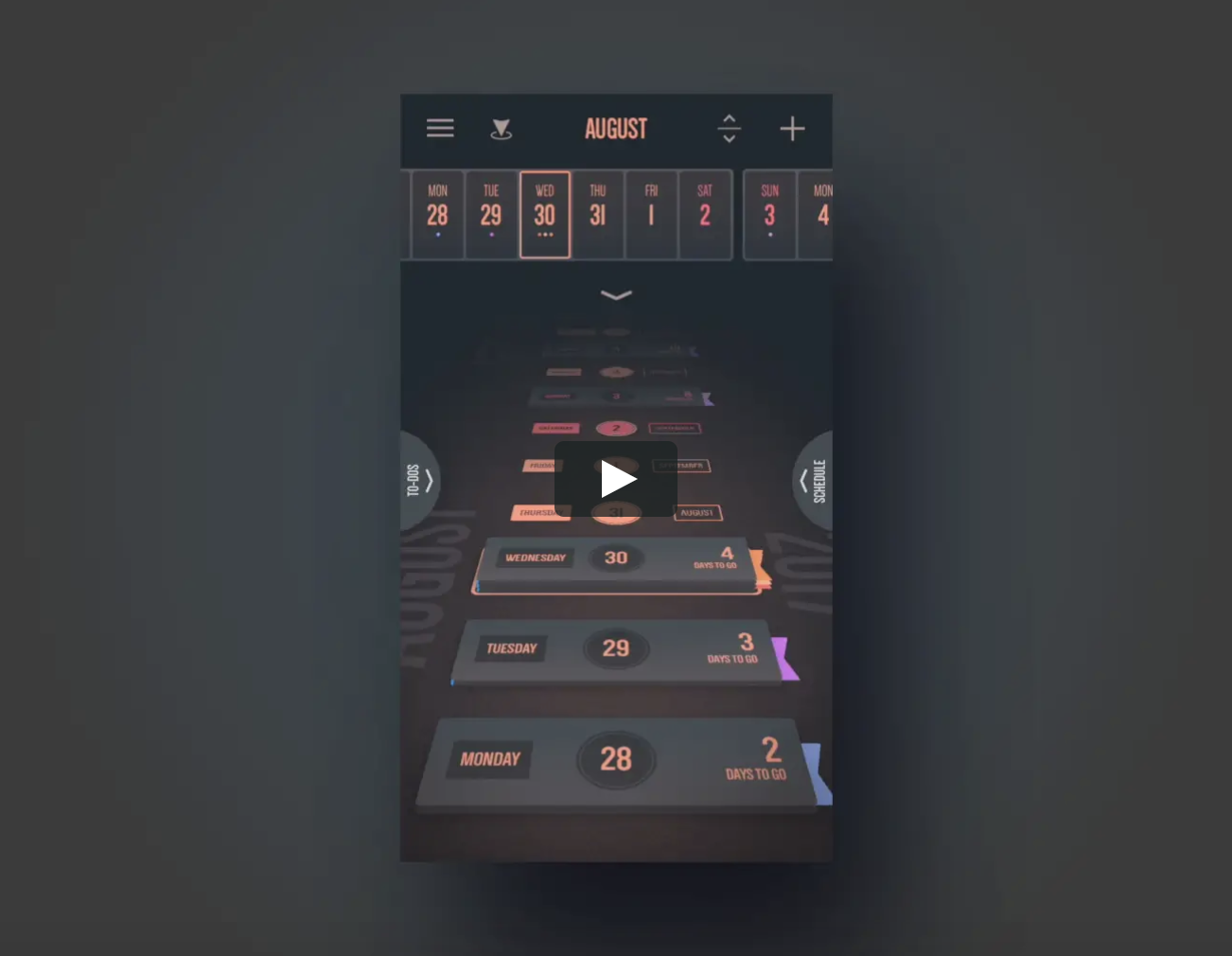 Vantage is a free iOS calendar app. This stylish and features-packed app keeps you on task. It offers a scrolling timeline feature. Also, collapsable event cards are color-coded to quickly find what you need. It is focused on making your calendar as visual as possible while still offering more traditional calendar views for those that prefer that format.
It supports and integrates with other calendars and apps, including Outlook, Google, iOS, and Facebook. You can create to-do lists and leverage natural language parsing for events. Also, there are greater customization options that allow you to create a calendar that reflects your personality and lifestyle.
Vantage Pricing: Free

Best calendar and contact management solution
Accompany is a free iOS calendar app that provides numerous intelligent scheduling, time and contact management, and calendar features that any business owner will be sure to value. Now part of Cisco, this app also creates profiles of your contacts listed in events and meetings to help you better understand who you are working with.
The Executive Briefing created for each event includes contact communication summaries and recent information about them collected from various channels and sites. Not only does this calendar keep you on task, but it also helps you to be more prepared and productive for each event.
Update: Accompany is now part of Cisco. While the app is still available, Cisco did announce plans to update Accompany as part of a suite of productivity tools in the near future.
Accompany Pricing: Free
Popular calendar app for planning your day, week and month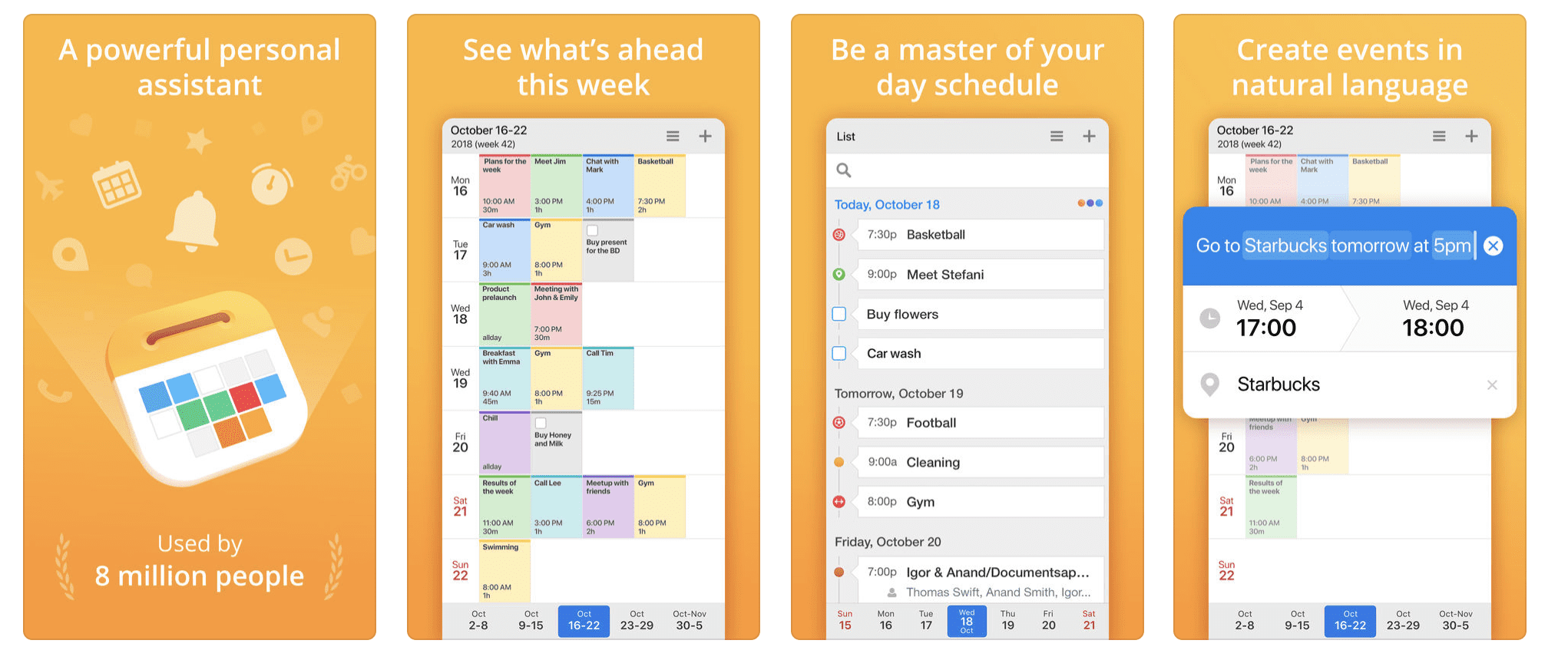 Top Android Calendar app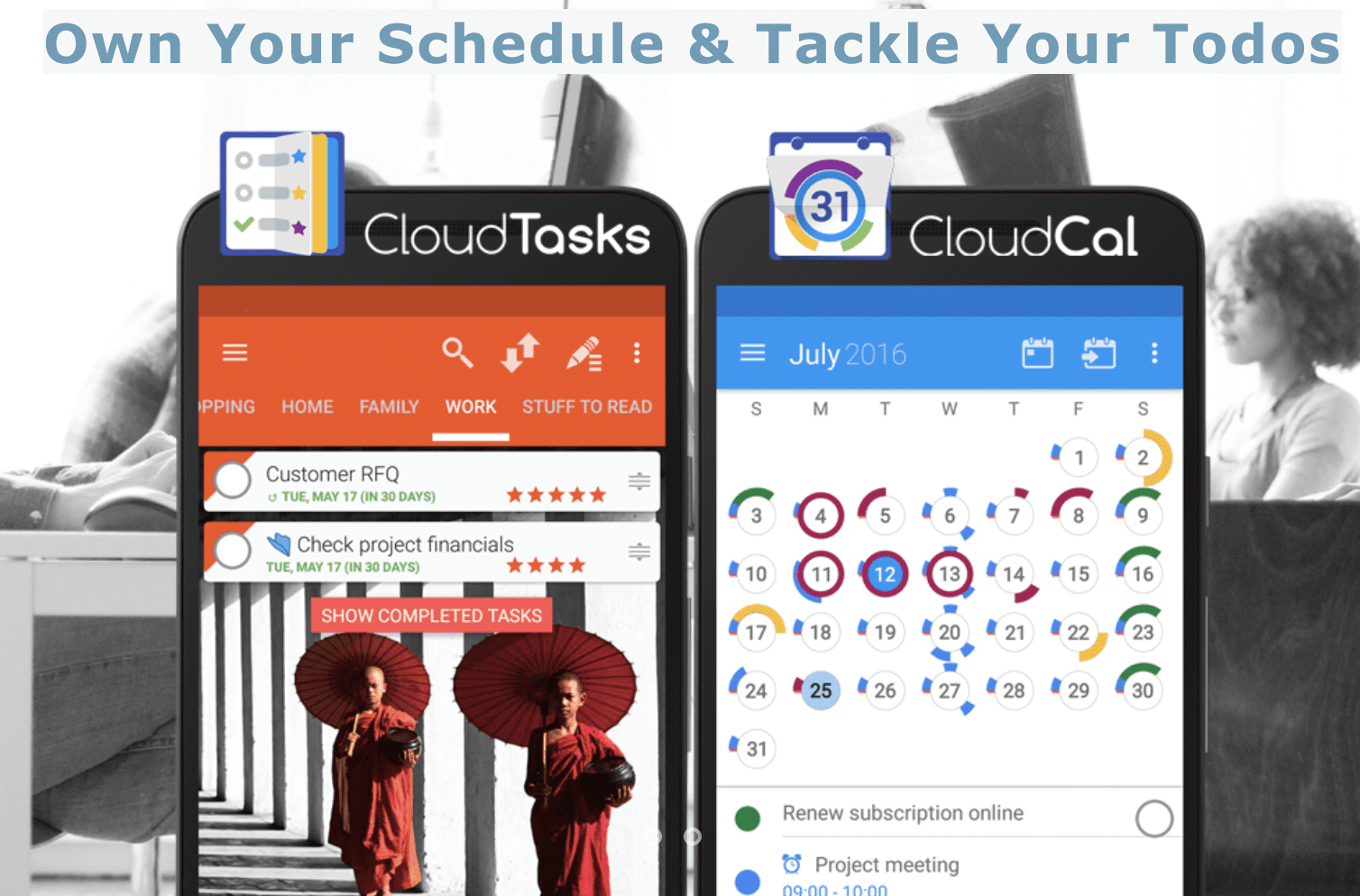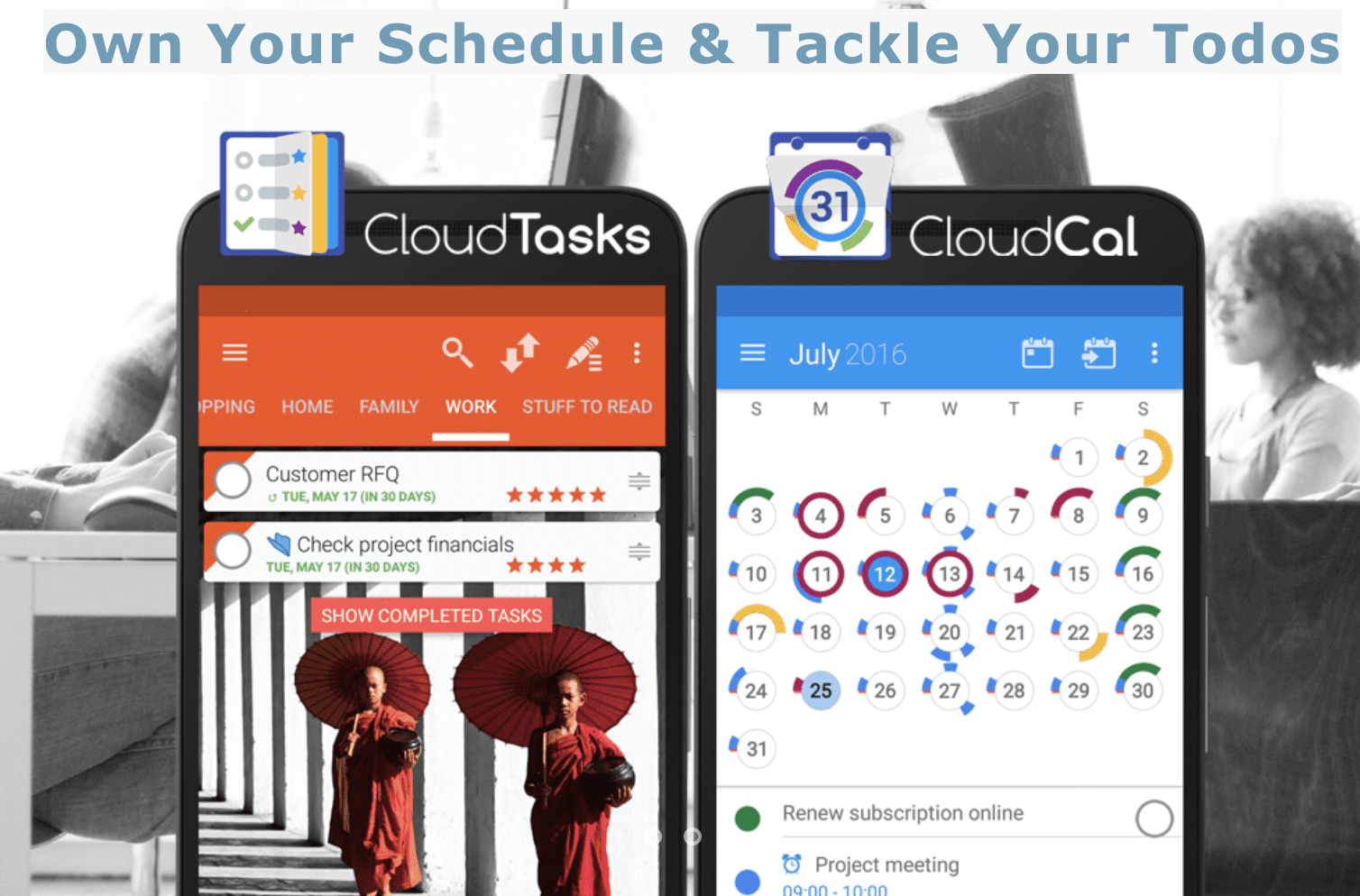 CloudCal is a free Android calendar app that has a special feature known as Magic Circles. For some business owners, all it takes is a different way to visualize what they have to do and they can achieve more productivity and enhance their time management skills. Magic Circles creates a picture of how your day looks. You can use it with CloudTasks to accomplish even more during your workday.
CloudCal offers a way to get an instant overview of availability to focus on priorities. There are many customizable options to make the calendar how you like to see things, including day, week, or month views. This calendar app for business syncs with Google, Exchange, and Outlook.
CloudCal Pricing: Free
CloudCal Pros
Customers like how Cloucal is an easy app to use.
CloudCal Cons
Many customers complain that Cloudcal doesn't sync very well when it comes to multiple devices. Customers also mention that when the upgrade to the pro version, everything falls apart, and mention that customer support isn't great either.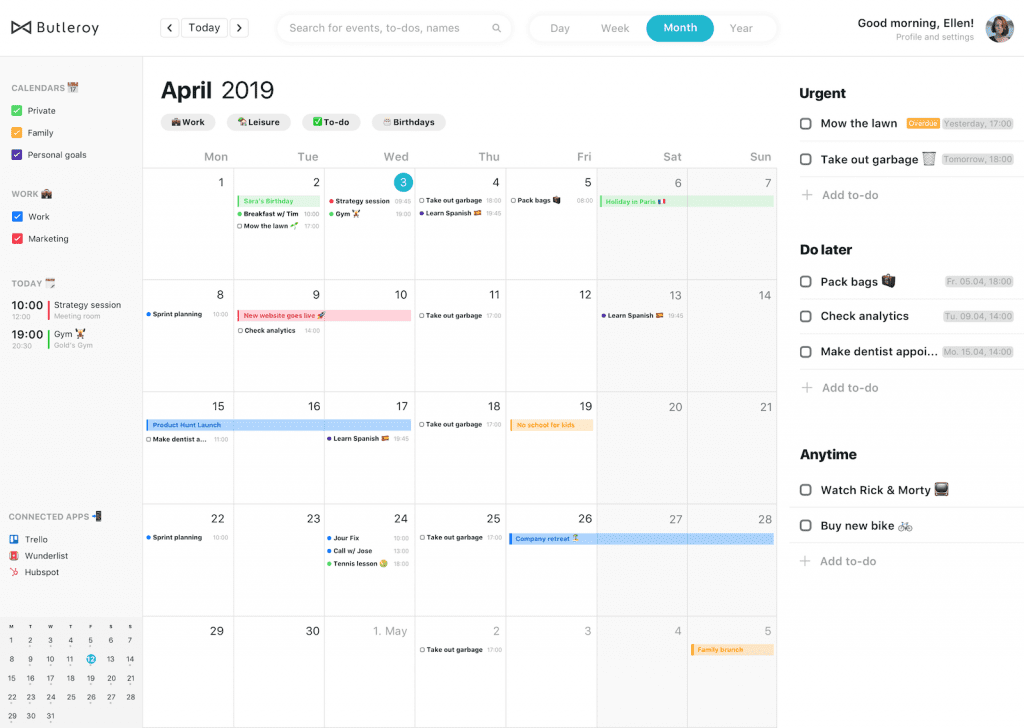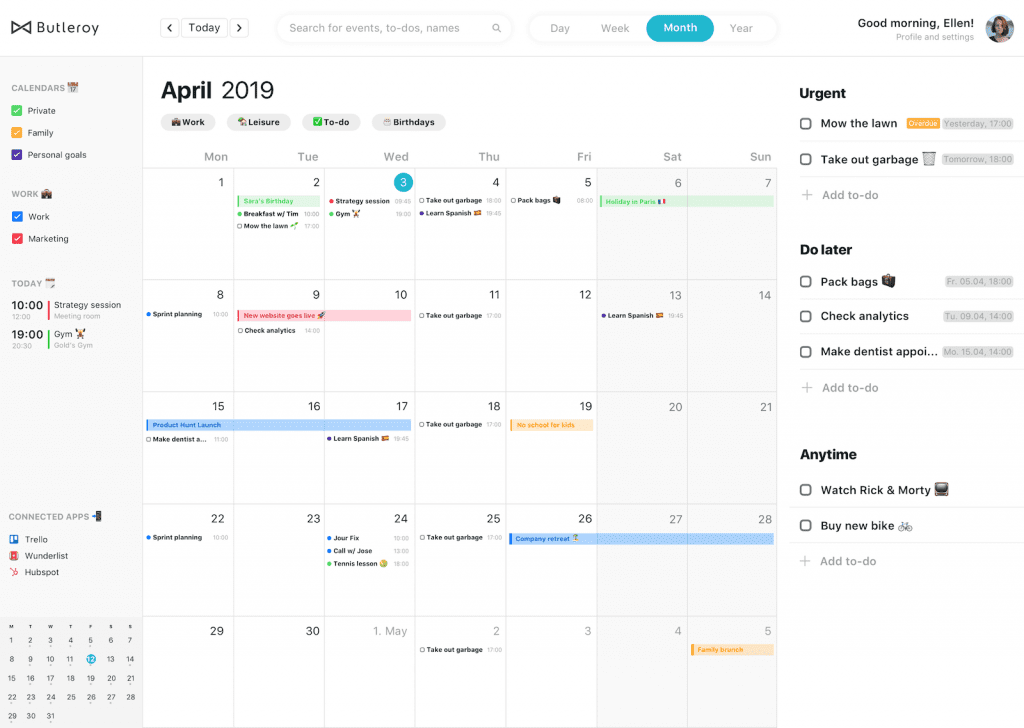 Butleroy is a free app for Android and iOS devices powered by artificial intelligence. Now in its third version of development, the app looks through your calendar and helps determine where you can add other events or activities. After scanning everyone's schedule, it also recommends the best time for group meetings or events. Plus, it can also select the meeting location and assess travel distance for the optimum meeting or event time. 
However, there are so many other ways myAlfred can assist you. With Butleroy Clipboard History and Snippets features, you can locate any text, image or file you copied earlier and paste it again without having to type more. Butleroy's Powerpack, which is an additional cost, leverages powerful workflows to reduce repetitive manual tasks.
Butleroy Pricing: Free
Butleroy Pros:
Customers love how the developers are constantly improving the app, and how it helps you find time for the things that you love to do.
Butleroy Cons:
Customers don't have anything negative to say about Butleroy.

Customers like the clean interface that is easy to use, leading to a great UX experience.
Cons of Newton Calendar:
Some customers mention that the app crashes often, and that it can be a bit buggy at times.