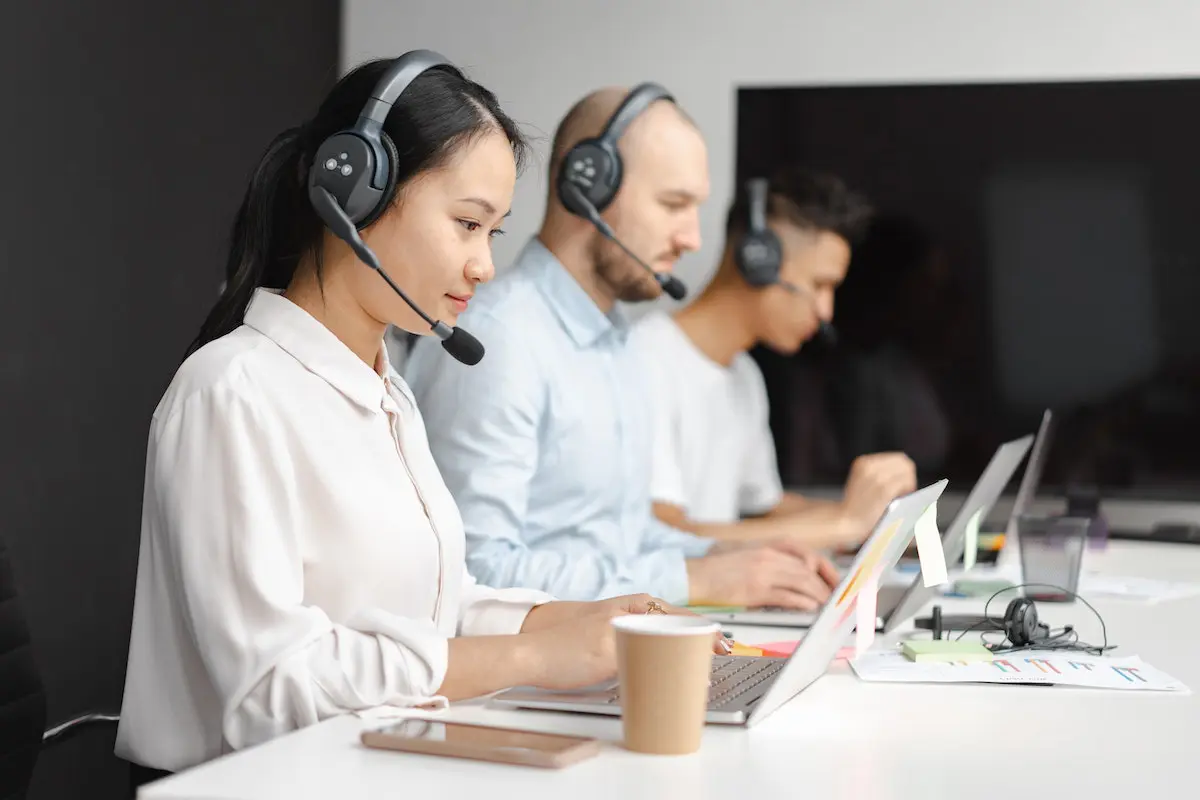 Artificial Intelligence is transforming the customer service workforce with the delivery of 24/7 customer care and heightened customer engagement. According to a recent State of AI in Customer Service Report, almost 60% of customer service workers find that AI enhances efficiency and productivity for their teams.
Another study published in the National Bureau of Economic Research by Stanford University and the Massachusetts Institute of Technology researchers found that AI increases customer service agent productivity by 14%, with an average of 25% of organizations adopting its use for contact center automation and service operations optimization.
By leveraging machine learning algorithms, chatbots powered by AI can now give time back to human agents, allowing them to resolve more complex or in-depth issues. Natural language processing allows AI systems to understand and respond to customer queries promptly and accurately. Additionally, AI analytics tools provide valuable insights into customer behavior and preferences, helping businesses personalize their services and improve customer satisfaction.
These are just a few ways that AI is helping customer service teams stay efficient and productive while empowering teams to deliver exceptional support and grow brand loyalty.
1. Enhance quality assurance programs
When it comes to customer experience, machine-learning models are transforming how quality assurance managers and customer service agents efficiently secure higher customer retention rates. Vasu Prathipati, CEO of MaestroQA, a leading quality assurance software platform, says their clients rely on the company's AI-powered technology to deliver greater insights about customer interactions and detailed sentiment analyses for every customer.
For example, Novo is changing how they track negative sentiment through MaestroQA. Through their AI classifiers and buildable logic, Novo can now surface and scan the most significant tickets. This empowers a previously non-existent realm of analysis and metrics. Rather than relying purely on manual QA or feedback through CSAT and NPS surveys, they can aggregate input from all touchpoints. This way, they are able to facilitate data-driven and informed decisions. This approach promotes efficiency in customer service and incites enhancements in product as well as process design.
With this, Forbes has noted that AI automatic software testing has propelled the entire quality assurance process, allowing customer support agents to focus on the quality of one-on-one customer care. By personalizing the service recovery strategies for each customer, businesses are able to be more flexible in meeting customer needs. Therefore, they can deliver seamless experiences and see higher retention rates.
2. Expand customer service agent training methods
When it comes to customer service, it is essential that agents are well-trained in a range of soft skills. Clear communication, good listening, and empathy are just a few of many. Companies need to ensure agents have the emotional capacity and knowledge base to effectively manage any customer situation. They should also be able to diffuse customer complaints when necessary.
Many businesses are equipping customer service agents with advanced AI virtual assistant programs that improve work efficiency and performance outcomes. In turn, these programs support the training and onboarding process. This is especially true for companies bringing on new team members that have little to no experience but are looking to heighten productivity and meet high call volumes.
With AI coaching tools, customer service teams are provided with a valuable training curriculum that gives new agents the necessary information and skills to become subject matter experts. Along with improving the quality of each customer's experience and reducing training times, virtual training allows leaders to ensure employees are meeting performance expectations and identify where learning gaps exist.
The integration of AI technology allows the training and customer service processes to be entirely automated. In turn, this gives new service agents recommended courses of action when working with customers and assigning calls. The integration does this based on complexity and agent readiness.
3. Reduce customer wait times with AI-powered self-service
For businesses that offer 24/7 support, this often means that at least one AI-powered self-service feature is available in real-time, even if support agents aren't on the clock.
Today, most customer-centric websites include an easy-to-use menu navigation. Specifically, this menu is one that ensures the relevant and current self-service resources available to consistently meet customer needs. You have also likely come across the content cue feature while looking to quickly answer a general question or during business off-hours.
These self-service options give customers the opportunity to complete simple activities. Or, it can help them address minor to moderate inquiries that do not necessarily require a human agent. Such delivers a sense of instant gratification for the customer and keeps them loyal to their favorite brands.
While not every self-service feature is created the same, studies by McKinsey & Company have shown that the use of AI reduces or eliminates the inconvenience and inefficiency of less advanced options. Another study by the Harvard Business Review found that 80% of customers prefer to attempt to resolve issues on their own, making AI-powered self-service tools a top choice. Natural language processing allows AI systems to understand and respond to customer queries promptly and accurately.
4. Streamline resolution time with intelligent routing
Quality management for new trainees or experienced agents is a priority. This is why AI is utilized to quickly evaluate potential solutions to a singular problem. Then, it can deliver an appropriate course of action to solve it. Based on the language, intent, and sentiment of the customer request, the AI is able to analyze the information to provide a clear context for the assigned customer service agent before picking up the call.
With this, customer wait times are significantly reduced. This is because the AI routes them to the right person for the job. The AI finds them based on agent experience, capacity, and status. This intelligent triage and routing of each customer communication means that teams can continue to effectively serve customers during difficult times, like staff shortages and economic downturns, because the capabilities and capacity of customer service teams is magnified.
In 2020, an IBM AI Insights Forbes Coordinator recognized that this intelligent workflow of customer service teams means that the customer experience is drastically improved and companies can thrive in the call-center AI technology market that is expected to grow to $2.8 billion by 2024. AI-powered chatbots allow agents to focus on more complicated issues to ensure customer satisfaction and company growth.
5. Improve customer insights with AI analytics tools
Artificial Intelligence analytics tools provide valuable insights into customer behavior and preferences. In turn, this helps businesses personalize their services and improve customer satisfaction. By analyzing past purchasing habits and customer behaviors, AI analytics tools identify potential products/services that pique a person's interest. Then, it can create a personalized experience for them.
These proactive customer recommendations are designed to keep customers engaged and convert prospective buyers into finalized sales. One 2020 international Salesforce study found that over 50% of customers expect personalized offers when shopping online. Their experience can be the key to finalizing a purchase. So, AI insights are also designed to answer customer questions about specific products or services and clarify the checkout process. They can also address shipping issues.
Beyond that, the use of AI in customer service to gather customer insights gives customer service agents relevant information and data in their workspace. This is especially true if the customer ends up needing further assistance that goes beyond the chatbot's capabilities.
6. Provide accessible communication solutions to customer service teams
Even with the utilization of AI-powered software, communication is essential to the customer service experience and resulting satisfaction. However, this can be difficult for customer service teams that work for a global customer base and are looking to consistently improve customer experiences.
Customer service agents can use AI as a practical approach to general customer communications. They can use it to identify key customer touchpoints, understand customer concerns, and provide knowledgeable feedback. The latter is also supported by the use of AI systems to support efficient and productive meeting spaces in remote and hybrid work environments.
In addition, companies with a limited multi-lingual workforce can use conversational AI-powered tools. These tools provide customers and agents with basic language translation and transcription services that are surprisingly accurate and efficient.
7. Ensure full compliance with industry standards and regulations
It has been suggested that the majority of customer interactions, a whopping 95%, are expected to be AI-powered in the next couple of years. This may be ideal for companies looking to address basic customer communications more efficiently and reduce overhead costs. However, customer service leaders still need to ensure that they properly adhere to all industry standards and regulations.
The standards and regulatory requirements can be specific to the communications industry. But, they can also be specific to the industry the company resides under. As a result, regulatory compliance becomes a more complex legal and customer service issue. This makes it necessary for agents to have a solid understanding of best practices.
To assist in this, conversational AI tools provide customer service representatives with scripts to guide customer interactions. They also provide legal disclosure checklists and improve their ability to manage customer issues. Conversational AI's ability to analyze and interpret customer behaviors and emotional interactions also ensures a consistently compliant experience in a changing society. For more complicated industries, this can also mean compliance with international regulations and the need to keep up with regulatory revisions.
Overall, the integration of AI technology in customer service operations streamlines processes reduces response times. And, it empowers teams to deliver exceptional support. This can take numerous forms and is dependent on a company's customer service needs. But, it is widely effective at steering customer interactions and improving the customer experience.
Featured Image Credit: by Mikhail Nilov; Pexels; Thank you.