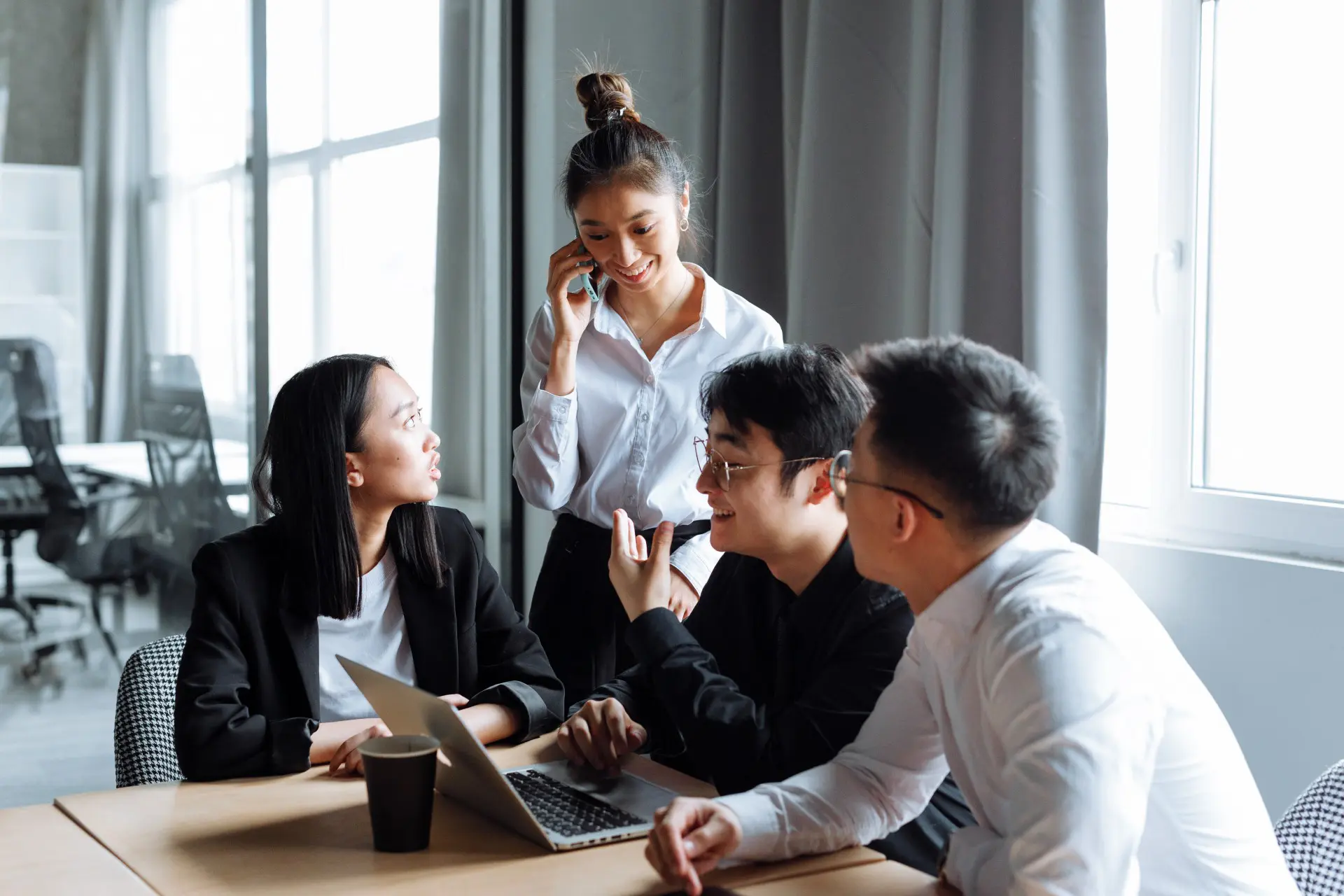 With staff shortages affecting every sector, it's more important than ever for businesses to invest in technology that supports their employees and makes it easier for teams to do more with less.
As worker shortages affect companies in every sector, many businesses are turning to technology to increase efficiency. Chatbots, specialized software platforms and automation allows businesses to punch above their weight. Many options include significant investments of time and financial resources. Some are free to trial or implement permanently.
Here is how tech can help you stretch your team further.
1. Chatbots multiply customer service teams' capabilities.
Higher education is one example of an industry that adopted chatbots to expand small teams' capacity. For the past seven or eight years, text-based chatbots have become increasingly common for moving potential students through the marketing funnel and then supporting them once they arrive on campus.
In 2016, Georgia State University implemented a chatbot to connect with admitted students via text. They saw a 3.3% rise in orientation attendance, a key indicator of whether a student intends to enroll. Since then, other universities have turned to chatbots. As budgets shrink, they use AI and outbound texting capabilities to alleviate stress on admission counselors, financial aid officers, and other student support staff.
AI offers a solution for businesses whose clients need a high-touch experience. An online clothing store might ask if you need help finding your size. A research agency might ask if you need help accessing reports. Chatbots allow you to schedule appointments with ease.
One downside to chatbots is that they require employee time to program and build the associated knowledge base. And as recently as 2018, consumers reported annoyance with chatbots. However, the tools have continued to evolve and grow in value, offering excellent potential for time-strapped businesses.
What to Consider Before Implementing Chatbot Technology
If you're considering implementing chatbot technology, here are a few questions to ask yourself and steps you should take.
What kind of startup time and resources can I invest in this? If you decide that the long-term ROI is worth it, you may need to make some tough decisions in the short term to build a quality chatbot.
How much of this can I outsource? As you look at different vendors, ask how much programming and testing they do and how much additional work your team will have to take on. You may bring in a vendor and another contractor to get you up and running.
What matters most to our customers? Do your people want simple customer service questions answered at all times of day and night? Do they want important reminders texted to them? The answers to these questions will help determine the vendor you use.
How will this fit with our current tech ecosystem? Ideally, a chatbot will integrate with your existing customer management system. If it doesn't, it may create more hands-on work for your team–not less.
2. Industry-specific software platforms streamline the customer experience.
The healthcare industry is an example of using cloud technology and white-label platforms to streamline data and improve the customer experience. Apps allow patients to access their records, communicate with providers, pay bills, and view test results from home. This level of accessibility allows care providers, scheduling staff, and patients to focus on solving problems rather than managing information.
On the in-patient side, individuals can use tablets during hospital stays to request help, order food and comfort items to their room, sign forms, and review their medications. This flexibility lets nurses batch their care trips to each room.
One patient-facing platform is Navigating Cancer, used by more than 2000+ oncology providers to support 1.5 million patients. Their app allows patients to message their provider about medications and ask questions. Patients can also read up on symptoms they may experience and how to manage the symptoms.
"We are trying to focus on how we can bring all these parties together to enable patients to have a single place to get the key information they need to make their care successful," said Bill Bunker, CEO of Navigating Cancer.
In addition to helping ease the customer experience, this platform allows businesses to flag potential issues, streamline data entry and sharing, and reduce the time employees need to spend searching for notes regarding clients or patients.
How to Evaluate Platforms for Your Industry
Chances are if your industry has a gold-standard client interface platform, you're already using it–or at least aware of it. But if you're part of a developing industry or aren't happy with your current tech stack, here are a few things to do about it.
Research efficiently.
Use a software marketplace like G2 to read peer reviews and compare different options.
Ask around.
Contact your connections at other businesses, or take the chance to expand your network. Do your due diligence before buying an expensive, flashy new software that isn't tried-and-true.
You can get excited about a new platform that makes everyone's job easier. But make sure that it will fit within your established SOPs or that you're willing to take the time to build out new ones. Consider having a few employees test new tools for usability and measure the learning curve.
3. Automation reduces repetitive tasks.
Automation is the gold standard for increasing productivity without losing quality–but you must set it up well to work. It can assist with lead scoring, outbound marketing, project management, and more.
Social media is one obvious candidate for automation. By using tools connected to LinkedIn, for example, sales professionals can automatically send messages to qualified leads. Recruiters can filter applicants. Development professionals can mine data about potential donors.
Social media scheduling has been around for years, but the back end of scheduling platforms continues to evolve. Social media managers can set up approval processes that alert designated individuals when a post is ready for approval. Automated responses to specific keywords in comments allow account owners to "interact" immediately during campaigns.
In many workplaces, automated tools allow dispersed teams to stay connected and up-to-date on team priorities and water cooler conversations. For example, a dispersed team might not have the chance to chat about the previous night's episode of Yellowstone. But a Slack end-of-week check-in might ask about the best media consumed that week, sparking conversation via an appropriate channel.
How to Add Automation to Your Business
Take inventory of every repetitive task your people perform. Ground-level employees and mid-level supervisors are often best positioned to evaluate what tasks could use automation. This audit can also give you valuable insight into redundancies in your company.
Check the tools you already have. Many offer at least some level of automation. Search their help centers and YouTube channels to learn how to make the most of your current investments.
Consider hiring a consultant—or crowdsourcing from within. Consultants can help you figure out what automation will best serve your business. If you don't have the budget to hire someone externally, evaluate whether one (or more) of your current employees have skills in this area. Could you take someone off another project to free up their time to help implement automation?
What You Can Do If You're Part of an Overwhelmed Team
If your company is short-staffed, here are a few tips for using technology to fill the gap…whether or not you have significant decision-making power.
Automate your emails.
Sort incoming emails into folders so you can focus on the important ones. Turn on automated replies to let senders know you'll get back to them in a business day so you can batch your email replies. (This is especially doable if you have an internal chat system such as Slack or Microsoft Teams that allow colleagues to reach you quickly when needed.)
Templatize your communications.
Do you find yourself sending duplicate emails over and over? Save them as email templates, so all you have to do is edit a few details to reply to common inquiries.
Ask for resources—especially if you feel overwhelmed.
Even if your company can't hire more employees, there are less expensive things they can do to support their people. Perhaps most importantly, they can support employees' mental health. A variety of subscriptions for mental health platforms offer meditation, mindfulness, and on-demand virtual counseling sessions. Ask your HR department if your employer provides any of these options. If not, ask them to look into it, citing research correlating mental health with productivity.
Featured Image: Thirdman; Pexels.com. Thank you!