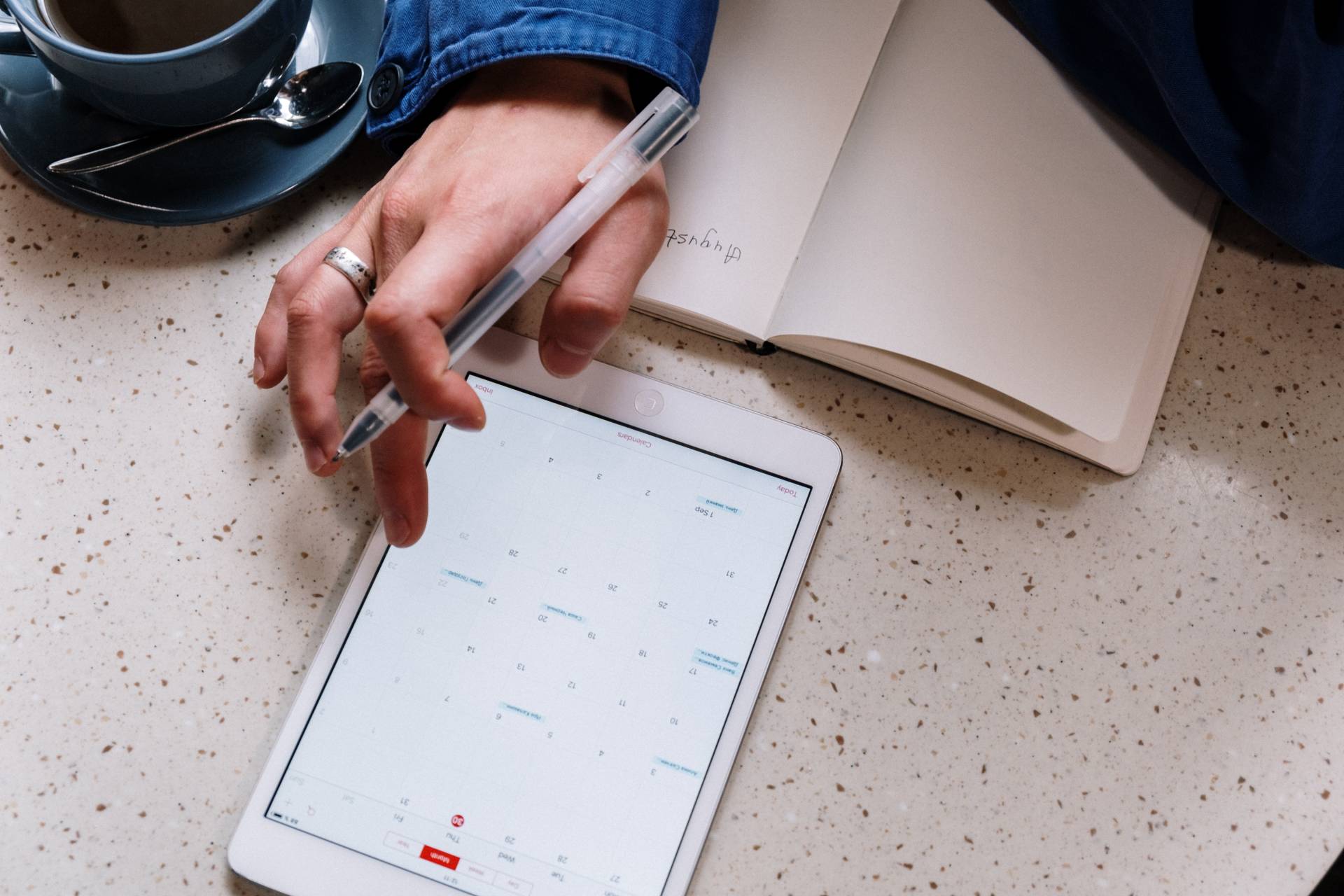 For productivity and organization, nothing can replace a comprehensive calendar. In addition to their many specialized features, calendars come in a wide variety of shapes and sizes. The challenge is figuring out which type of calendar fits your unique needs and preferences best.
With that said, why trouble yourself in finding the right calendar? According to research, people regret what they didn't do more (72%) than how they handled their actual responsibilities (28%).
In short, calendars can help you organize multiple aspects of your life to achieve your goals, regardless of calendar type. Planning your productivity can literally change your life if you create good habits.
What Types of Calendar?
A calendar has a few basic requirements: It should be easy to write in, read, and readily available when needed. Depending on your personality, you can decide how to meet those criteria.
It is generally recommended to choose one of three categories of calendars: paper calendars/planners, digital planners, or digital calendars.
Paper planner.
The purpose of this type of calendar is to keep track of your plans, goals, and tasks in a tangible way. Paper planners come in all shapes and sizes. There is a wide variety of shapes, sizes, and styles available.
Examples include the classic Moleskin planner you carry around with you or a desktop calendar. Another example would be wall calendars that not only look good but also remind you of important dates.
Digital planner.
Like a paper planner, you can keep track of your schedule, to-dos, habits, and schedules. In spite of this, digital planners have much more to offer, such as increased portability and flexibility, faster navigation via hyperlinks, and enhanced customization. Additionally, they're usually interactive PDFs that you can write on your tablet or phone.
You can, for instance, use the free Paperlike Digital Planner, which features Year, Month, Week, and Day pages, and they are arranged in the right order when scrolling rather than clicking hyperlinks.
Digital calendar.
In general, digital calendars are subsets of digital planners. So, what's the difference? By using a digital calendar, you can plan and track your tasks directly.
Another distinction between the two is that planners provide direction, whereas calendars provide timing. You can also access digital calendars on pretty much any device since they're on the cloud.
Some of the most popular digital calendars include Calendar, Google Calendar, Outlook Calendar, and Fantasical.
The Pros and Cons of a Paper Planner
Pros of a paper planner.
No tech, screens. There's no need for technical skills or extra screen time. It's as simple as opening up your planner, picking up a pen, and writing. Moreover, too much screen time negatively impacts the brain, according to studies.
You remember things better. In addition to helping us formulate our plans and to-do's better, writing by hand stimulates focus-enhancing brain cells.
A strong dopamine rush. A completed task feels great when you cross it off on paper. Because it's somatic, it may be more powerful than checking things off in a digital planner.
The ability to customize. Bullet journaling, for example, has blank pages that you can completely personalize. Compared with other paper planners, you'll want to customize the content to work for you.
You can be creative. You can use beautiful pens, tape, stickers, and more in a customizable paper planner if you are creative and artistic.
Keepsake. You can use it to track your progress, reflect on the kind of person you were during those times, and celebrate your achievements.
Cons of a paper planner.
It's inconvenient. If you want it to be effective, you have to carry around a planner with you at all times. As a result, if you use stationary tools, you'll also need a pen. Having two planners, plus journals and other books, can also be bulky if you like to separate work and life.
There are no reminders. Each day, you'll need to check your paper planner regularly to make sure you're following your daily plan. The importance of reminders cannot be overstated for those with "time blindness," who are often super busy or neurodiverse.
Intensely time-consuming. Paper planners are time-consuming to make attractive, to find the information you need, and to migrate information from month to month.
Collaboration is not possible. You can't integrate paper planners with company workflows or other apps or share them with others who need to know what you're up to.
It is not editable. Errors are inevitable, and it's hard to correct them in paper planners. Particularly if you're using markers or pens.
Customization options are available. In addition to being a pro, it is also a con. Having someone else design your planner might not give it the right feel.
Costly. Every year — or every quarter — you need to replace the planner. Furthermore, quality planners and stationery aren't cheap.
Environmentally unfriendly. Trees are used to make paper, and plastic is used to make pens and markers. And, as I just mentioned, a new one has to be purchased every year (or quarter).
It can be damaged or lost. There is no backup for your planner if it is lost or damaged. Also, the ghosting or bleeding of some pens and highlights can ruin a page.
The Pros and Cons of a Digital Planner
Pros of a digital planner.
On the go. The planner can be accessed from your phone or other devices at any time. Further, on your device, you can access both your work and personal planners.
It is efficient. Then you can just copy and paste the page each week or month once you have it set up. Furthermore, information is easily found using hyperlinks and search features and can be easily migrated.
Easily editable. You can easily fix mistakes, edit details, and reschedule things as needed.
It's shareable. Your plans can easily be shared with others.
The data is backed up. Online backups and saves are common for digital planners.
A wide range of customization options. The possibilities are endless when it comes to creating, designing, and even selling your own digital planning tool.
Reduce your carbon footprint and save money. Most digital planners are free or come at a one-time cost, and they do not need to be frequently replaced.
Designed for those who are less creative. In case you don't like your handwriting, you can select a different font instead. Adding aesthetic elements such as colors, themes, and digital stickers is also possible.
Cons of a digital planner.
Technical requirements. You will need an electronic device, such as a phone or computer. The most popular tool for digital planners is a tablet with an electronic writing tool.
Requires a battery. Using your planner is not possible without a fully charged device.
You need wifi. Your planner might require wifi for access, editing, or use, depending on its technology.
It takes time to learn. Getting familiar with your digital planner may take some time if you are unfamiliar with its tech, app, or program. It may also take some practice to write with a stylus.
It is distracting. With social media, emails, and other apps on a device, it's easy to get distracted.
A lot more screen time. Your physical and mental health may be affected by this increase in screen time.
It can be quite expensive. You will need a device — most commonly a tablet and stylus. In addition, most sellers of digital planners do not accept returns or refunds.
Technical issues can occur. You may find digital planners challenging if you are not a fan of technology. If you have more than one device, you need to sync them so nothing is overlooked. In addition to updating apps and technology, you'll want to make sure your files are backed up.
Privacy concerns. In the event that your data is breached, your plans, goals, and schedule will be compromised.
The Pros and Cons of a Digital Calendar
Pros of a digital calendar.
Being aware of the time.
To-do lists and planning are good. The problem is that we often overestimate how long things will take because we don't estimate how much work will be involved. Because of this, inaccurate time estimates account for 25% of failed projects, according to the Project Management Institute's 2018 "Pulse of the Profession" report. Because digital calendars are linked to time, you can make to-do lists and schedules more realistically.
An accountability system.
By using your digital calendar, you can strengthen your follow-up skills.
Improved focus.
To focus on priority tasks without interruption, you can use your digital calendar to block out time — either for yourself or for your team).
It's efficient.
Repeating events on our calendar is not uncommon. When you create a recurring event, you can view it on your calendar automatically. In just a few minutes, you can set up a rule so that your calendar keeps track of every event automatically.
Easily editable.
Editing details, rescheduling things, and fixing mistakes is a breeze.
It is collaborative.
Your schedule or appointments can be shared across devices and with others, as well as collaborated with family members, team members, or clients.
Other advantages include the following:
You can customize it. You can change the colors, names, and views of your digital calendar. Also, there are lots of features and settings so you can make it your own.
Everything's backed up. Without thinking about it, digital calendars are backed up and saved online.
You'll receive reminders. Keeping track of important events with reminders and alerts will keep you on track, and you won't worry about being late.
It's mobile. If you have your phone or another device on you, you can access your digital calendar. It's easy to keep work and life calendars separate.
Different calendar views. Time can be viewed from a day, week, month, and year in order to see further ahead. Furthermore, you can toggle your work and personal calendars on and off in one place.
You can save money and the earth at the same time. If you use your email address's calendar, you can use it for free. In addition, a digital calendar doesn't need to be replaced; it can just be used as it is. Even though devices consume the earth's resources, most people already own smartphones and computers.
It's already being used. Whether it's appointments with clients or appointments with others, you probably use a digital calendar already.
Cons of a digital calendar.
Technical requirements. Accessing a free digital calendar requires an email address and a device. Phones or computers are both acceptable.
A battery is required. You cannot access your calendar if your device is not charged.
You need a WiFi connection. Accessing, editing, or using your planner might require wifi, depending on the technology.
It is distracting. When using a device with social media, emails, and other applications, it can be easy to become distracted.
More time spent on screens. It can adversely affect your mental and physical health as it adds to your daily screen time.
Can be expensive. You'll have to buy a device if you don't have one already.
Technical difficulties. Digital calendars might be a challenge for someone who doesn't like technology. If you have several devices, they should be synchronized so nothing is missed.
Privacy concerns. It may be possible for data breaches to compromise your personal information, plans, goals, and schedule.
Different Types of Calendars and Planners
Whether paper or digital, here are the various calendars and planners you'll most likely encounter.
A basic calendar.
There aren't many bells and whistles on a basic calendar. In fact, they're pretty straightforward. As such, If you've got a fixed schedule, they're probably your best choice.
Furthermore, simplicity works well when you are distracted by too many options. It's easy to get time-sunk when creating an event or note takes too long. Any features you don't need should be able to be hidden or disabled.
How should a basic calendar be designed? The process should be streamlined. New entries should be as easy as a click or two — or simply jotting them down on a desk calendar. Choosing a calendar that has preset templates will speed up the process even further.
It is also imperative for a basic calendar to be flexible. A calendar that is integrated with many other apps is the best one for you, for instance. Although specializing might be a good idea if you begin to use those other apps more than the base calendar features.
Personal planners.
The purpose of these planners is to keep your personal and professional lives separate. A personal planner can help you keep track of doctor appointments, schedule important dates for your children, plan date nights with your spouse, and even plan meals. Do you have any chores around the house that need to be done? How about making a haircut appointment or replacing fire alarm batteries? Your personal planner can help you keep track of all these tasks.
Keeping track of tasks and errands is easy with Todoist. You can also use the JSTORY Weekly Planner 28 if you prefer paper. You can customize your weekly schedule with this colorful, funky planner.
Besides your personal planner, there are also the following types of planners:
Work planners. Keep track of your priorities and stay organized with a work planner. Work planners help you organize ideas, outline plans and strategies, and collaborate with your coworkers. You can track your day-to-day activities, client meetings, deadlines, and payments using it.
Financial planners. You can use these planners to stay on top of your financial goals. Their main focus is on managing monthly bills, budgeting, creating expense logs, tracking bills, etc.
Travel planners. Using a travel planner can make your holidays and travels easier. Planners help you keep track of tickets, reservations, tips, tasks, and more.
Schedule management tools.
The term "schedule management tools" refers to programs that accommodate scheduling and include calendar functions as part of a project management suite or a communication tool.
It is possible that a schedule management tool will not be available as a stand-alone utility depending on the vendor. It is not uncommon for companies to provide stand-alone tools for the convenience of their customers.
Employees may perform schedule network analysis to generate updated project schedules by combining a scheduling tool with other software applications and manual methods, depending on the manufacturer and built-in functionality.
Project calendars.
Project-management calendars are useful for detailed planning. Combined with a robust to-do list, it provides a simple but convenient calendar. Having a project calendar is essential if you have a lot of tasks that depend on each other.
Often, project management software is necessary for an addition to your calendar. There are other features of these apps, in addition to the calendar view. There is a greater emphasis on tasks and divisions of labor in general.
A well-organized project calendar should contain lots of detail for every part of the project. There should be an option for users to attach files, web links, and locations. In addition, tasks should be prioritized, and large tasks should be broken down into smaller ones.
Calendars can also be visualized as GANTT charts. A default view should be this one if possible. Also, a progress report and time estimation would be helpful. There is, however, no negotiating on the need for reliable and real-time syncing.
Journal calendars.
The purpose of a journal or diary is to record thoughts, feelings, and experiences. There are sections for every day, week, and month in a calendar journal, unlike notebooks. Journals with calendars record dates and related thoughts or events.
In addition, you can track your daily and weekly activities. It lets you keep track of everything from what you do in a day to what you spend. A habit tracker can help you stick to a weekly goal.
Besides inspirational quotes, journal calendars have daily prompts. Moreover, journaling helps you stay mentally and physically healthy.
A journal calendar is most effective when it's customized. It should support multimedia attachments along with sketches, voice recordings, and photos. Words cannot always describe feelings, so it's a great way to capture them.
It's easy to take notes on the go with quick entry. Plus, they're simple to fill out. You can also track your mood along with events in effective journal calendars.
Bullet journals are popular and effective journals. If you're unfamiliar with bullet journals, they're exactly what they sound like. This is a simple planner that uses bullet points to plan your entire day. You can design your own planner using this blank canvas. It is ideal for those who like things simple and minimal and don't want to go into too much detail.
Calendar tracker.
Journals focus on keeping records, whereas trackers focus on looking forward. With a tracker calendar, you can keep track of what you need to accomplish and when. Your calendar keeps you accountable and motivated by tracking your progress toward your goals.
Using a tracking calendar will help you schedule a time to pursue your goals. It should also consider your current commitments while doing so. Events cannot be scheduled at the same time as other appointments, for example, in Google Calendar.
One of the most important features of a tracker calendar is accountability. For example, with the sharing options, you can compete against your friends. These apps also allow you to share your progress on social media.
Which Type of Calendar is Best?
The choice of the type of calendar does not have any right or wrong answers. Instead, it's about finding what works best for you.
But, if you want to stay organized and accomplish your goals, decide on three things that are significant to you. Next, review the pros and cons of each. And, choose one place that works for you.
Reminders, editability, and being realistic are the things I value most. All of these pros and cons can be attributed to the digital calendar.
Collaboration between paper and digital calendars is, however, possible. The catch? Providing you have chosen a central storage location. It would be entirely too time-consuming if you used both, which is not going to improve your organization.
Image Credit: cottonbro studio; Pexels