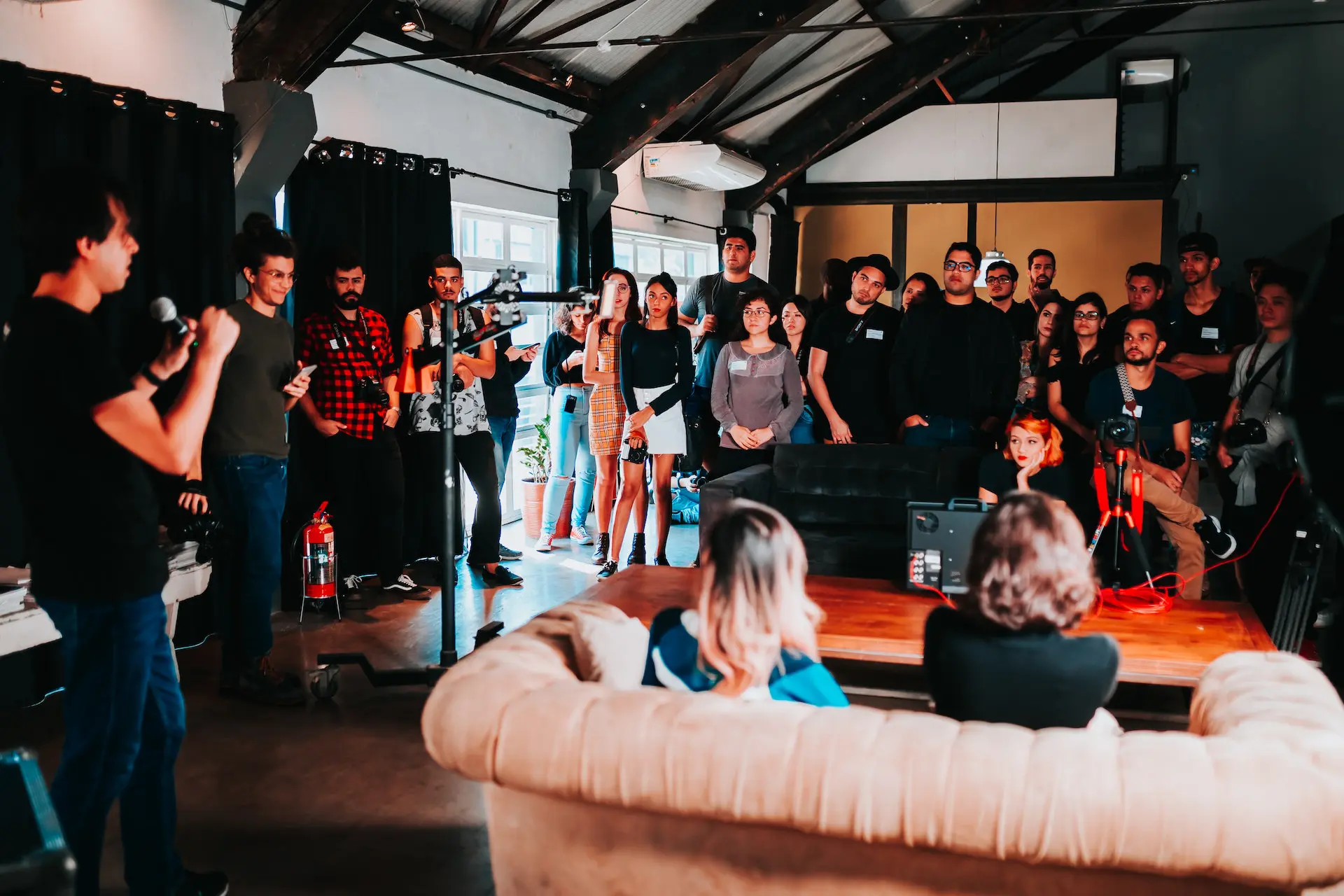 Taking part in entrepreneur events might seem like a waste of time for business owners. Attending conferences can be valuable, though.
Despite much social interaction and networking taking place online these days, finding the right conference can be a good way to develop yourself and your business Whenever you attend a conference as an entrepreneur, freelancer, or small business owner, you will:
Make your network stronger.
Enhance your skills and gain new ones.
Collaborate with other professionals to get inspiration.
Keep up with the latest industry trends by discovering new products and services.
Even better? You can use those advantages to increase revenue. Attending the right event is crucial, however. In order to boost your revenue, you should attend these top entrepreneur events.
Related: Growing Business Relationships Grows Revenue
A key component of Ernst & Young's portfolio of conferences, the Strategic Growth Forum US is the most prestigious gathering of high-growth companies in the country. Investor fund managers and CEOs from global market leaders attend the event, along with high-growth entrepreneurs, senior executives, and C-suite executives. Economic growth is fuelled by these individuals attending keynotes, panels, meetings, and expanding their network.
Attendees can expect:
The best way to accelerate your business' growth.
Get the scoop on what's new in the strategic transaction market and how to raise funds.
Networking opportunities with potential clients, investors, partners, and acquisition targets.
Learn about the success stories of entrepreneurs who are changing the game.
But, the best part of attending? The closing ceremonies will include the Entrepreneur Of The Year® US National Awards, the world's largest gathering of entrepreneurs.
The Entrepreneur Of The Year program has recognized visionaries who lead innovative and successful companies for nearly four decades. Since 1986, the program has recognized entrepreneurs in nearly 60 countries.
With the help of MassChallenge, 2,928 startups have raised $8.6 billion in funding. Even more impressive, this pitch competition has also created 186k jobs and generated $3.6 billion in revenue since 2010.
MassChallenge aims to accelerate transformative technologies in business, fintech, science, and technology. Its goal is to help connect top entrepreneurial talent with the resources and organizations they need to launch and accelerate their business.
In addition to Boston, Austin, Houston, and Dallas, MassChallenge also has accelerators globally in Mexico, Israel, and Switzerland. Visit their website for more information about early-stage startup competitions in the US.
Derek Andersen and a few friends started Startup Grind in 2010 to solve a problem they were all facing: starting a company. Soon, it became clear that these obstacles were much bigger than they had ever imagined. Since then, the Startup Grind community has grown to 4 million startups in 600 cities and 125 countries worldwide.
There's also its renowned startup conference, Startup Grind's Global Conference. This is an annual one-day event that can be attended in person or online. Startups of all sizes, early-stage and large-scale, will have the chance to meet investors and exchange ideas.
Speakers in the past have included Alphabet, Zoom, Bloomberg, Y Combinator, Slack, Google, WhatsApp, and many more.
In 2003, Dreamforce was launched for the first time. The first gathering was attended by just 1,000 people. Globally, the conference has hosted over 170,000 people since then. In addition, Dreamforce is one of the largest software conferences in the world, hosted by B2B tech giant Salesforce.
For those of you unfamiliar with Dreamforce, it is a four-day conference full of inspiration, fun, and education. The event attracts thousands of attendees every year and features some of the world's most notable business minds as keynote speakers.
The latest innovations will also be discussed. Once you learn those lessons, you can apply them to your business and transform it for the better.
Want to know what money will look like in the future? Then this is the event for you.
There will be connections between payments, financial technology, and the service industry at this event. Basically, this event is where technology meets money, money meets people, and people meet ideas.
A good example is the recent rise of startups reaching $1 billion valuations, dubbed 'Unicorns' to indicate their power and future potential. But the collapse of many Unicorns has proved that valuation alone does not guarantee a happy ending. Now is the time to concentrate on revenue and CENTAURS, a new mythical beast.
Additionally, there are events in Europe, Asia, and the U.S.
A digital creative's dream conference held annually in Austin, SXSW focuses on the latest technology, film, culture, and music breakthroughs. Session topics range from food to design, the tech industry, and more each year. Overall, it's the perfect place to be if you're building a startup and want to be surrounded by stars, influencers, investors, and all-around experts.
In addition, if you have just launched a product, you can pitch it at SXSW. Along with providing prize money, SXSW Pitch attracts investors worldwide looking for the best and newest ideas.
As part of SXSW, ambitious and innovative talent will connect with leading investors, allowing both parties to reach their goals together. SXSW has led to the acquisition of companies by companies such as Google, Huffington Post, Apple, and many others.
Related: 5 Tips To Networking at Conferences as an Introvert
The MIT $100K Executive Summary Contest was replaced by this one in 2011. Every year, MIT $100K Entrepreneurship Competition takes place in Cambridge, Massachusetts. In addition to venture capitalists, mentors, prototyping funds, and more, the competition gathers a network of resources.
To apply, you need to make a 90-second video pitching your idea. After entrants are narrowed down, the top finalists will pitch live to a panel of judges for a chance to win.
A submission can be made by an individual or a team. One member of the team must be enrolled at MIT full-time or part-time, but not all.
In the $100K Entrepreneurship Competition, there are three rounds: PITCH, ACCELERATE, and LAUNCH. As a grand prize, $100,000 is awarded to the winner and finalists. It's free to enter as well. Additionally, you can connect with Boston-based entrepreneurs.
In addition to fostering entrepreneurial activity, the Small Business Expo also provides a venue for learning. As one of the best opportunities to start a business, the Expo offers access to talent and industry connections. Moreover, there are keynotes and opportunities to find new suppliers and vendors.
Also, the Expo travels across the entire country with events in Boston, NYC, Philly, Miami, Houston, L.A., and San Francisco.
The Unleash sales engagement conference is organized by Outreach, a sales engagement platform you should check out. Twilio, LinkedIn, and Amazon are among the companies offering top sales advice at Unleash.
In addition, the event emphasizes how to drive change within your organization. As an example, you'll learn why building a more diverse and inclusive team is not only good for business, but also the right thing to do.
The Collision Conference in Toronto is one of the fastest-growing technology conferences in North America. With just seven years under its belt, this event has attracted 30,000 participants from 100+ countries worldwide. Moreover, many consider it to be one of the world's biggest tech conferences.
In addition, you can participate in Collision ALPHA. The purpose of this event is to highlight seed-stage startups. To get their products and services off the ground, Alpha connects budding entrepreneurs with influential executives, journalists, and investors.
It is a unique opportunity to share your story with the world through Collision Alpha. A powerful network is available to startups, assisting them in finding partners, mentors, and even employees.
There is no doubt that Adweek's Social Media Week is one of the world's most prestigious conferences pertaining to social media. The focus is primarily on marketing, media, and technology communications. And, that's important since social media can boost revenue in the following ways:
According to 37% of customers, social media is the biggest influence on their purchase decisions, so increasing brand awareness leads to more leads.
Marketing professionals claim that social media has increased sales by 82%,
A study by Sprout Social found that 72% of people were more likely to feel connected to a brand if its employees used social media for information sharing. Using social media to sell can foster organic connections and engagement.
According to 93% of marketers with social media accounts, social media helps boost traffic to their websites
Valuable social media content can attract prospective customers, as well as retain your existing ones.
Related: The Business of Harnessing the Power of Social Media
Technology and startups are the focus of the conference, which is held around the world. Nevertheless, its biggest event happens in San Francisco — where else? There will be panels, workshops, networking opportunities, and opportunities to meet with investors at the event.
Additionally, there's TechCrunch's Startup Battlefield 200 — arguably the world's foremost startup competition. At Startup Battlefield 200, there will be a showcase of 200 of the best startups across diverse industries. A total of 200 companies will receive training, access masterclasses, private receptions, communities, and meet and greets with investors. Companies that launched here include Trello, Mint, Dropbox, Yammer, Tripit, Qwiki, Getaround, and Soluto.
Overall, it's worth developing a tangible relationship with at least one staff person before you go, to ensure you get maximum value out of the conference.
Image Credit: Matheus Bertelli; Pexels