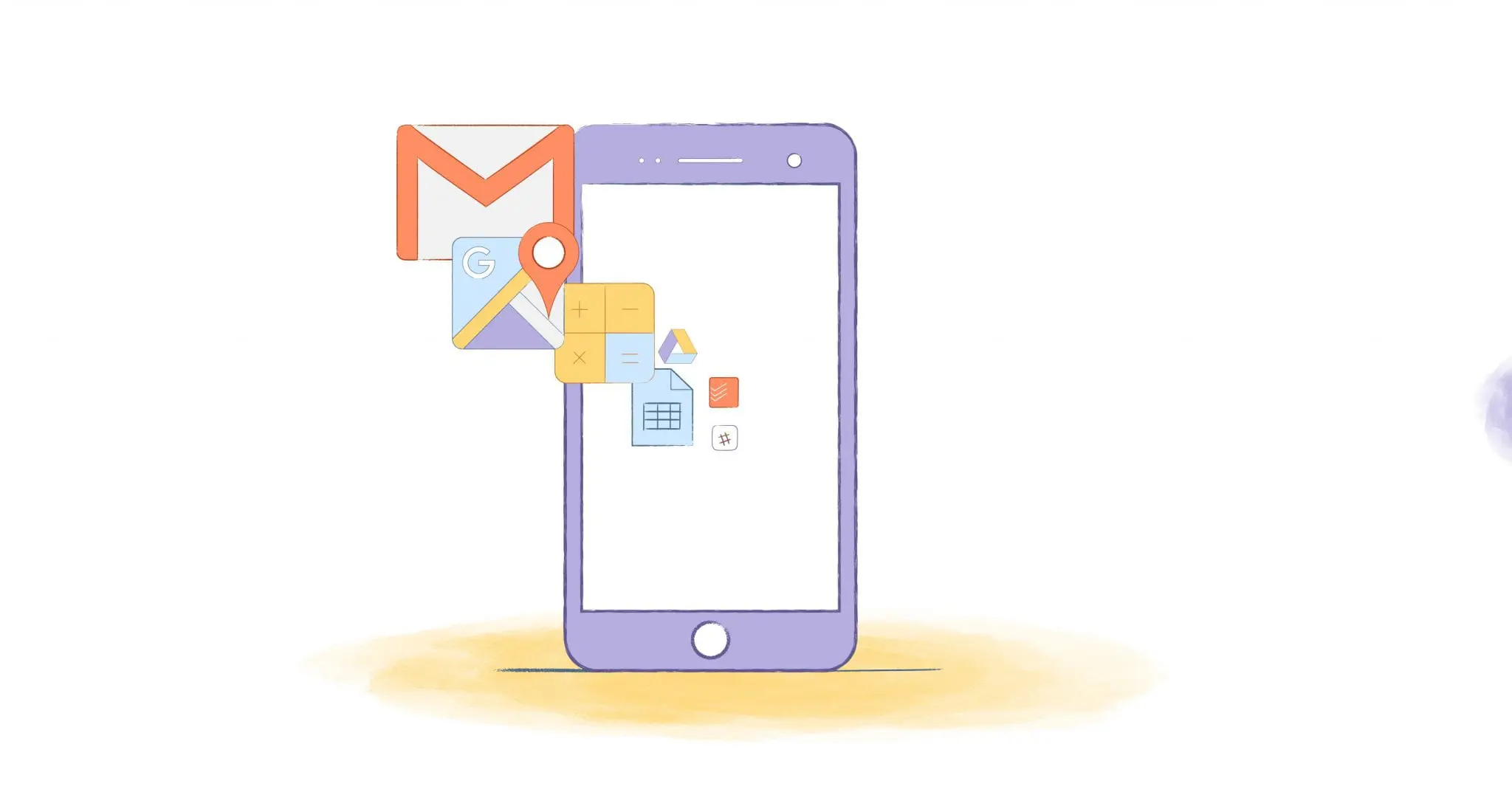 A calendar provides a visual for the short-term (day and week view) and long-term (month to month) so you can stay on top of everything in your business and personal life. That means meetings, projects and deadlines, appointments, special occasions, and important to-do's. If you have a spouse, you may need to note joint events and projects. If you have children as well, there is even more to track, including school, athletics, and other extracurricular activities. You need one of the widely used top calendar apps to take care of everything you do.
That's because your calendar has now become like gold for keeping your days moving as productively as possible. Not only does it tell you everything you need to know, but it's also satisfying to check things off to show progress and accomplishment. Calendar apps help you optimize what's possible from this time management tool.
Top Calendar Apps to Use Right Now
Here are the calendar apps and why you should be using them right now:
Calendar Apps to Match Your Workflow and Scheduling Needs
Today's smartphones, tablets, and computers come with a calendar app but this may not be the one that fits your lifestyle. You may be seeking more out of your calendar software that what the pre-loaded ones offer. More companies have developed calendar apps that are available on GooglePlay and iTunes.
There are simple calendar apps that just cover the basics. Then, there are other apps for calendars that are more robust and customizable where you can add events, tasks, and notes. Still others integrate with other tools and platforms to provide greater efficiency across your business and personal schedules.
What Makes These Top Calendar Apps So Beneficial?
There was a number of things we looked at when putting this list of top calendar apps together that defined a great calendar app:
Easy to learn and use. No one wants to click or tap too many times or have to hunt done what they need to do. You need to find your information quickly so you can maximize your time. That means the calendar app should ale one fast and intuitive.
Look great visually. That means a simple user interface that is enjoyable to look at. The visuals are also there to help you find what you need quickly, including having a distinct look for different items on your calendar, including business and personal items as well as meetings, occasions, and tasks in different colors.
Shareable and collaborative.  This is critical for a business owner who may want to share meetings or deadlines with their team. Or, if you run your own business, you may want loved ones to see your work schedule and let them post important events on your calendar for you.
Multiple devices. The calendar app should be a cross-platform app so you can access it on the Web, desktop, and mobile devices. And, when it looks the same across all devices, it's even better.
Incredible functionality with powerful features, including the ability to customize. This includes the ability to integrate with other apps like those for project management and team collaboration. The more a calendar app can provide ways to personalize the app, the better it is for the user who then feels like it was made just for them.
Use These Calendar Apps
Here are 15 calendar apps that offer all of this and more to keep you organized, on time, and productive:
Scaling with your business, Calendar is packed with features that help you be more productive. You can skip emails for scheduling meetings and work directly with this calendar app.
This time zone intelligent and intuitive scheduling app gives you greater control over your calendar and integrates with Salesforce, Zapier, GoToMeeting and more. The calendar app also works with Google, Outlook, Office365, and iCloud, bring your task, projects, contacts, and meetings together. It is a completely shareable calendar app.
Fantastical 2 combines all your professional and personal events and tasks in one place across email, project management tools, and social media like Facebook. One of its best features is the ability to use natal language expressions like "task" or "vacation" to create events and reminders. Other features include attachments, multiple time zones, and travel time and time to leave notifications.  There's a 21-day free trial and paid version for your Mac, iPhone, or iPad.
3. Any.Do Cal
Any.do Cal is part of the Any.do app family, which means that you can enjoy seeing your Any.do task list within your Any.do calendar app. For Android and iOs, this calendar app features functionality for agendas, events, and birthdays. It's also intuitive and offers suggestions on adding people to your events. One of the most convenient features is that you can send your birthday wishes straight from the app when a birthday announcement appears on your Andy.do calendar.
Available on your Mac, iPhone, or iPad, Apple Calendar is a standard calendar feature that's already loaded on your Apple device. This intuitive calendar app offers a clean design and ease of use to quickly add events and find what you are looking for on your calendar. There's room to add information like notes, others invited, and time travel estimates, which are added to the event alerts. While you can use this for work purposes, it is most often a personal calendar tool.
Google Calendar is a free calendar tool that allows you to keep multiple calends in one places through your existing Google account, synching information from your email, contacts, and other Google tools. You can maintain a personal, work, and vacation calendar. It works with Android and iOs devices as well as features a desktop version. Its search capability is particularly useful when you need to find information from a particular email to add the details to your calendar. Google Calendar also works with Evernote and Trello.
6. Informant
Informant has a family of calendar apps designed for the Mac, iOs devices, and Android devices that feature distinct features for each device. Some of the overriding features across the app family of calendars include one button navigation, templates, a pleasant interface design, travel assist and location support, easy setup, and a single app purchase option. It syncs with Evernote, Google Calendar, Toodledo and Informant Sync.
7. Timepage
Developed by Moleskine, Timepage is an iOs calendar app that combines events, maps, contacts, and weather into one app. It works with your existing calendar so you don't need to set up anything new. the calendar app has a month heat map that shows when you are busy and when you are free.  Timepage supports calendars on Facebook, Yahoo, iCloud, Google, Office365, Outlook, Exchange and more. You receive a daily briefing on what you have planned for the day, when you need to leave for events, the weather, what to follow up on, and upcoming events in the days ahead. Timepage has some separate features for iPad and Apple Watch app versions.
8. Tiny Calendar
Tiny Calendar is large on functionality. This native Google Calendar app offers an intuitive, simple design and works on your iPhone, iPad, or iPod Touch. It can also be used even if you have no Internet connection and will synch to your Google account when you are connected. There are eight ways to view your calendar. Other features include a reminder system, intuitive gestures, single purchase for use anywhere, recurring events, invitations, and reminder system.
9. Accompany
Accompany goes beyond a calendar and scheduling by providing high-level executive features to keep a business owner or executive in the know. Each time a new person is added to Accompany, the user gets an Executive Briefing that provides background information on the person and the company they work for. Each entry attaches a profile picture, which gives you a great way to recognize the person when you meet them in person. Other features include a curated newsfeed and insights on contacts found in a user's Gmail account. The calendar and scheduling app is connected to many other sites to bring together information on people, companies, and industries for a well-informed user.
10. Jorte Calendar
Jorte Calendar is used all over the world for keeping track of tasks and events.  Some of its unique features include diary functionality, sharing capability with an easy link others can use to access your calendar and events and cloud accessibility. It also has a customizable user interface with all types of characters and colors to personalize your calendar. Its machine learning capability learns what you are interested in and delivers it based on the events and calendars of others that you follow on Jorte.
11. Week Calendar Planner
Designed primarily for groups, Week Calendar Planner is a convenient collaboration tool that offers one platform where events and meetings can be planned and shared among the team to skip the multiple emails and endless follow-ups. The free software can be used online through your desktop or you can download an app for iPhone or iPad as well as for your Android device. This leads to faster meeting planning and scheduling.
12. SolCalendar
SolCalender is an Android calendar app that gives you a calendar to keep track of all your activities. You can even see your other calendars that you may use like Daum, Yahoo, and Google within this app. Other features include weather forecasts, stickers to decorate your day, and the ability to see your events without opening the app thanks to a widgets gallery. It also supports Foursqure and offers a lunar schedule and timetable functionality.
13.Calenders 5 from Readdle
Calendars 5 from Readdle is an iOS calendar app full of useful features. Standout functionality includes natural language input, a task manager, and event-focused interface. You can use it online or offline and select various calendar views. It's easy to learn and put to work immediately for your busy work and personal life. You can buy it on a subscription basis or make a one-time purchase.
14. Shifts
Shifts does so much more than just a regular time-tracking scheduler. It is the ideal solution for industries that must schedule and record irregular shift- and duration-based work hours. This powerful calendar tool can help you generate custom shifts. Also, there are recurring rules for each shift and integration calendar events. You also can add personalized notes to each shift and enter hourly rates for estimated earnings. The calendar is shareable. It's available on the iTune store for a small charge.
15. Peek Calendar
Peek Calendar is a simple, straightforward calendar app for iOS devices. It's ideal if you want a basic calendar solution. Events are viewed on an accordion-folding style timeline. You use gesture controls to quickly create events and change times. The app syncs with iCloud, Google Calendar, and Exchange. This app is available in the iTunes store for purchase.
Schedule Your Top Calendar Apps Download
It's time to get your own calendar apps from this comprehensive list of available free and low-cost apps.