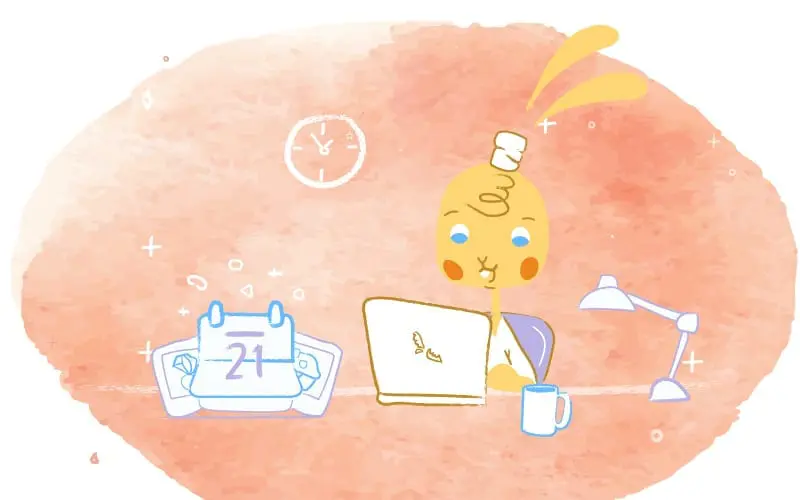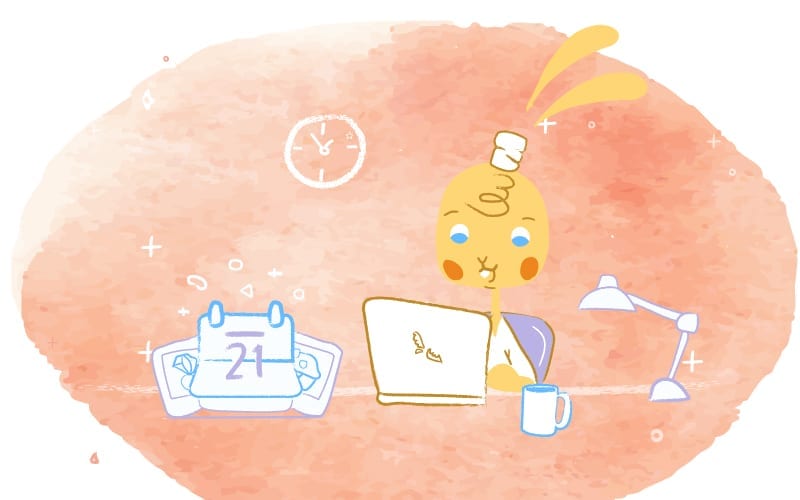 For thousands of years, calendars have always served a fairly straightforward purpose — to mark the solstice and predict when migrating animals would return. You really have to hand it to these ancient civilizations. While not 100% accurate, it's fascinating that they were able to track the rotations of the sun and the moon — which played a huge role in their survival. The fascinating thing to me is that the interest in calendars has been on this planet for thousands of years, and they all carried a basic calendar template.
Calendars were eventually used to note when specific religious festivities would take place, and the calendar template was made from these documentations.
This was the case for a wide range of calendars like the Hebrew, Islamic, Chinese, and Gregorian calendars — the later of which we rely on today. While it may seem like a long time ago for us, in the scheme of things, it wasn't until more recently that people turned to calendars to keep tabs on personal events.
For example, George Washington kept a calendar that was also a local guide in that it contained information like postage rates and the names of local inns. Another example was the one created by Robert Aitken in 1773 that contained spaces for users to keep track of their expenses. It wasn't until around 1850 that people began to use paper-based calendars to plan their schedules in advance.
Today, calendars are an essential part of life. After all, calendars are pre-installed in that shiny new smartphone you recently purchased. What's more, there an insurmountable amount of calendar templates that you can access to meet whatever demand you have.
With that in mind, let's take a closer look at the benefits and drawbacks of calendar templates, and how you can make the most of them.
The Benefits of Calendar Templates
Templates, in general, are incredibly useful today but that is especially true of calendar templates. The main reason is that using a template saves you a ton of time. Instead of creating a new calendar every time you start a new project or schedule you can use a pre-made one. All you have to do is insert the essential information and you're good to go.
This may not sound too important. But, let's say that you're a business owner. Now you don't have to spend time building a calendar from the ground-up. Just download a calendar that meets your need and you can focus on more important tasks like growing your business. As an added perk, this also increases your productivity, alleviates some stress, and helps you with your constant goal to maintain a healthy work-life balance.
Furthermore, using readymade templates can save you money since you or someone else are wasting time constructing one from scratch. They also ensure consistency and clarity in both life and work. As calendars can be easily shared with others, they provide better communication, collaboration, and keep you, your family, and employees on the same page.
Most templates can be customized to suit your specific needs. Need a template for work? No problem. You can generate weekly schedules to record all of your upcoming meetings and deadlines. But, that's just the tip of the iceberg.
Uses for calendar templates.
Daily, weekly or monthly work schedules for you and your employees.
Editorial or content calendar for marketing your business or a new product/service.
Family appointments, chores, and obligations.
Checklist for daily to-do list items.
Reference for holidays, birthdays, and anniversaries.
Tracking the progress of goals or a project.
Upcoming vacation itinerary.
Highlighting what you accomplished for the day, week, or month.
To inspire and motivate you with the inclusion of uplifting quotes.
Displaying helpful data, such as notes on a client that you're meeting with.
Running more effective meetings with the inclusion of an agenda.
Using Your Calendar Templates
There's no denying that calendar templates are a powerful tool that can keep you organized — while maintaining your sanity by protecting your valuable time. That doesn't mean that they're perfect, but you will get better at making sure that all of your information is entered on your calendar.
For starters, if not properly maintained, they can become so cluttered that they're a challenge to keep organized. As a result, they become more cumbersome than helpful. Also, if you need to look at historic calendar data, it may be difficult to filter and search through to find what exactly you're looking for. And, some templates do not allow you to customize them or input new information like notes and comments.
You will want to set automatic reminders for important events, such as a team meeting, doctor's appointment, or due date. Also, make sure that you access all of your calendars in one place.
Having your calendar notify you of an event and grab all of your data from many calendars, lets you feel confident that you will never miss an appointment again.
Getting the Most Out of Calendar Templates
Personally, the advantages of calendar templates outweigh any drawbacks that it may have. The key, however, to get the most out of a calendar template is to first determine what exactly you require in a calendar.
Go back and review the uses of calendar templates to guide you in finding the right template. If you're at a crossroads, then you could just browse different sites to give you some inspiration.
After you've found your ideal template, you'll want to customize it. Sure. Some templates don't grant you this permission. But, that's not usually the norm. Most templates allow you to tinker with it so that it meets your exact needs.
Here's some suggestion on how you can customize a calendar template.
Insert all important and relevant information. This can vary. But, this usually includes important dates for appointments, meetings, deadlines, holidays, birthdays, and description. It can also be even more specific. For example, for content calendars, you would want to include when and where the content will be published, who's responsible for it, and how it performed.
Color-coding. Changing the colors for specific events and activities allow you to quickly differentiate between calendar entries.
Determine when your week starts and ends. When it comes to working, this would obviously be Monday-Friday. But, if you have a job involving shift work this will change from week to week.
Select your calendar view. Again, this depends on your specific needs. As such, determine if you want to go with a daily, weekly, monthly, or yearly view.
Pick the size of your calendar. For online calendars, this may not be an option. But, what if you want to print it out? If so, you may want to select 8.5" x 11". This is a standard size that will fit perfectly on a wall.
Upload images. You can add images from your personal library or download stock images that make your calendar even more personalized.
Creating Your Own Calendar Template
What if you can't find a template for your exact needs? No worries. You can just create your own and have it on standby whenever you need it. Of course, how you depending on the platform that you use, creating your own calendar template will vary. But, here's how you can do so either using Google, Microsoft, or Apple.
Google Calendar
The Big G allows you to create a new calendar in just a couple of steps — as long as you have a Google account. Just open up Google Calendar and select "Add Calendar" — these are the three of dots on the left side of the screen. From there, you can go ahead and customize the new calendar by assigning it a new name and adding a description. You can also set the time zone and color-code it. If you want, you can also easily add other calendars like your co-workers, friends, or any other calendars of interest that you're into it.
After creating a new calendar, you can then set your preferred calendar view. For most people, that would be by day, week, month, or year. Google Calendar, however, lets you set your own views. Next to your work schedule, every four days, or every two weeks.
If there's one downside to Google Calendar it's that you can't create a new calendar from your mobile devices. You can only create a calendar from your desktop. The good news is that once it's been created you can access and manage it from your mobile device.
Sheets and Docs
If you feel too restricted with the standard Google Calendar template, then you can always generate your own by using Google Docs or Sheets. The process is pretty straightforward. But, I don't think that this is necessary for the average user. Instead, it's perfect if you need your calendar for a specific purpose. For example, if you were creating an editorial calendar for your business, then using Docs or Sheets would be the way to go since it can be designed however you see fit.
There's also an easier method. And, that would be to going into Add-Ons, it's in the menu bar at the top, and browse the Template Gallery until you find that one that speaks to you.
Since you used Google to build a template, it will always be there in the cloud — which means it can easily be accessed and shared with others. But, what if you want to print it out? Just use the following shortcut: ctrl + p or command + p
Like Google, Office 365 allows you to create a new calendar in just a few steps. Again, you'll need to have an account and be logged in. After that, click Add Calendar at the top of the page. Next, select a secondary calendar, assign it a new name, and you're ready to roll.
Unfortunately, this isn't as easy when creating a new calendar in Outlook. First, you'll need to go into Outlook, click the Folder tab, then New, and finally New Calendar. If you're in Mail, Contacts, Tasks, Journal or Notes, after highlighting New, you'll have to select New Folder and choose Calendar Items. Yeah. There's a lot of hurdles to jump through.
After going through all of that, you'll be asked to enter a name for the new calendar, as well as where you would like to place the folder — in this case, it would be Calendar.
Microsoft also permits you to add someone else's calendar or an existing calendar that you're into. Aldo, there are pre-made templates and themes readily available. And, if that's not enough, you can always design your own in Word or Excel.
Whichever technique you use, the calendar you created will be stored in the cloud. But, if you want, you can print it using the following shortcut: Ctrl+P. Or, if you enjoy doing a little more work, click File and then Print when in your calendar. Keep in mind that Outlook gives you print options, like paper orientation or the font you wish to use.
Apple Calendar
Out of all of the "Big 3", creating a calendar in your iCloud could be the easiest. As with Google and Microsoft, you will need to have an account and be logged in before going any further. If so, simply click the Action pop-up menu — this is located in the sidebar. Next, choose New Calendar. Give the calendar a name and that's it.
Apple also lets you import calendars from Google, Microsoft Exchange, Facebook, Yahoo, and any other CalDAV account. What's more, you can also add holidays, subscribe to interesting calendars, and view other people's calendars — just as long as they've given you permission.
And, unlike Google, you can create a new calendar directly from your iPhone or iPad.
Finally, if you need to print an Apple calendar out and are on your Mac, just choose File and then Print or use the shortcut Command-P. If you're own an iPhone or iPad, and the calendar hasn't been synched, then you'll need to take a screenshot first. Or, you may need to use an app like CalPrint.