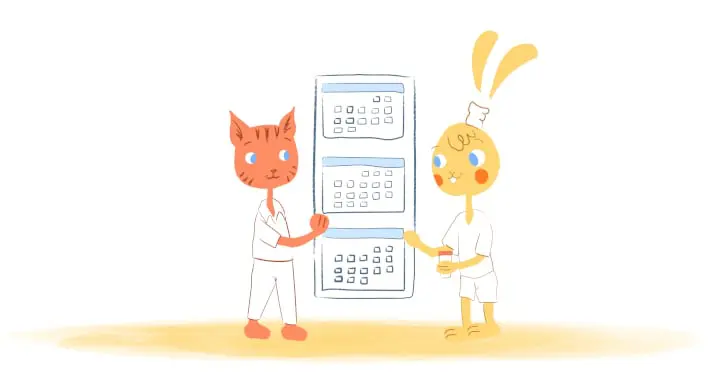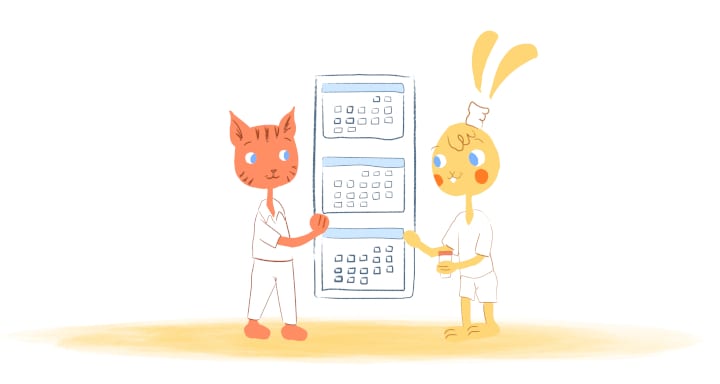 Wouldn't it be great if you could see when a client is free to meet for lunch? How about knowing what part of a project a teammate is currently working on this week? Or, what time your children's soccer practice starts on Thursday? Heck, life would be so much easier if you could see when you need to get your haircut or have the electrician stop-by without calling them.
While you could simply ask them or go back-and-forth via text or email — how awesome would it be to just simply view their calendar? Obviously you can't view what these other people are doing 24/7 — but it is possible to see other people's calendar in the following ways.
Viewing Someone's Google, Outlook, or iCloud Calendar.
A majority of us use one of the three calendars listed above — and for good reason. They come with a Google, Office 365, or iCloud account. They're also packed with features like being able to create color-coded calendars, receive reminders via email or SMS, and they work across all platforms.
This means that when someone wishes to share their calendar with they can do so just by adding your contact information or sending you a link through email.
With Google Calendar you can see someone else's calendar by opening Google Calendar and find, "add friends calendar" on the left. Then type in their name or email. If they've shared the calendar publicly or within your organization — you'll be able to see their events on your calendar.
How to get a request.
If they haven't shared their calendar you can request to have them share your calendar with you. When they share it with you, you'll receive an email confirming this.
The process is pretty similar with Outlook and iCloud calendars. If they haven't shared their calendar publicly, or they're outside of your organization — type in the name of the individual and then ask if you can view your calendar. When they grant you permission you can view his or her calendar.
Use a Shared Calendar App
Regardless if you use a Google Calendar, Outlook Calendar, Apple Calendar, Calendly, Schedule Once or Doodle there is another option: a shared calendar app.
For example, Calendar eliminates those back-and-forth emails when scheduling a meeting or appointment. This is accomplished through a smart scheduling link where others can see your availability. They then pick the best and time for them to meet you.
Artificial intelligence (AI).
Calendar even uses artificial intelligence to make suggestion on where, when, and which types of meetings to schedule.
Besides Calendar, there's apps like Teamup. This app was designed for specifically for groups so that teams can easily manage employee schedules, book meeting rooms, or even when to organize deliveries.
Pick is an app similar to Calendar where someone can set up their availability and sharing a custom URL. The other party picks a time and the event is automatically added to everyone's calendar.
Service industry.
If you're in the service industry there a number of appointment scheduling apps that do the legwork for you. Appointment, 10to8, Acuity Scheduling, ScheduleOnce, Setmore, and Square Appointments allow people to share their calendar online like their website or Facebook page. This way when you visit their site you can see their availability and book a date and time that works best for.
Families.
For families, there's Cozi. This allow everyone in your household to see each other's schedules. They can also share todos, chores, and grocery lists. It's a great app to keep households organized.
Project management tools.
Finally, project management tools like Basecamp and Trello are ideal for workflows. This is because everyone collaborating on a project together can see other other's due dates and when crucial meetings and events take place. Overall, this keeps teams on the same page throughout the course of a project.
Wrapping Up
Today it's easier than ever to see someone else's calendar. This makes scheduling a meeting or appointment with someone in the service industry a breeze. You can even see what your colleagues and family members are up to.
How to see.
The catch? You can't see what people are doing all of the time. Again, that's creepy. That's why in most cases you'll have to be granted access to view their calendar. However, if they've shared a calendar publicly you don't have to wait to be allowed this access.
Ultimately, there are a wide-range of tools out there that allow us to share our calendars with each other. It just depends on their specific needs. For example, Calendar is perfect for teams and meeting with clients. But, for families — that are not going to share, Cozi is a better option.