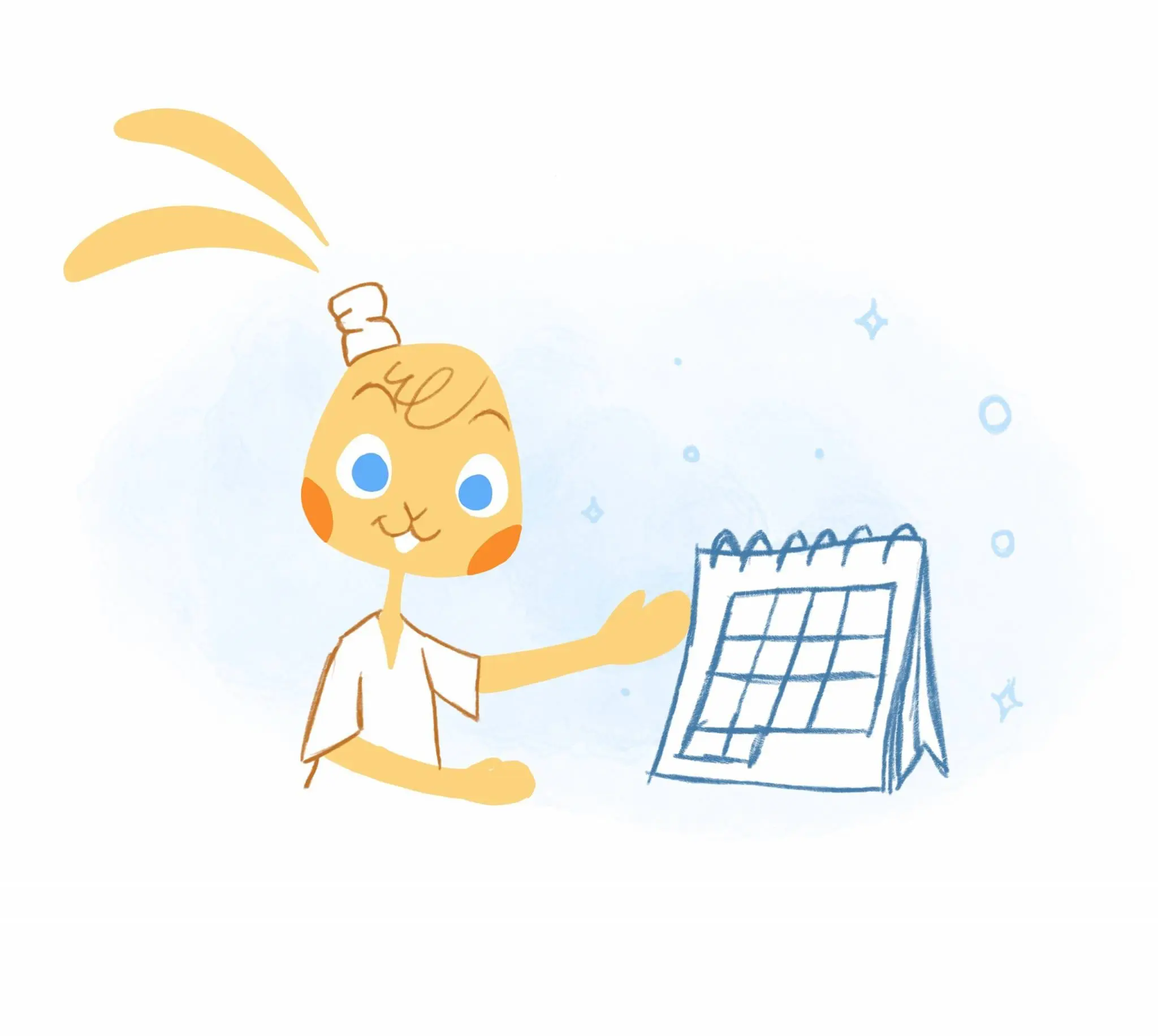 Throughout history, calendars have played a practical and essential role. Centuries ago, by following the sun and the moon, calendars were used to predict weather changes so that people knew when it was time to plant crops and harvest them. Suffice to say, calendars were needed for survival. Today, even in tech, calendars are necessary for productivity and survival.
As the years went by, calendars weren't just used for agricultural purposes. People used them to know when to celebrate specific days, such as a religious holiday, and to keep their daily lives organized. Some of the first paper calendars included planners and diaries, making the calendar an essential tool.
More recently, however, most calendar software products have gone through a digital transformation. As a result, calendars aren't just essential; they're a part of our daily lives. We rely on them to book appointments, remind us when to check-into a hotel, plan events, and assign responsibilities to others.
Even better, calendars are readily available. They're pre-installed on your phone and are part of any digital suite of tools that tech-giants like Google, Microsoft, and Apple provide. And, they can even be placed on your website — also if you have zero coding knowledge.
In this guide, we'll go over the reasons why you should have a website Calendar and how to add a calendar to your site. We'll also cover common guidelines and give you a list of what we believe are the best web calendars.
Advantages of Having a Website Calendar
Do you need to place a Calendar on your website? Well, you're not going to like this answer. But it depends.
Let's say that you're in the service industry. Having a website Calendar would be a smart move. The main reason is that if someone wanted to book you for a specific time, they could simply visit your site, see when you've available, and book an appointment with you.
Additionally, business owners of all sizes could also benefit from having a web Calendar. If a client or employee wanted to schedule a meeting with you, they could do so directly from your site. What's more, schools, non-profits, religious organizations, families, and businesses can use a website Calendar to promote and manage upcoming events.
But, if you're still not convinced, here are the other perks of having a website Calendar.
Your calendar can be accessed from anywhere.
Arguably, the main advantage is that a website Calendar can be easily accessed. Whether if it's a smartphone, tablet, or computer, your audience needs to head over to your site. Once there, they'll be able to access your Calendar with them ever even asking.
Keeps visitors updated.
No matter how organized and great of a planner you are, the unexpected is always lurking around the corner. For example, if you had a fundraiser scheduled, and it was outside, impending weather may force you to move to the event to your rain date. It only takes a couple of seconds to adjust so that there isn't any confusion. Some programs will also automatically notify attendees of the new date.
Painlessly schedule meetings, appointments, and events.
In the not so distant past, scheduling could be a stressful and time-consuming process. Coordinating paper calendars, playing phone tag, and lengthy email threads were the norm. That's not the case with website calendars. Once Calendar is on your site, anyone can see when you're available and not. From there, employees and clients can block out a specific time to meet with you directly from your site. You'll get the notification, and the event will be added to your personal Calendar.
Furthermore, if you have recurring events in your schedule, then you can schedule them as a recurring event right on your Calendar. That may not sound overly important. But, when you do this, it will lock out those dates and times on your web Calendar automatically so that you don't have to this manually.
It helps you engage and interact with your audience.
Having a web Calendar provides fresh content for your site. You could even create and publish blog posts or videos about upcoming events, like what to expect or where visitors should attend. You could also poll or survey the audience regarding future events. For instance, you could ask them when and where it should take place.
As if that weren't enough, through your web Calendar, we can collect RSVPs, manage reservations, and sell tickets.
Consolidates tools.
The final advantage of having a website Calendar is that it consolidates the number of tools and apps that you use. That's because most website calendars come packed with all the features you need to use when scheduling events.
At the minimum, this includes the online calendar itself, as well as scheduling capabilities, RSVP tracking, and automatic reminders. Most web calendars can also handle booking locations and facilities. Some of them even allow you to process payments and promote events through techniques like email marketing.
How to Add a Calendar to Your Website
While the exact process may differ depending on the online Calendar that you're using, as well as the website builder you're using, placing a Calendar is straightforward. It's so easy that in most cases, no coding experience is required. The reason? Then, Calendar will automatically generate a code for you. That is, to put it succinctly, pretty sweet.
Step 1
If you don't already have an online calendar, then now is the time to find one that meets your needs. Typically, you don't go wrong with the big three: Google, Microsoft, or Apple. Now we have Calendar. You're probably already using one of these services. So, why not get the most of them?
However, if you're stuck, then check out our handy guide to choosing the best online calendar to point you in the right direction. It should also be noted that there are third-party calendar services like Tockify, Localendar, CalendarWiz, and Bravenet that are designed just for this purpose.
Also, if you're looking for a calendar just for a specific event, then check out apps, plugins, and widgets like The Events Calendar or Amelia. Every website builder offers a Calendar application that you can embed on your site. Merely conduct a search until you find the one that works for you.
Whatever calendar you decide to roll with, make sure that it works across multiple platforms so that it can be synced and accessed by any device.
Step 2
After settling on Calendar, make sure that sign-up and log into your account. Now you can start creating and customizing your Calendar however you like. For example, you can alter the colors and fonts of Calendar so that it matches your brand. If you're creating Calendar for an event, don't forget to include relevant information like the date, time, and location of your event.
Step 3
After you've created your Calendar, embed it onto your site. Most tools will allow you to do this through a standard cut and paste code. Just copy the HTML code for Calendar, go into your site's HTML editor, and click on the page where you want the Calendar to go. If you like, you could create a new page just for your Calendar.
Go ahead and paste the code on your desired page, click "Save, and then "Publish" that bad boy. And, that's it. Go ahead and pat yourself on the back. You just created a web Calendar.
Even better, once it's on your site, updates that are made to the Calendar in real-time.
It should be noted, however, that depending on the calendar that you use, you may have to tinker with the settings. For example, if you use Google Calendar and want to place it onto your site, you'll have to make your Calendar public so that anyone can view it.
Furthermore, not all website builders integrate with all online Calendars. And, that process may be slightly different for each. To address this, here are some other resources you can refer to if you're having a problem:
What Should Always Be Included on Your Website Calendar
If you've gone through the trouble of creating a website Calendar, then visitors expect something to be on it. That's like walking into a grocery store and finding only bare shelves. Not only is this disappointing, but it also makes you feel just a bit deceived.
With that said, what exactly should be included on your web calendar? Well, that is totally up to you. But, we suggest including the following.
Compelling and Relevant Information
If you're hosting an event, then you must have the basics on your Calendar, such as:
The date and time of the event. Ideally, you should also mention when doors open, a schedule of activities, and the time the function is expected to conclude.
The name and address where the event will be located. Either include a map or a link to the venue's location, as well.
How to attend to the event. If tickets are required, mention how much they cost and where they can be purchased. If only an RSVP, include a link so that visitors can easily do this.
Company and contact information so that if there are any other questions, visitors can get in touch with you.
Other information you may want to include would be the dress code or no-show policy. If you've scheduled a meeting, then don't forget to attach an agenda.
You don't need to go overboard. But, you should at least include the critical information listed above.
Strong Call-to-Action
What do you want your visitors to do after they've landed on your calendar page? To guide them along, make sure that there's a clear CTA so that they know what actions to take. It could be as simple as "Click here to book an appointment."
Customized Calendar
As already mentioned, you should customize your calendar so that it aligns with your brand. You could also add visuals, like highlights from previous events or the venue, or use color-coding. Just remember the calendar isn't too cluttered and is easy to read.
Add-to-Calendar Button
Make life easier for your visitors by including an add-to-calendar button. Now they can click on the button and add the event to their calendar with just one-click.
Other considerations:
Social media links.
Time buffers in-between scheduled events.
Multiple time zones.
Set when you're available and when you're not.
Integrated events from Facebook, Eventbrite, or Slack.
Finally, if hosting a significant event, you may want to include an accompanying webpage. Here is where you would create an impactful landing page and provide frequent updates. You may also want to have pages for a registration form, FAQ, testimonials, and post-event updates.
What not include on your website calendar:
Too much information. For example, never put any personal details, like when you're visiting the dentist. You can also reduce the amount of information included on the calendar by sending out emails or attachments with more specific details.
Last-minute changes that may lead to confusion or double-bookings.
Do not accept automatic invitations — unless you want to get spammed.
The Best Embeddable Calendars
Google Calendar needs no introduction. Since 2009 it's been one of the most successful time management and scheduling tools available. Mainly because it's easy-to-use, works seamlessly across all devices, and connects with other Google tools like Gmail and Docs. It also has an unbeatable price, so it's free. Even if you upgrade to the business option, it only costs $5 a month.
You can also easily embed your calendar onto your site just by copying and pasting it. And, it also integrates with smart scheduling tools like Calendar to unify your work and personal events.
This also made our best calendar apps post earlier this year.
Tockify is a free calendar that works on platforms like WordPress, SquareSpace, and Weebly. It also syncs with Google Calendar. It's also a perfect option if you're planning an event since it's super-customizable and comes with features like event submission. Social sharing is also built-in, so you can promote your event on Facebook, LinkedIn, or Twitter.
Timely is another embeddable calendar explicitly designed for events. You can create a new calendar in just a couple of minutes. Or, if you prefer, you import events from other calendars or your social channels. Timely also makes it a breeze to promote your event via social media or email. You can even use this tool to sell tickets.
Timely is free to use; there's also a WordPress plugin. But, for more robust features, you may want to try out the $9/month plan.
Here we have another platform that's perfect for embedding an event calendar to your site. The calendars are easy on the eyes and interactive. What this means is that visitors can share your event and then add them to their personal calendar.
Perhaps the unique features are that UpTo allows you to not only manage but create, a web calendar though it's app. Oftentimes with solutions like Google Calendar you would have to do this on your computer. The downside is that there is no free option, and plans start at $9/month.
While not free, pricing starts at $9/month, CalendarWiz is a complete calendar solution. You can easily create a customized calendar and then place it onto your with an easy cut and paste code. It works with WordPress, Weebly, Wix, and most other leading CMSs.
CalendarWiz also lets you engage with visitors by offering features like suggest an event and email list forms. You can even have the option to place a mini-calendar on your homepage if you want.
If you use WordPress, then The Events Calendar is a plugin you should use the next time you plan an event. Not only is it free, but it's also ready to use right-of-the-box after installation. With The Events Calendar, you can quickly create recurring events, add custom details, and venue information; Because it's a WordPress plugin, there are add-ons so that you can accept payments and import data from Google Calendar, Apple Calendar, or Meetup.
Don't use WordPress? No worries. Events Calendars is available for platforms like Wix, Weebly, and Shopify. It also syncs with Google Calendar, is multilingual, and easily customizable. And, if you want to embed it onto your site, just add a short integration snippet.
Localcalendar is another popular free embeddable calendar that would be great from teams, schools, families, and non-profits. You can create a new calendar in just a couple of minutes and then use the helpful Publish Wizard to add it to your site. You also have the option to color-code events, create repeating events, and upload your own images.
Additional features include multi-language support, location information, and events reminders. You can also let visitors suggest events as well.
If you manage teams, then you definitely should give Teamup a spin. In a nutshell, it's a handy tool that helps you schedule work, manage your team's availability, and share upcoming events. After you've created your calendar, you can embed it onto your site using the Embed Wizard.
Finally, Bravenet is another free calendar that's fully customizable and can be placed onto your site. There are some other useful features, like being able to set reminders and recurring items. The downside is that the free version is limited and ad-supported. But, a premium version is an affordable $3/month.