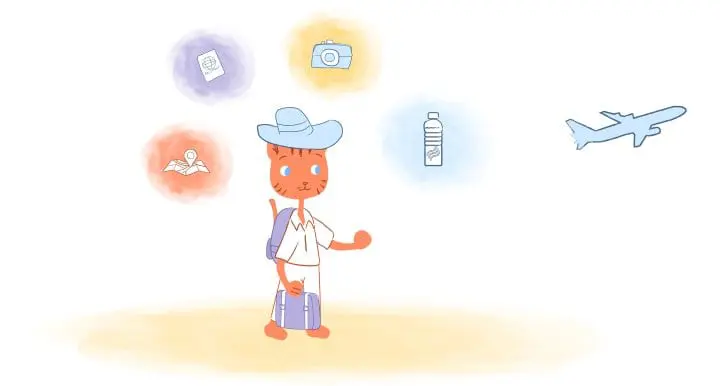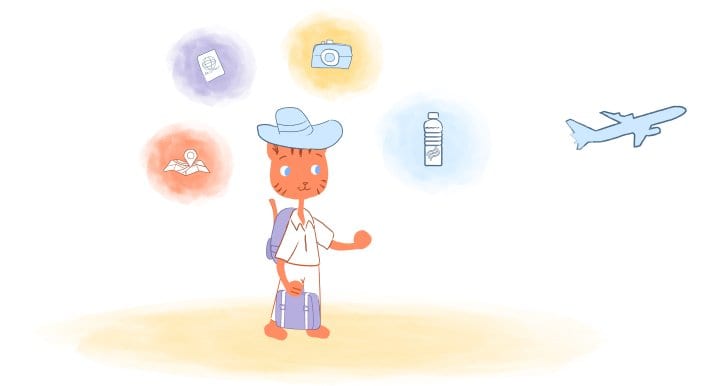 Growing your business can often include travel which can be exciting but hectic at the same time. Whenever I travel, I always feel flustered and super behind on business tasks during and after the trip.
According to a study conducted by CWT Solutions Group, the average time lost doing productive work was an average of 7 hours. That's almost an entire workday. If you're taking a business trip or even a workstation where you'll still need to run your business on the go, consider these strategies to help you stay productive during your business travels. 
Map Out Meetings and Your Calendar Before the Trip
This is the most important task to complete before you even begin traveling. Some people assume they will have downtime during a long commute or flight and decide to set up their schedule then but it's best if you map everything out ahead of time.
Be realistic about your goals during the trip and when you'll have time to get things done. Then, adjust your calendar based on those time blocks. If you have some meetings lined up, clearly communicate the details with everyone well in advance and make sure you have the technology and availability to attend.
Get Prepared With the Right Tools
Taking your business with you on-the-go means you'll need to make it mobile. If you do a lot of work online already, this should be easy but you want to make sure you have all the tools you need.
You don't want to be stuck charging your laptop or phone in an airport for hours on end or have your computer randomly shut down for an update during an important meeting. Make sure you prepare yourself by bringing battery packs, software programs, headphones, inventory/samples, and other devices and tools that will help you get some work done stress-free during your business trip.
No one wants to pay for these things at an expensive tourist shop or airport store so it pays to be prepared.
Eliminate Non-Urgent Work Distractions
When traveling, there's probably little chance that you'll be able to be as productive as you would be in your normal work setting. Odds are, you're going to be getting much less work done while you're on the road even if you are super efficient and plan well.
That said, it's important to prioritize your business tasks while traveling. You won't be able to answer every email or take on every task so choose the ones that are most important. Let others know you will be out of town and when you'll return by setting up an autoresponder message for your email account.
Also, communicate with your team and assign roles to help lighten your workload while you're gone. As a result, you'll be left with only the responsibility of the high priority tasks and less likely to be distracted by the non-urgent ones that can wait until your return.
Research the Airport's Accommodations In Advance
The airport is one of the best places to get some productive work done online for your business. There's really not much to do when you're sitting around waiting for a flight if you know you're going to have some downtime, be sure to fill it accordingly.
To optimize your time, do some research on the airport prior to arriving. Do they have free WiFi? What about charging stations or quiet rooms?
Depending on your airline and any loyalty rewards programs you're apart of, you may have access to the private airport lounge where you can work and take calls in a quieter setting.
You may also want to plan out what you can do on the plane. Maybe you can listen to a podcast or audiobook or even knock out some emails. Free in-flight WiFi may be available if you're a frequent flyer or hold a rewards credit card. I usually pay around $8 to access the internet during a flight and it's worth it because I usually complete work that earns me more than that small payment so it makes sense.
Use Project Integration Tools
Working on solo or team projects during your trip? Using project integration tools like Trello, Asana, and even Google Drive can help you keep organized, stay connected, and work efficiently. You'll also want to consider sharing your calendar and making quick updates and changes as your schedule adapts during your trip.
What's great is that you can access all of these tools with a mobile device which makes them ideal for travel.
Find An Office Away From the Office
Staying focused enough to work on the road can be difficult. Whenever I do business-related travel whether, for a conference or retreat, I always feel super lazy and just want to let everything fall by the wayside.
If that's your intention, fine. But if you truly want to be somewhat productive, changing your setting could do the trick. Sure, you're probably not going to want to work when you're on the beach or hanging out at the hotel bar all afternoon.
If you were to hit up the local library, a coffee shop, or even the business center in your hotel, that could spark some motivation to knock some tasks off your to-do list. If you've ever thought about joining a coworking space, some larger franchises allow you to visit their other offices and work in them for free while you travel.
The trick is to create an office setting away from home that motivates and inspires you to get some work done for your business. This may only mean spending 2 hours in the morning cranking out projects and the rest of the day enjoying your trip which is perfectly fine.
Organize a Lunch or Dinner Meeting
Sometimes networking with the right people can be a really effective way to grow your business even while traveling. If you're visiting an area where you know a colleague or business friend resides, consider setting up a lunch or dinner meetings.
This can also be a great way to introduce yourself to someone you admire and would like to work with. It may sound a little awkward to invite someone out who you don't know personally, but it's surprising that most people will come out and join you even for coffee if they're available. If you're in the area, why not give it a try?
Having in-person meetings like this can be very valuable and allow you to connect with the person on a more authentic level than you would if you met them at a conference or networking event.
How do you stay productive when traveling for business?