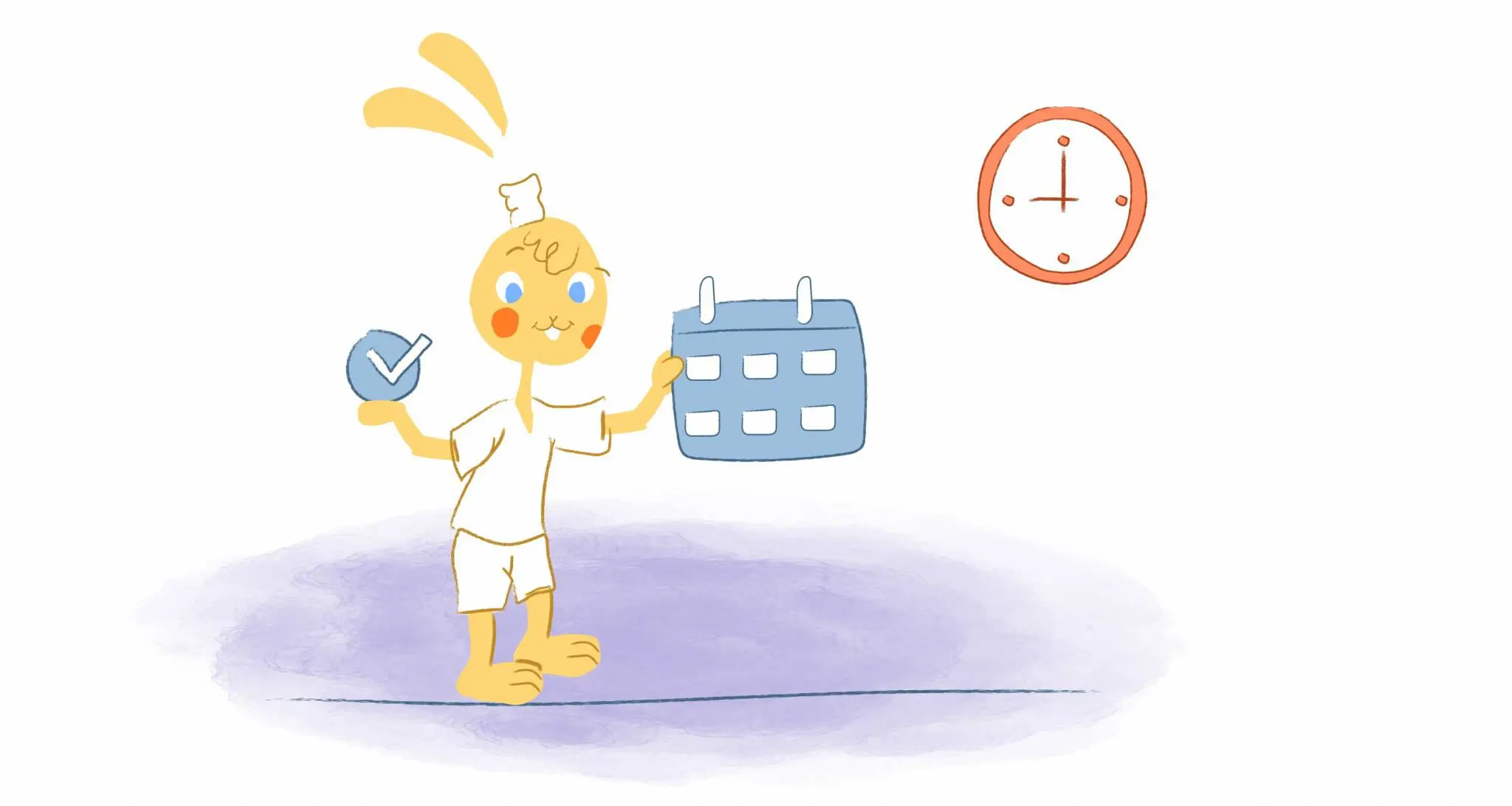 So you want to get more done in your day? Don't we all. When you're self-employed and control when you work it's super easy to either overwork yourself or not get enough done in a day to feel satisfied with your progress.
Some may call it a balancing act, but it really comes down to your schedule and how you set up your calendar. Your motivation and level of focus are secondary factors. Despite any time management failures you've had in the past, you can set yourself up to have a pretty successful day.
I'll demonstrate how with a practical example of a productive work schedule vs. an unproductive one.
Unproductive Work Day Example
8 am – Begin work on Project 1
8:30 am – Looks at phone to answer call or text
8:35 – 9:15 am – Scrolls on social media
9:20 am – Refocuses and resumes work on Project 1
10 am – Stops to get a snack then scrolls on social media again
10:45 am – Checks and responds to email then looks at phone again
11:05 am – Tries to resume work on Project 1 but also has to prepare for an upcoming meeting
11:30 am – Meeting
12 pm – Lunch  (Goes to pick up lunch, watches YouTube videos, answers texts, and interacts with friends on social media)
1 pm – Wraps up Project 1 for the day
1:45 pm – 2:15 – Answers a personal call from friend or family member
2:20 – Starts Project 2
3:00 pm – Breaks to run errands, spend time with family, get settled at home etc.
5:00 pm – Goes to happy hour with friends
8:00 pm – Gets home and watches Netflix while going through some emails
11:00 pm – Bed
Works 3.5 hours for the day
Productive Work Day Example
8 am – Begins Project 1
11 am – Wraps up Project 1 and takes a 15-minute break to stretch out, snack, etc.
11:15 am  – Starts Project 2
12:00 – Break for homemade lunch and a little reading
12:30 pm – Resumes and finishes Project 2
2:00 pm – Meeting
2:30 pm – Checks and responds to emails
3:00 pm – Starts and completes Project 3
5:00 pm – Breaks to spend time with family, run errands, eat dinner, etc.
8:00 pm – Starts a new project, gets email inbox down to zero
8:45 pm – Done working. Plans out tasks for the following day, preps meals, organizes home, pick out clothing, etc.
9:10 pm – Reads or watches a show on TV
10 pm – Bed
Works 9 hours for the day
Why the Example of a Productive Work Day Works Out
If I would ask you to choose, you'd most likely go with the example of a productive work day where you get 9 hours of work accomplished. While both people start work at the same time, the person who only gets 3.5 hours of work done is setting themselves up to be overwhelmed and burdened by all the tasks that will pile up over time.
So we know the productive schedule allows us to get more done hands down, but let me explain why it works. These are important key factors to consider when developing your own daily productive work schedule.
Power Through Your Biggest Task First
Productive people start their day out with a bang by powering through their most challenging task first. Be sure to rank your tasks in order of importance and take care of your top priority right when you start the day. That way, you'll automatically feel accomplished no matter how the rest of the day plays out.
Don't procrastinate and wait until the last minute to do the task. That will just result in you pushing it off day after day.
It's best to get into a deep state of focus for an hour or two so you can make a lot of progress. You can power through from start to finish, or take a short intentional break in between. Either way, by the time you break for lunch you should be finished with it or have made a significant amount of progress.
A Short Break is Fine, But Put Your Phone Away
Your phone can be a huge distraction throughout the day if you're constantly on it and what you're doing it not related to work. In our example of a productive work schedule, this person is able to complete 9 hours of work and that's mainly because they aren't taking phone breaks.
Apps, social media, phone calls and texts can take up more time than you'd think. If you don't really need your phone to work, make sure you silence all notifications during the day or put your phone on airplane mode. Perhaps you can scroll through after dinner or during your commute instead.
Eliminate Other Distractions
If you want to have a productive workday, you have to eliminate all other online and offline distractions. Think about your weaknesses and start avoiding those things whether it's Twitter, YouTube, TV, or even side conversations with other office mates.
The more distractions you can avoid and eliminate, the more you'll get done.
Pack Your Lunch Often
Notice that in our example of a productive work schedule, the person packed their lunch instead of going out and buying one. Making your own lunch will save you time and money even if you're working from home.
Restaurants are busy during the lunch hour so you could easily waste unnecessary time driving around, then standing in line waiting to order. Instead, make lunch outings rare and go for a brisk walk out instead if you need to stretch your legs and decompress.
Schedule Meetings For Later in the Day
It's usually much better to schedule meetings for later in the day during the afternoon slump so you have enough time to work beforehand. Try not to overload your schedule with too many meetings because it can easily eat into your productive work time.
Don't Check Email Every 5 Seconds
Schedule time to check your email instead of doing it every five minutes. Trust me, that time adds up. I have a general rule of thumb that I try to answer and address emails within 24 hours. I schedule 2-3 times per day to clear my inbox and avoid the temptation to pause a project just to check email.
Summary
Being unproductive wastes time, energy, and it can make you feel pretty hopeless about your lack of accomplishments for the day. It's easy to say 'be more productive' but it's crucial that you know how to schedule your day so this can become a reality.
I hope this example of a productive work schedule helped highlight some key areas where you can change and improve your daily schedule. Be sure to let us know how your current schedule compares along with what changes you're planning to make in the comments!