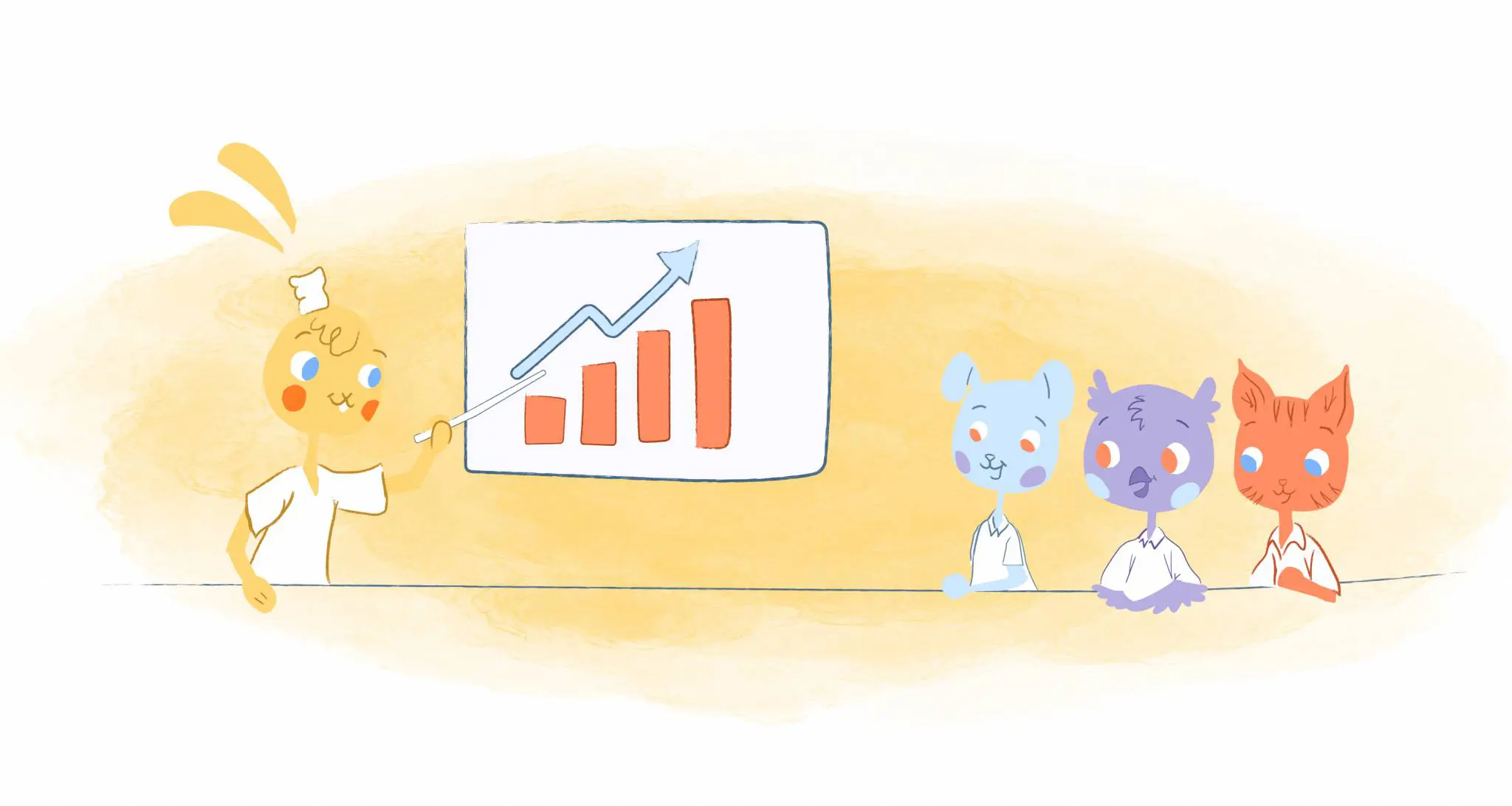 Don't watch your time melt away. Many different factors can make or break you as an entrepreneur, but nothing is as important as being able to keep your time in check. If you feel that this is an area that needs improvement in your life, then you need to give the following 50 calendar, and productivity hacks a spin.
1. It's all about prioritization.
Prioritization is the secret to both time and calendar management, as well as productivity. After all, if you don't focus on your priorities, then you'll end up spending the majority of your time on meaningless activities. Also, it provides structure to your days and keeps you organized.
As a general rule, your priorities are essential tasks that help you reach a goal. If you need help determining what these are, consider employing proven techniques like the 80/20 Rule, Eisenhower Matrix, or rocks, pebbles, and sand.
2. Conduct a time audit.
You can work a million different calendar and productivity hacks and still expect to fail if you don't know how you're truly spending your time. Keep a time log or use tools like RescueTime or Toggl to see how long it takes you to complete tasks or empty your inbox.
It's only after this that you can adequately manage your calendar. As an example, if you realize that email and social media eats up two hours of your day, then you can take steps to rectify this problem, such as batching these tasks together, so you're not checking them throughout the day.
More importantly, this will prevent you from over-or-underestimating how much time to set aside for specific. Before I did this, I would only leave myself an hour to write a blog post. In reality, I needed two. Because I underestimated this time, it threw a monkey wrench into the rest of my day.
3. Paper, electronic, or both?
Despite the amount of fabulous electronic calendars on the market, you may prefer to use a paper one. There's nothing wrong with that. You shouldn't be forced to use calendar software if it's a hassle for you. Instead, use the type of calendar that you're most comfortable with and learn how to get the most out of it.
Personally, I prefer combining both paper and electronic. I keep a paper calendar on my desk so that it's visible at all times. But, I use a calendar app to add and manage my schedule — I can also easily access and share it with others.
4. Plan your schedule around energy levels.
Determine when you're most focused and alert. Then go ahead and schedule more important responsibilities around those times. Save less essential items for productivity lulls. So, if you are most productive between 10 A.M. and noon, then that's when you should put your most crucial tasks in your calendar.
5. Optimize notifications.
I personally feel that one of the best features regarding electronic calendars is the ability to receive notifications, such as deadlines or meetings. But, to get the most out of these, you need to go beyond the default settings.
For example, you wouldn't want to receive a reminder at 2 P.M. when that's the start time. Instead, a 24-hour notice, along with a 30-minute, would give you more than enough time to prepare for the event. What's more, you can add notes and even a map so that everything you need is right there in your calendar.
6. Use color-coding for various schedules.
Color-coding is a simple and effective way to quickly view and manage all of these responsibilities you put in your calendar. I'm a fan of the chakra system. The chakra system is where each color aligns with a different energy point. So, since red represents security and safety, you would use it for any work-related task.
7. Schedule the time you actually need.
Scheduling the time your need isn't about tracking your time. It's about taking into consideration things like travel time. In other words, if you're meeting with a client or investor for lunch at noon, and it takes you half an hour to get there, you'll mark travel time as an event so that you don't schedule anything else in that block.
8. Implement the Arrow Method.
The Arrow Method was developed by Nicholas Sonnenberg, Co-founder of Leverage, with the goal "to make your weekly calendar look like an arrowhead." The arrowhead means that you essentially front-load your week with a lot of items on the calendar and then taper "out to a fine point at the end," he explains on Inc.com.
For example, you could schedule all of your weekly meetings on Monday or Tuesday. Scheduling your Calendar this way leaves some leeway. When Friday rolls around, you don't have as much in your calendar.
9. Pencil in time to do nothing.
Nothing may sound like a pipe dream — and it is. But, this is a practice that Jeff Weiner, CEO of LinkedIn, has done for years. The reason? Blocking out 30- to 90-minutes in his calendar allows him to "process what was going on" around him and "just think."
"At first, these buffers felt like indulgences. I could have been using the time to catch up on meetings I had pushed out or said "no" to," Weiner wrote in a LinkedIn post. "But over time, I realized not only were these breaks important, but they were also absolutely necessary for me to do my job."
"Use that buffer time to think big, catch up on the latest industry news, get out from under that pile of unread emails, or just take a walk," Weiner added. "The buffer is the best investment you can make in yourself and the single most important productivity tool I use."
10. Plan "themed" days.
How do entrepreneurs like Jack Dorsey manage their jam-packed calendars? They organize their schedules by creating different theme days.
"All my days are themed," Dorsey told Fast Company. "Monday is management. At Square, we have a directional meeting; at Twitter, we have our opcomm [operating committee] meeting. Tuesday is the product, engineering, and design. Wednesday is marketing, growth, and communications. Thursday is partnership and developers. Friday is a company and culture. It works in 24-hour blocks."
"On days beginning with T, I start at Twitter in the morning, then go to Square in the afternoon. Sundays are for strategy, and I do a lot of job interviews. Saturday is a day off."
11. Harness the power of technology.
Thanks to technology, how we use our calendars have become much more efficient. Pretty much every schedule allows you to add and manage calendar entries using your voice. It's so much more convenient than continually typing this information out.
Additionally, intelligent calendars like Calendar are using artificial intelligence. As a result, it can analyze previous data to make smart suggestions on how to schedule your days. There are also powerful tools that allow you to automate mundane and repetitive tasks.
12. Design a zero-based calendar.
A zero-based calendar is where you schedule everything into your calendar. Scheduling everything sounds excessive. If you account for every second of the day — there aren't any blank spaces in your calendar. Even if you plan that time to do nothing but think, this prevents other, pointless activities from creeping into that timeframe.
13. Convert to-do-lists into a to-do-schedule.
"A list is designed to be added to, so it can make it hard to feel satisfied if you're adding as much as your checking off," Pete Sveen writes on Think Entrepreneurship. "To remedy this, try turning your to-do list into a to-do schedule."
One way to do this is by writing your to-do's next to your scheduled appointments. "If I assign an actual time to a task, I am far more likely to actually get that task done," adds Sveen. Even better, this can encourage you to be "more realistic about how much I can get done in a given time."
14. Maker's schedule, manager's schedule.
The legendary Paul Graham shared this piece of wisdom all the back in 2009. But, it's still just as valid today.
The gist is this, entrepreneurs should construct two different schedules, or plans, for each day of the week. The first would be a maker's schedule. The marker is where you would spend either a half or full day on activities like building a product or solving a problem.
The second is the manager's schedule. This schedule would include time blocks for meetings, marketing, and sales.
"When you use your time that way, it's merely a practical problem to meet with someone," wrote Graham. "Find an open slot in your schedule, book them, and you're done."
15. Define dedicated hours for the critical things in your life.
This all about setting boundaries. Determine when it's time to work and to play. Establish "business hours," as well as when you're not available. It's the only way that you'll achieve a healthy balance between your startup and life outside of your business.
16. Find your ideal view.
If you're using a calendar app, you have the option to chose between daily, weekly, or monthly views. You can even customize these views by different periods or schedules, such as two-week views or work schedule.
Select the view that you prefer. Personally, I'm a "less is more" type of guy. So, I've set my view so that it only lists what's in my calendar today. If I go beyond that, I tend to get distracted by what I need to get done in the future.
17. Create and share a master calendar.
A master calendar is your go-to since it contains your most important responsibilities at work and in life. That may sound like a cluttered mess. But, you don't need to fill the calendar with minute entries like brushing your teeth. It should just include the biggies.
The benefit of this is that it prevents any scheduling conflicts since you can consult the calendar before committing to a time request. After creating your master calendar, share it with people like your family and assistant so that they can keep up with your busy schedule.
18. You can have then one calendar.
At the same time, you can still have several different calendars that capture the various aspects of your life. For example, a family calendar doesn't need to be shared with your team. But, it can help keep your home life organized. You may also want to subscribe to different calendars like a holidays calendar. Working with a remote team overseas, this lets me know when they won't be available.
You could also have an optional calendar. An optional calendar is where you add events you're interested in if you have availability. For instance, there's a networking event this Wednesday night. You didn't plan on attending because you had a conference call with a client. But, they had to reschedule so now you can attend.
Having this optional calendar ensures that you always have a back-up plan. It may not sound significant. But, it provides a way so that you're spending your time productively.
19. Get a head start on your year.
"If it doesn't exist on my calendar, it's not real," Shark Tank's Robert Herjavec told Entrepreneur in 2016. That's sound advice. But, how can you stay on top of your calendar, both personally and professionally, when you're continually inputting new events and tasks?
"Plan as much as you can a year in advance and stick to it," he said. For instance, he never missed any of his children's school events. Not missing the critical events was possible because he met with his assistant and kid's school counselor every September to go through and coordinate calendars.
20. Review your calendar for this week and next.
"Every Friday, review your calendar and ask yourself how you spent your time during the previous seven days," suggests Bryan Collins in a piece for Forbes. "Then, look at the coming week and consider how you want to spend your time."
"Make appointments if you need to and cancel irrelevant meetings if you can," Bryan continues. "Consider how close the reality of the previous week's calendar matches up with what you want next week's calendar to look like."
"You might lack full control over your working week, but you can probably find weeds you can pull or activities requiring two mornings of focused work instead of one."
21. Seinfeld's "don't break the chain."
Jerry Seinfeld's productivity hack to motivate him to write daily has been embraced for years. It was also highlighted in Cal Newport's Deep Work and the Netflix movie Jerry Before Seinfeld.
It works like this. Get a calendar and place an X on it if he's accomplished his goal of writing for the day. "After a few days, you'll have a chain. Just keep at it, and the chain will grow longer every day," he told software developer Brad Issac. "You'll like seeing that chain, especially when you get a few weeks under your belt. Your only job next is to not break the chain."
22. Plan for interruptions.
No matter how much you plan, interruptions are inevitable. One way around this is to leave some time blocks blank in your schedule so that you can shuffle things around if need be. Another option is to track these distractions so that you can identify when they're most likely to occur.
23. Pump up the jams.
Music and white noise can help you focus — particularly if there's distracting background noise when working. The catch is to listen to the right tunes. Ideally, this would be music without lyrics, such as classical music.
If you feel like you're showcasing your vocal talents — singing while taking a shower is a great way to do this. Singing can boost your immune system, lower cortisol levels, and release endorphins.
24. The "2-minute rule."
Populated by David Allen, the man behind Getting Things Done, this simply means that if a task takes under two minutes, you should just do it. "Just do it" (just like Nike), prevents you from getting log-jammed with a series of menial tasks. Zipping through a ton of jobs may give you the nudge to get in the zone.
25. Pressure pushing down on me.
You don't want to stress yourself out too much. It's not good for your health or productivity to lot yourself with pressure until you crack. Scheduling in self-care is essential for mass-productivity. If you feel like you're procrastinating, a little pressure can motivate you to buckle down. For example, if you have two hours to complete a task, cut that back to one hour so that you'll be forced to tackle it right now. It will also help you remain focused.
26. Focus on just-time-learning.
"As an entrepreneur, you have to learn many new things to get a clear understanding of all your business operations and dynamics," explain the folks over at Week Plan.
"It requires a specific time to get all these critical data, and you have to search for different platforms for it like searching on blogs, watching videos, and more." To address, try out Just-Time-Learning.
This concept "originated from the manufacturing industry and more specifically by Toyota." This approach calls for working on a task and only researching when it's required. The work with no research plan helps "to ensure that you don't waste your time on unnecessary research. Rather, you'll focus your efforts only on essential research."
27. Master the art of delegation and outsourcing.
No surprise here. Learning what and how to delegate and outsource frees up your schedule so that you can spend more time on what really matters.
28. Use site blockers.
When you're plugged in all day, like so many of us are, you're bound to get distracted by the endless amount of content online. To counter this, consider installing a website blocker. These are simply tools, such as StayFocused and Freedom, that prevent you from getting distracted by your favorite sites.
29. Ease into your mornings.
How do you wake-up each morning? Many of us hear the alarm and instinctively grab our phones. Next thing you know, you're wasting mental energy responding to emails. Worse, you may lie in bed for an extended time watching YouTube videos.
For most of us, we're most productive in the morning. So, instead of getting sucked into your phones, spend time building up your energy for the day by jotting down your goals, exercising, and taking a quick, tepid shower.
30. Closeout tasks.
"Even if a task doesn't have a deadline (but you need to get it done), tackle it in one or two sessions rather than returning repeatedly," Andrew Fayad from eLearning Mind told Inc.com. "Jumping tasks and returning to something multiple times requires a repeated mental ramp."
31. Create and use templates.
Templates are mostly "fill-in-the-blank" documents. You can either create them from scratch or download one online. Whatever you chose, these will save you time since you aren't always creating calendars, invoices, or email/social media updates.
32. Filter ideas.
"Steve Jobs was known for being somewhat brutal in his approach to management and leadership, intolerant of bad ideas and demanding of his employees — but he got results," writes Jayson DeMers in a previous Entrepreneur article. "One of his most important productivity hacks was filtering out everything that wasn't a top-notch idea; on corporate retreats, Jobs was known to collect a list of 100 ideas from his top executives on how Apple could improve in the next year."
Jobs would immediately cross "out anything he thought was dumb, then kept crossing things out until he had a 'top 10' list." He then whittled these down to three "and used those three as the focus for the company for the next year. Only three percent of ideas were worth spending time on, from his perspective."
33. Learn keyboard shortcuts.
Whether you're using Calendar, Google Calendar, Apple, or Outlook, every primary calendar has keyboard shortcuts that allow you to edit and manage your Calendar quickly. Each platform has different shortcuts. You'll want to learn the shortcuts for your calendar before making the most out of this very productive hack.
34. Stop compromising.
"When we work in teams, especially among co-founding team members, we occasionally compromise to keep things going smoothly," explains Praveen Chandran on Startup Grind. "We accept tasks without analyzing the 'why' and the 'when?' Accepting a task or scheduling meetings just because a co-founding team member said so, results in wasted time and effort."
"Even if a co-founder gives a suggestion, it never hurts to have a discussion on the purpose or the timing of the task in a respectful way," recommends Chandran. "Such discussions set a nice rhythm with your co-founding team in prioritizing things in the future."
35. Reserve brainpower.
Ever wonder why entrepreneurs, like Mark Zuckerberg, always wore the same outfits. A part of it was to build their brand. But, it's also to save time and prevent decision fatigue.
Preparing the night before, like laying out your clothes and packing your lunch, is one way around this. Another tactic is to make decisions on less important matters, like where to order lunch, by going with the first thing that pops in your head.
36. Work from home.
While there are distractions you most overcome when working from home, there are also some perks. The most obvious is that you eliminate the time spent on your daily commute. However, Brittany Hodak from ZinePak tells Business.com that this is "a great opportunity to disengage from the day-to-day tasks at the office and spend time thinking strategically about big-picture opportunities without the regular interruptions that come from working in an office with a larger team. It's made a huge difference in my productivity."
37. Upgrade your work environment.
You can try as many hacks as you want. If your workspace isn't optimized, it's going to be almost impossible for you to get into a state of flow. Make sure that your space is comfortable and free of clutter. Also, consider factors like the temperature, lighting, and the colors of your walls.
38. Give yourself a break.
You can't bulldog through all of your calendar entries. Everyone needs frequent breaks throughout the day to clear their heads and unwind. Using the Pomodoro Technique is a popular way to encourage you to take a breather. And, you may also want to think about going on a much-needed vacation if you feel burned out.
39. Come on and get happy.
When you're in a better mood, you tend to be more productive. One study shows that happy employees are 20 percent more productive than their unhappy colleagues. Ask yourself, "how can you turn that frown upside down?" Surround yourself with more optimistic people — those who watch for opportunities to do something nice for each other. or watch a funny YouTube clip.
40. Stop neglecting your health.
How alert, focused, and energetic do you think you'll be if you eat like crap, don't exercise, or hardly get enough sleep? The same is true if you always feel stressed and anxious. Stop putting your mental and physical health on the back burner and start making it a priority today.
41. Turn off electronic notifications.
It's hard to maintain your attention on something important when it seems like your phone is going to explode. When in deep work, either turn your phone off or silence notification like email, social media, and text message.
42. Batch smartphone notifications.
But, what if there's an emergency or you're missing out on something important? Those thoughts are probably running through your head as you try to work. Researchers have found that the solution is batching smartphone notifications three times a day — when you arrive at work, during lunch, and when heading home.
43. Unsubscribe and unfollow.
Go through your social accounts and emails and see which ones no longer serve a purpose. Then, unsubscribe and unfollow them — tools like Unroll.me can do this for you. It's one of the simplest ways to clean up your feeds and inbox and regain some of your time.
44. Focus on progress, not perfection.
Stop spending time on developing the perfect solution. It doesn't exist. Besides, the longer you spend on making something different, it will already be obsolete. Do your best and make the appropriate adjustments as you go along.
45. Keep messages short and concise.
Whether if it's an email, phone call, Slack message, or meeting agenda, don't waste everyone's time on lengthy messages. Keep them short and concise so that everyone can move on. You can go into more detail either at another time or through a different medium like a Word document.
46. Stop being passive.
You just sent an email to your partner asking if they can meet for lunch next week. You don't hear back from them after a couple of days. Even though you don't want to be a nag, you can't sit there and wait for them to respond. Reach out again so that you don't leave this slot open.
Remember, your time is your most valuable resource. You need to protect it so that there aren't too many white spaces in your calendar.
47. Don't use complicated project trackers.
Over the years, I've tried several different tools that tracked the progress my team was making on a project. Some of these were so complex and detailed that I spent more time inputting data than actually working on my part of the project. Sometimes all you need is a notepad or spreadsheet to keep tabs on what you and your team are working on.
48. Rethink your approach to meetings.
While essential, meetings are one of the biggest time wasters within your organization. Before scheduling a meeting, ask if the session is necessary. You may find that an alternative, like email, collaboration apps, online chats, or Wikis, is more effective.
If a meeting is needed, only invite key stakeholders and keep it as short as possible — 20 to 45 minutes should suffice. Don't forget to prepare and send an agenda in advance so that invitees can prepare. And, don't let participants get distracted. Ask them to their phones at their desks and only discuss the topics that are on the agenda.
49. Raise the bar.
Set an example for your team by continuing to seek opportunities for growth and development. Work with coaches and mentors. And, encourage habits like being respectful of other people's time off — this means not contacting them at all hours of the night. Keeping office hours lets your team know that this is a culture where time management is encouraged.
50. Build your village.
If you're at least somewhat familiar with Batman, then you know that he prides himself on being a loner. However, there are times when he needs the assistance of Alfred, Robin, Commissioner Gordon, and the Justice League. In other words, Mr. Wayne has a team around him when needed.
For you to get everything done and maintain your sanity, you also need to surround yourself with your allies. Your allies mean everyone from partners and employees who will pick up the slack when needed, as well as those outsides of work that you can depend on, such as cleaners, babysitters, accountants, attorneys, etc. It's much easier to have these people in your circle, as opposed to frantically finding them when needed.